Commentary
Page 2's keys to Super Bowl XLVI props
Originally Published:
January 30, 2012
By
DJ Gallo
| Page 2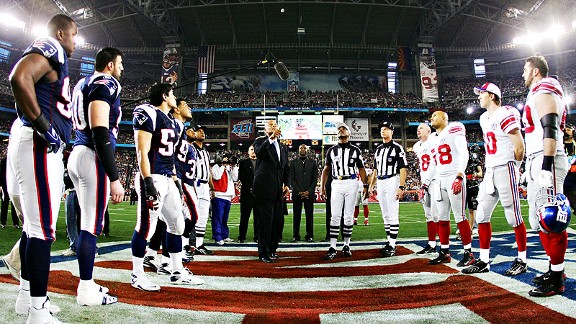 Harry How/Getty ImagesPlanning to wager on the Super Bowl coin toss? See below for exclusive insight into XLVI prop bets.
Bovada has released its Super Bowl prop bets. As a service to you, dear readers, I have combed through all of them to find the sure things that will win you a fortune. As always, please forward 10 percent of your fortune to me. Thank you. And you're welcome.
What color will Madonna's hair be when she sings the Super Bowl halftime show?
Blond: -200
Any other color: +250
Winning bet: Any other color.
This is an instance where you can win money because oddsmakers worded a question poorly. It doesn't matter what color she dyes her hair, because we know she is an elderly woman. Therefore, her hair is white.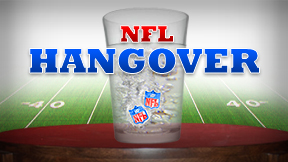 How many times will David Tyree's 2008 Super Bowl catch be shown be shown on TV during the game?
Over/under: 1
Winning bet: Over
Do you have life savings? Bets like these are what you've been saving for. I already bet all my money on "How many times will David Tyree's 2008 Super Bowl catch be shown on TV in the two weeks leading up to the game? -- Over/under 11,500." I bet the over and won already last Tuesday.
How many times will Peyton Manning be shown on TV during the game?
Over/Under: 3½
Winning bet: Under
It is tempting to go over, but you have to think he'll be out of his luxury box during much of the game trying to set fire to Jim Irsay's box.
If Tom Brady's son is shown on TV during the game, will he be wearing a Tom Brady jersey?
Yes: -200
No: +150
Winning bet: No
Easy bet. I don't believe I've ever seen a Tom Brady jersey on the runway. His son likely will look like the toddler version of this.
Will Kelly Clarkson's bare belly be showing when she sings the national anthem?
Yes: +300
Winning bet: No
Unfortunately, no is not an option. Bovada only offers yes. So consider betting yes. If you see her "bare belly," you win some money. Or you don't see her bare belly. Either way you win.


What will be higher on Feb. 5, Eli Manning's completions or LeBron James' points?
Eli's completions: +120
LeBron's points: -150
Winning bet: Eli
Betting against LeBron on the day a championship is decided feels pretty safe to me.
What will be higher on Feb. 5, Danny Woodhead's receiving yards or Draymond Green's rebounds?
Woodhead's receiving yards: -2.5 (-115)
Green's rebounds: +2.5 (-115)
Winning bet: n/a
In case you don't know, Draymond Green is a basketball player for Michigan State. Also in case you don't know, if you bet on props like this, you are a degenerate gambler and should seek out help.
Who will win the coin toss?
Giants: -105
Patriots: -105
Winning bet: Patriots
Amazing but true: The NFC team has won 14 consecutive coin tosses. The odds of that happening are 16,000-1. The odds of the NFC winning again seem pretty slim, although it's still just 50-50. You know what? I have no idea on this one. Flip a coin.
Quote of the Week
GALLO'S PRO BOWL CAPTIONS!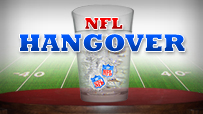 Relive the great touch football game they played over in Hawaii on Sunday.
DJ Gallo's Pro Bowl photo gallery

"I hope he's out there when we play them. I don't want to sound like that, but you know what I mean. To our advantage, I hope he's out there."
-- Giants receiver Mario Manningham, on Patriots receiver Julian Edelman playing defensive back
Ooh! Shots fired! Manningham says he would prefer if the Giants' offense gets to play against people who aren't trained at playing defense. What disrespect! But New England linebacker Jerod Mayo isn't going to stoop to Manningham's level: "Whatever their opinion is, that's their opinion. We ignore the noise and let people do what they do." Yeah, take that, Manningham. The Patriots let people do what they do. Except Edelman, of course. They force him to play defensive back because they have no better options than a guy who hasn't played defense since he was a freshman in high school. Other than that, though, everyone else can do what they do.
Stat of the Week
4 catches, 35 yards, 0 touchdowns
Those were David Tyree's stats in the 2007 regular season. The Giants receiver with the most similar stats this season is Devin Thomas, who had three catches for 37 yards and no touchdowns. Belichick had better put his best defensive back on him. And since the Patriots don't really have one of those, his best receiver. Rob Gronkowski had better load up with a lot of painkillers, because he's playing both ways on Sunday.
Media Day Questions Someone Should Ask
To Bill Belichick: "Completely off the record except for the few dozen media members standing here, including the guy dressed in the frog suit and the stripper on a unicycle who might overhear you: Do you have anyone recording your opponent's practices this Super Bowl?"
To Tom Coughlin: "Do you envy Bill Belichick because he hasn't given in to the pressure to at least pretend that he enjoys life?"
To Justin Tuck: "If you win a second Super Bowl, do you think you will supplant Michael Strahan as Subway's premier New York metro region defensive lineman spokesman?"
To Tom Brady: "Would you mind signing my '18-1' T-shirt?"
Five Things You Thoughtfully Thought I Might Think
1. Rapper 50 Cent has promised to tweet a nude photo of himself if the Giants lose. Sounds more like a threat, but fine. It is clear Mr. Cent struggles coming up with original ideas, however. Who doesn't remember when Frank Sinatra commissioned a portrait of his genitals after the Giants lost the 1946 NFL championship? Then there was the famous Kate Smith topless Polaroid when the Flyers lost the 1976 Stanley Cup finals. There's nothing new nude under the sun.
2. Here's your list of Super Bowl week parties. Yes, it's kicking off with a performance by The Village People. It's good to see the construction worker is still getting work in this tough economy.
3. New York Gov. Andrew Cuomo had some interesting comments about the Patriots at a news conference last week: "I'll tell you what's interesting about the New England Patriots. Isn't it interesting that no specific state identifies with the team? New England, as in mid-Atlantic Chargers. Why didn't Massachusetts say, 'It's our team?' Massachusetts Patriots. Vermont Patriots. New Hampshire Patriots. They all have semideniability; that's what I think this is." That's a pretty good point. The only way it would be worse is if the Patriots didn't even play in New England. But thankfully all NFL teams play their games in the place specified in their team name.
4. It's probably a pretty good week to take a look back at Tom Brady laughing at Plaxico Burress' Super Bowl XLII prediction. Ha-ha-ha. Seventeen points? Plaxico, you moron. That was three points off.
5. There's a big difference between Brady laughing about the idea of New England's offense not scoring all over the Giants four years ago and the "controversy" over him saying this to the fans at a Patriots pep rally Sunday: "We're going down there, and we're going down there for one reason. We're going to give it our best, and hopefully we'll have a lot more people at our party next weekend." Whoa! That right there is some bulletin-board material! But only if you take out "give it our best" and "hopefully" and ... well, just take almost all of it out and make the quote sound as though Brady was simply trying to get his fans fired up at a pep rally without making any predictions. So let's go with: "We're going down there ... to ... party." Whoa. This Brady fellow is pretty cocky. The Giants will be motivated to win the Super Bowl after hearing that misquote. And even if they don't hear the misquote, you have to imagine they'll be pretty motivated to win the Super Bowl, what with it being the Super Bowl and everything.
DJ Gallo is the founder of SportsPickle.com. He has written a book and written for Comedy Central, The Onion and ESPN The Magazine. He co-hosts the Page 2 Podcast and has appeared on ESPNEWS. You can follow him on Twitter at @DJGalloESPN.