Commentary
Party Rock Anthem: Super Bowl style
Originally Published:
February 2, 2012
By
Laura Lane
| Page 2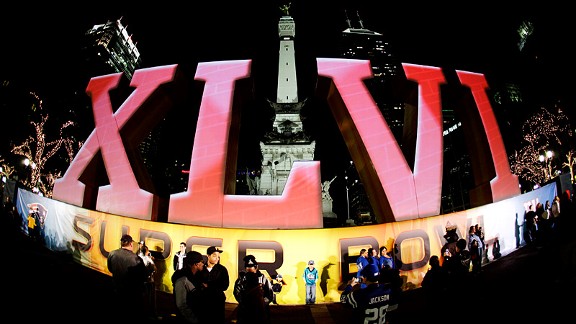 AP Photo/Matt Slocum
This year's Super Bowl takes us to Indianapolis -- known as The Racing Capital of the World, the Circle City, I-Town, the Crossroads of America and the Amateur Sports Capital of the World. Come Sunday, Indy will be known as the Party Capital of the World. This is, after all, the Super Bowl. Football fans will replace roadies and once again, Hollywood and athletes will collide at the party circuit. We'll be your crew chief every night, keeping tabs and ranking all the top bashes leading up to game day.
Ladies and gentlemen, start your engines and let the celebration begin! Here's a look at the highlights of the course:
THURSDAY
EA Sports Madden Bowl
Location: The Bud Light Hotel (Hampton Inn Downtown)
The scene: For the past few years, the EA Sports Madden Bowl has served as the unofficial kickoff party for the weekend. Where else can you mingle freely with top NFL players, including Tim Tebow, Drew Brees, Arian Foster and Patrick Willis? If you're looking for ladies, you probably won't find a whole lot of them here. The party is usually a dudefest -- but with video games, and a performance by The Roots and Nas, the frat house feel is plenty of fun.
VH1 Pepsi Super Bowl Fan Jam Concert
Location: Indiana State Fairgrounds
The scene: Fans can rock out to Adam Levine, Gym Class Heroes, All-American Rejects, Neon Hitch and B.o.B at the inaugural concert. The jam is sold out, but if you didn't score a ticket? No worries! It airs live on VH1 at 9 p.m. Eastern.
Super Bowl Village performances
Location: Indiana Convention Center
The scene: Most events over Super Bowl weekend require people to shell out quite a bit of dough. This is not one of them. The Super Bowl Village has free concerts each night. Thursday's performances take us back to the '90s with Darius Rucker, Edwin McCain and Sixpence None the Richer.
Laces Out Party
Location: The Vogue
The scene: Sasha Grey is that porn star turned into a TV star ("Entourage"), movie star (Steven Soderbergh's "The Girlfriend Experience") and DJ, who will be spinning some tunes at this Super Bowl bash. Colts punter Pat McAfee hosts the party alongside Grey.
FRIDAY
ESPN The Magazine's "NEXT" Event
Location: Jobsite Supply Warehouse
The scene: ESPN throws one of the biggest parties over Super Bowl weekend -- and we aren't just saying that for self-promotion. It is the biggest in more ways than one: selections of drinks, food, celebrities and square footage of the venue usually outnumber the competition. If you read our review last year, Dallas' party didn't live up to those of years past, mostly because the roads became icy from the snow and the location was so far from the action that people couldn't get to it. This year, it's only a few miles from downtown Indy, and with a special performance by Drake, we expect it to be -- as the invite says -- "the most anticipated Super Bowl celebration of the weekend!"
Leather & Laces Party
Location: Regions Bank Tower
The scene: Calling all cougars and "Jersey Shore" fans! Leather & Laces has thrown its annual Super Bowl party since 2004, and every year it delivers what it promises -- lots of cleavage and a little lingerie. It'll throw parties Friday and Saturday night. Jenny McCarthy, Carmen Electra and J-Woww host the Friday bash, while the original "Girls Next Door" trio -- Kendra Wilkinson, Bridget Marquardt and Holly Madison -- host on Saturday. Tickets are pricey, but if you've always had a sweet spot for former "Singled Out" hosts, you'll have a good time.
GQ's Party presented by Lacoste
Location: Stutz Building
The scene: DJ Questlove of The Roots will be spinning tunes while LL Cool J performs at this cocktail party that promises to celebrate "in style." What else would you expect from GQ? Celebrities including Jon Hamm, Andy Roddick, Adam Sandler and David Arquette are slated to appear alongside Terrell Owens and Matt Leinart. With Lacoste as a sponsor, partygoers might even get some new gear like years past … although that was a pre-recession gift bag.
Audi Party
Location: Conrad Hotel
The scene: You couldn't walk more than a few feet without bumping into athletes and celebrities -- Ashton Kutcher, Olivia Munn and Tony Romo -- at last year's exclusive Audi bash. This year, the A-list soiree will be held at the penthouse of the Conrad Hotel. With Audi's Super Bowl commercial having a vampire theme, we'll be looking out for any fang-toothed partygoers.
Playboy presents "Carnival Mystique"
Location: The Bud Light Hotel (Hampton Inn Downtown)
The scene: This is a party for the bros. Unlike the Leather & Laces soiree, where your girlfriend might be just as excited to catch a glimpse of "The Girls Next Door" stars as you are, this party is more about skimp than stars. Sixteen Playboy Playmates host the bash while Ne-Yo performs.
Super Bowl Village Performances
Location: Indiana Convention Center
The scene: The Super Bowl Village free concert series continues with "Jersey Shore's" DJ Pauly D (who just came off Britney Spears' tour), '80s rocker turned reality star Bret Michaels, LMFAO and others.
Aces & Angels Friday Night Fantasy
Location: Ice Ultra Lounge
The scene: Aces & Angels will compete against Leather & Laces and the Playboy party in the sexy-celebrity-host category on Friday. Former Playboy playmate and Baywatch star Brande Roderick and model and Fox correspondent Leeann Tweeden host. Athletes expected include Brian Cushing, Jim McMahon, Ray Rice, Maurice Jones-Drew and Vince Young.
Coors Light Silver Bullet Lodge Party
Location: The Vogue
The scene: This private party has a performance by Ice Cube and a DJ set from Gym Class Heroes frontman Travie McCoy (Celebrity gossip enthusiasts might remember McCoy as the tattooed former boyfriend of Katy Perry in her pre-Russell Brand days.)
SATURDAY
DirecTV Celebrity Beach Bowl
Location: Victory Field
The scene: This must-see daytime event seems to outdo itself every year. Picture this: A-list celebrities and NFL players tackling one another in a no-holds-barred flag football game. Last year, there was a line of fans down the street waiting to get in. This year, there should be plenty of room for all. It takes place inside of Victory Field -- home to Minor League Baseball's Indianapolis Indians -- which will be transformed into an indoor beach with 1 million pounds of sand. Chace Crawford, Matt Bomer, Kate Upton and Erin Andrews are scheduled to play, with Cam Newton and Matt Stafford coaching the teams. Dan Patrick and Kevin Frazier host a pregame show. And players -- please hold on to your pants!
NFL Charities Super Bowl Celebrity Bowling Classic
Location: Woodland Bowling Center
The scene: Let us be the first to say that there are plenty of charity golf tournaments but not enough bowling classics. We love seeing football players out of their element and wearing some retro bowling shoes at the lanes. Captains of teams will include current and former NFL stars and members of the Pro Football Hall of Fame.
DirecTV Super Saturday Night Party
Location: Victory Field
The scene: The only way to party like a billionaire is to party with one. Dallas Mavericks owner Mark Cuban hosts this post-beach bowl party alongside Peyton Manning with entertainment that will be hard to beat. DirecTV has locked down Katy Perry to perform and Connor Cruise (as in, the son of Tom Cruise) to DJ. Need we say more?
Patrón Tequila Presents: Maxim
Location: Indiana State Fairgrounds
The scene: It will be tough for Maxim to live up to last year's party, which we ranked No. 1 for its circus theme that included games, prizes and an actual Ferris wheel at the center of the party. As always, it will have a surprise Grammy-winning artist. (Last year was Wyclef Jean.) But we're pretty excited about this super hero party -- including a kryptonite-themed Cristal bar, a Gotham City barbershop and Coca-Cola Zero cocktails called The Ultimate POW. We think Dwight Howard would approve; now if only he'd show up in his Superman cape. …
Rolling Stone & Bacardi Bash
Location: The Crane Bay
The scene: This is Rolling Stone's first Super Bowl Party, and it will compete head-to-head with a few other top parties Saturday night. In the magazine category, there's the aforementioned Maxim shindig. In the music category, there's Katy Perry performing at DirecTV, while 50 Cent, Lil John and Pitbull perform at The Bud Light Hotel. Rolling Stone locked down an impressive list that includes LMFAO, Gym Class Heroes, Cobra Starship and Lupe Fiasco. As for Bacardi, it's the company's 150th anniversary, so expect the rum to be flowing.
The Bud Light Hotel Party
Location: The Bud Light Hotel (Hampton Inn Downtown)
The scene: All you need to know is that 50 Cent, Lil Jon and Pitbull are slated to perform. If it's anything like last year's Bud Light Hotel parties, we expect endless Bud Light, late-arriving talent and the party to run into the early morning -- which isn't necessarily a bad thing.
NFL Honors Awards Show
Location: Murat Theatre at Old National Centre
The scene: Think of a miniature version of the ESPYS. This is the NFL's first two-hour prime-time awards show, which will honor the best players and plays from the 2011 season. NBC has lined up Alec Baldwin to host, Lenny Kravitz to perform and appearances by Barry Sanders, Shannon Sharpe, Steve Young and dozens of players across the NFL.
Taste of the NFL: Party With A Purpose
Location: Gleaners Food Bank of Indiana
The scene: This event should be called Eating With A Purpose. TLC's "Cake Boss" stars Mauro Castano and Joey Faugno hosts this food-filled extravaganza. Thirty-five different food stations featuring a chef from each NFL city will cook up a dish alongside a current or former NFL player. Come with an athlete's appetite.
Leather & Laces Party
Location: Regions Bank Tower
The scene: (See Leather & Laces Party, Friday)
The House of Hennessy
Location: Emmis Communications Building
The scene: With the teams tucked tightly in their beds by the time Rev. Run and Ruckus get the music going, partygoers will be sipping Patriots- and Giants-themed Hennessy drinks and munching on hors d'oeuvres to old-school jams.
Casa De Don Julio
Location: The Field House
The scene: Rookie standout Cam Newton will be honored at the bash where Lil Jon will perform. This party was the go-to late-night spot for celebrities last year, and Ashton Kutcher, Hayden Panettiere, Nelly and Spike Lee stopped by. Even though rookie hazing is over, our bets are on Cammy Cam to entertain us not only with a stellar speech but also a little music performance of his own.
SUNDAY
Rolling Stone-Volkswagen Rock & Roll Fan Tailgate Party
Location: The Crane Bay
The scene: Rolling Stone keeps its Super Bowl weekend rocking at its Sunday tailgate party. Conveniently just two blocks from Lucas Oil Stadium, it'll have Jane's Addiction, The Roots and Pete Wentz performing.
The Bud Light Hotel Tailgate and Viewing Party
Location: The Bud Light Hotel (Hampton Inn Downtown)
The scene: Barenaked Ladies will perform at The Bud Light Hotel's viewing party. For those who weren't lucky enough to snag a ticket to the big game and want to avoid the chaos around the stadium, there will be plenty of beer at this party.
Jerseylicious Tailgate Party
Location: McFadden's Restaurant and Saloon
The scene: Jersey is bringing its flashiness to Indy. The Style Network's "Jerseylicious" cast members Anthony Lombardi and Frank Buglione will be tailgating, meeting and greeting fans. The upside is the open bar and food buffet for just $40 a ticket; the downside is you'll have to hang with the cast of "Jerseylicious."
Super Bowl Pregame Party
Location: Indiana State Museum
The scene: The entertainment is all across the board at this daytime bash -- perhaps to entertain the whole family. For dad, there's Hall of Fame inductee Archie Manning. For mom, there's chef Paula Deen giving a cooking demonstration. And for the kids, Cirque USA will provide entertainment.
Champion Sunday After-Party Celebration
Location: Sensu
The scene: If you're still awake after the weekend's festivities, this postgame party at the downtown Indy Asian-fusion hot spot will be hosted by Michael Strahan and Sports Illustrated swimsuit supermodel Chrissy Teigen, with a performance by Fabolous. As Teigen said on her Twitter account when talking about the bash: "oh man, my poor liver."
Laura Lane is a regular contributor to Page 2.