Commentary
Guide to creating a team rap song
Originally Published:
February 2, 2012
By
DJ Gallo
| Page 2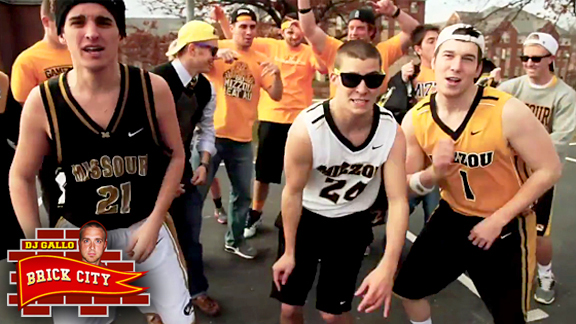 WeAreMissouri
On Jan. 15, the "SDSU Aztec Motto (featuring The Show)" hit YouTube. Twelve days later, some Missouri students released "We Are Mizzou," which harkened back to 2011 YouTube smash-hit "This Is Indiana," a song touting the greatness of a team with three consecutive losing seasons.
AZTECS' MIGHTY 'MOTTO'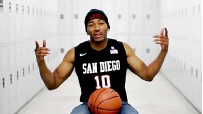 San Diego State forward Tim Shelton earns praise with his song "Aztec Motto," but he doesn't have any illusions of music stardom. Doug Williams
On Jan. 28, "Murray State Anthem" dropped and on Tuesday, some Kansas students responded to Missouri's video with "We Are KU."
It's quite clear that it's college basketball rap video season. It's also quite clear that some fan videos are much better than others.
For example, if you can get someone who can actually rap to do your video, like in the San Diego State song, you should totally do it. If you can only get your roommate Kevin, who has an old Nelly CD on the floor of his Acura, maybe you should reconsider recording a song.
Still want to record a video? Awesome. We can't wait to see it. Here are some tips to help you get it posted online by the end of the day.
Pick a beat.
Reason: Rap songs have a beat.
Tip: There are free beats available online or maybe one of your friends has GarageBand. Be sure to pick something that won't overpower the jaw-dropping lyrics that you're about to lay down. We want to hear every word.
Say who you are in the chorus (or "hook") of your song
Reason: Saying who you are tells people who you are.
Sample lyrics: "We are [school name] / We are [school name] / We are [school name]" or "This is [school name] / This is [school name] / This is [school name]."
Boast about your team's accomplishments between the choruses
Reason: You presumably are creating your viral classic in order to raise awareness of the greatness of your team.
Sample lyrics: "We've got [number] banners / dunkin' on fools with no manners" or "We often make it to the NIT / our best player has an injured knee."
Among your boasting, rip your team's rivals
Reason: You can further distinguish the quality of your team by comparing it to the woeful inadequacy of its opponents.
Sample lyrics: "The [rival team's name] wants to be us / But they're not even signed up for Google+."
Tip: Promoting your song via social media sites such as Facebook, Twitter and Google+ will help generate traffic. Now, with your lyrics written, it's on to filming the video …
Get some friends to dress up in team colors and dance around behind you while making hand gestures
Reason: In case your lyrics and beat aren't exactly on point, this will let everyone know that you are attempting a song in the rap genre.
Tip: Have your friends watch a few minutes of a Vanilla Ice video on YouTube before filming starts in order to get the look down. Also, encourage a male friend who has smooth, muscle-free arms to wear a basketball jersey with his arms exposed. This seems to be a recurring image in many college basketball rap videos. Show respect to those who came before you.
Film your video at prominent locations throughout campus.
Reason: By spitting fire in the quad, outside of the original university building, in front of campus statues and outside the team's arena, you are showing off the visual splendor of your campus. This also makes it tougher for your university to distance itself from your video after it is released or try to pin it on students from a rival school playing a prank.
Tip: Don't ask university officials for permission to film at any of these places.
Upload your video to YouTube the moment it is finished.
Reason: Timing is everything in the viral world. Also, you don't want to get cold feet and think: "You know what? Our idea was from a good place, but this might be something that we should just keep to ourselves." No. No, please. Share it with the world. We desperately want to see it. And what's the worst that could happen? If it's good, it will get a lot of traffic from your school's students, alumni and fans. And if it's terrible, it will get 10 times that traffic from your rival schools' students, alumni and fans. It's a win-win.
Tip: Don't read the comments below your video on YouTube. No one's self-esteem could endure it.
The Sweet 16

1. Congratulations to Towson on ending its Division I record 41-game losing streak with a 66-61 win over UNC-Wilmington on Saturday. The Tigers unfortunately followed that up with a 25-point loss to 8-16 Hofstra on Wednesday night. It's sad. Their losses feel so meaningless now.

2. With Towson's losing streak at an end -- or back to just one -- the honor of being America's losingest Division I program now falls to Binghamton, which has dropped 23 in a row. The Bearcats' last win came 11 months ago, on March 3, 2011, when they crushed UMBC 91-65 in the first round of the America East tournament. Binghamton gets a shot at the 3-18 Retrievers again on Feb. 15. Their remaining schedule also includes 11-13 Boston University, 4-18 Hartford, 8-13 New Hampshire and … wow, the America East is not good at basketball.

3. The perception that Big Ten basketball is full of low-scoring, unathletic, plodding slugfests took a major hit over the weekend with Indiana's 103-89 win against Iowa. Impressive. And then on Tuesday, Illinois beat Michigan State 42-41 in the second-highest-scoring game in conference history. It's been a great week for Big Ten basketball.

4. From ESPN.com's College Basketball Nation blog comes this stat: On Tuesday night, Penn State's Matt Glover fouled out without taking a shot in 30 minutes -- the second time he has fouled out of a game this year without shooting the ball. I fear for his future in basketball. He seems to have no NBA prospects, and unless he's going to foul people constantly AND shoot every chance he gets, he'll never fit in to any rec league in America, either.

5. UConn has lost six of eight and the economy still isn't booming. I feel like it might be time for someone to question Jim Calhoun's salary again.

6. Idea for UConn on how to generate even more money from basketball for the university: Sell DVDs of Calhoun yelling at reporters who question his salary.

7. Southern Miss head coach Larry Eustachy, on the final minutes of stress before the Eagles ended their 18-game losing streak against Memphis: "Terrific, isn't it? Long time coming. I sat there on the bench with about two minutes, go, 'I've seen this before.' I've seen it more than 'The Godfather.' I really did think, 'Here I am, [Fredo Corleone], getting in the boat again. I'm going to go out thinking I'm fishing, and get shot." It's really great to have Eustachy back in the news.

8. This week's Name of the Week award winner is Arkansas Pine-Bluff guard Lazabian Jackson. The Golden Lions are 3-19 on the season, suggesting that perhaps they need to work harder in practice and not be so … wait for it … LAZABIAN. (I'm really sorry.)

9. In an attempt to make amends for that last item, here's a clip of Lazabian's teammate, Savalace Townsend. "Savalace" is a great name as well, but even better than his name is his jumping ability.

10. Iowa State fans have had the opportunity to storm their football field and home court in the past few months thanks to upset wins over Oklahoma State in football and Kansas in basketball. The school bookstore should consider selling "Iowa State Event Staff" polo shirts with footprints across the chest.

11. Syracuse big man Fab Melo is returning to action this weekend. Melo used his Twitter account to participate in the hashtag #FabMeloFacts this week. Thankfully, no one on Twitter is mean or snarky, so this won't come back to bite him in any way.

12. Tennessee Tech guard Kevin Murphy scored 50 points in a win over Southern Ilinois-Edwardsville this week, the most points scored in Division I this season. Murphy is also the first to score 50 in a game since Jimmer Fredette put up 52 against New Mexico last March.

13. There's no possible way I'm mentioning The Jimmer in a column about college basketball rap anthems without putting T.J. Fredette all up in your face.

14. Harvard is currently ranked 23rd in the coaches poll and is tops in the Others Receiving Votes section of the AP poll (aka ranked 26th). Not too shabby. If Harvard releases a basketball rap anthem, I think we can all agree that it will be the greatest thing ever -- assuming we can understand any of their references.

15. Ooh! I thought of a line. "Making you cry like you're the Winklevii." Take it from there, Cambridge rappers.


16. The best game of the weekend is Saturday night on ESPN, when No. 8 Kansas visits No. 4 Missouri. I'll pick the Jayhawks, even though "it must be hard to sing and rap when Ratliffe throws down in [their] face."
DJ Gallo is the founder of SportsPickle.com. He has written a book and written for Comedy Central, The Onion and ESPN The Magazine. He co-hosts the Page 2 Podcast and has appeared on ESPNews. You can follow him on Twitter at @DJGalloESPN.