Commentary
Super Bowl XLVI: Pats are rightful faves
Originally Published:
February 2, 2012
By
Sarah Phillips
| Special to Page 2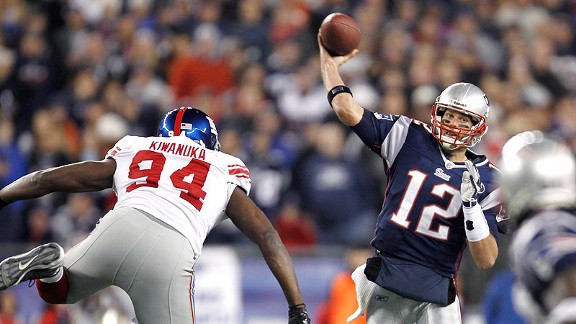 AP Photo/Winslow TownsonThe Patriots will be difficult to beat if Tom Brady plays to potential against Mathias Kiwanuka and Co.
The Patriots enter Super Bowl XLVI as a three-point favorite against the Giants. But public perception seems to be that the wrong team is favored, with reasons ranging from Rob Gronkowski's high ankle sprain to Eli Manning's strong fourth-quarter performances this season.
While it's fascinating that fans are attempting to moonlight as oddsmakers in advance of the big game, the discussion has left much to be desired in terms of accuracy. So Page 2 debunks these myths of public perception about the Super Bowl XLVI point spread.
Myth No. 1: Gronkowski's injury is serious enough to significantly impact the line.
The overreaction to Gronkowski's injury is similar to the Y2K panic -- the world is coming to an end!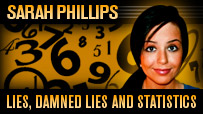 It's true that Gronkowski is Tom Brady's top target in the red zone, having caught 17 touchdown passes during the regular season and three more during the playoffs. Still, Gronkowski's injury is only worth a point toward the spread. That's not to say his impact isn't crucial to New England's game plan, but most injuries or player limitations shift the line by only half a point to a full point, if at all.
The generic lines at most sports books, which were set prior to the conference championship games, favored a healthy Patriots team by four points over the Giants.
Myth No. 2: If Gronkowski doesn't play, the Giants should be favored to win.
Brady is the only player on the Patriots' roster who's worth more than one point toward the number. He's the only player whose absence could move the line enough for the Giants to become the favorite.
Obviously, if a combination of New England's featured players miss the game, then New York could become the favorite. But that scenario is highly unlikely.
Myth No. 3: Because this game is at a neutral site, and since the Giants beat the Patriots in Foxborough on Nov. 6, New York should be the favorite.
The location of a game is generally worth three points in either direction, according to Las Vegas Hotel Race and Sports assistant manager Jeff Sherman. So if the Super Bowl were played at Gillette Stadium, New England would be a six-point favorite; if MetLife Stadium were the site, the spread would be pick 'em. Therefore, New England is essentially considered a three-point favorite on a neutral field.
Keep in mind that New England was a nine-point favorite when the teams met Week 9 in Foxborough, so oddsmakers credited New York with a three-point shift.
Interestingly, in 12 previous Super Bowls pitting a rematch of a regular-season game, the loser of the first meeting actually has a winning record: 7-5.
Myth No. 4: New England's defense is awful. They're favored just because they're the Patriots.
The best defense is a good offense, and Nevada oddsmakers have been in New England's corner because its offense is so versatile. The Patriots have been the favorite to win the AFC since early-bird odds were released last summer, and they were right behind the Packers in Super Bowl future odds. Oddsmakers stuck by New England after a Week 3 collapse at Buffalo and losses to the Steelers and Giants. That's love.
Realistically, the Patriots would be a favorite against most NFC playoff teams, although New England likely would've been a four-point underdog to Green Bay, and pick 'em against New Orleans.
Myth No. 5: The wrong team is favored.
No. Leave linemaking to the professional oddsmakers.
Super Bowl XLVI pick


Giants vs. Patriots, Sunday, 6:30 p.m. ET, NBC
The spotlight has shined on many quarterbacks this season, notably Aaron Rodgers, Drew Brees, Tim Tebow and Eli Manning, who became the first quarterback to throw 15 fourth-quarter touchdown passes in a season. But perennial headliner Tom Brady has been flying under the radar to a large extent this season. But it's Brady who's aiming for his fourth Super Bowl championship on Sunday, with an opportunity to pass Joe Montana atop the list of career postseason wins by a quarterback. With a victory, Brady enters the conversation for the brightest spotlight of them all: greatest quarterback in NFL history. New England is 9-3 against the spread when failing to cover the number in its previous game.
Pick: Patriots (-3)
Championship Sunday picks: 1-1
Season record: 88-76-2 (53.7 percent)
You can follow Sarah Phillips on Twitter @SarahPhilli.