Commentary
Michael B. Jordan talks shop to Page 2
Rising star dishes on his roles in "Friday Night Lights," "The Wire" and "Chronicle"
Originally Published:
February 8, 2012
By
Jon Gold
| Special to Page 2
Michael B. Jordan is not in the restaurant five minutes before someone shouts out, "Wallace!"
It is a sunny afternoon in Hollywood, Calif., and Jordan can finally see once more. He has spent three days with his eyes closed, traversing Los Angeles by foot and by car, preparing for a guest role as a blind man on the Fox series "House." He has the shades on the table and the cane in his backpack.
It's that dedication that has his career on the brink of stardom, with two movies out and two memorable roles already under his belt at 25 years old. Those two roles -- as Wallace in "The Wire" and as Vince Howard in "Friday Night Lights" -- have cemented his status as a Hollywood five-star prospect.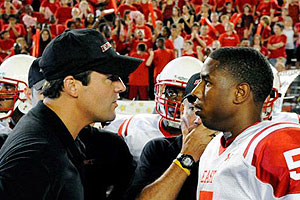 Bill Records/NBCKyle Chandler challenged Michael B. Jordan to hone his improvisational chops on "Friday Night Lights."
But now he's on the verge. Forget Cam Newton's brilliant rookie season; the actor whose fictional character's storyline paralleled Newton's might be having an even better one. Though the marquee flickered out on "Friday Night Lights" a year ago, Jordan's star power is only growing, with his recent work in "Red Tails" and a leading role in "Chronicle," which opened last week and is already getting good reviews.
The last time we saw Jordan portray Howard, he was just starting to look comfortable in the blue and gold of the Dillon High Panthers. As the pressure mounted on Newton in real life, with the Auburn quarterback embroiled in controversy regarding his recruitment and the alleged solicitation of payments by his father, Cecil, so too did the pressure rise on young Howard, who similarly found himself as a highly coveted prospect handling the game of manipulation that is recruiting.
It was, Jordan said, "the perfect timing."
Jordan calls his audition for "Friday Night Lights" with show creator Peter Berg, "the most fun I've ever had in my life," as Berg challenged Jordan in a way the young actor had never been previously. They improvised a scene of a "beer summit" with Harvard professor Henry Gates -- a black man who was arrested while trying to get into his home -- the white arresting officer and President Barack Obama.
"I'm a white cop; Pete Berg is Barack Obama," Jordan recalls with a laugh. "We're going back and forth. It was so much fun. I've never had an exercise like that in an audition. I just said it, as a white cop, 'I hate n-----s. I hate em.' Then we flip it, and now I'm the professor and he's Obama."
Then the real fun started.
"[Berg] said, 'I'm the quarterback, you're the middle linebacker, now get into it, start talking s---,'" Jordan said. "'More, more!' I'm getting into it. He yells, 'Talk s---!' It got to the point where I ran over to him and I tackled him out of the chair. I couldn't help it. I dropped him. I thought to myself, 'I either got the job right there or I'm never working again in this town.'
"I ended up getting the job."
Getting the job and ingratiating himself into the cast were two distinctly different things, though, and Jordan found that more difficult. When Jordan came aboard in the show's fourth season, the show was already, as he called it, "a well-oiled machine that's working on all cylinders." While the show's ratings remained relatively low, "Friday Night Lights" had long developed a devoted cult following, with fans already attached to roles such as shy quarterback Matt Saracen (Zach Gilford) and brooding, long-haired heartthrob Tim Riggins (Taylor Kitsch).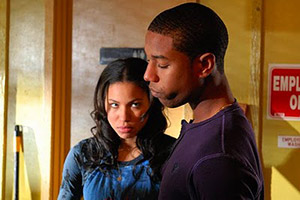 NBC UniversalJordan and Jurnee Smollett played key roles in
the final two seasons of "Friday Night Lights."
Jordan approached the show as if he were a caretaker for those who had already established it as a realistic view of small-town, football-obsessed Texas. He quickly caught on as Howard, a troubled teen who is saved from the streets by Eric Taylor (Kyle Chandler), the show's figurehead as head coach of Dillon High, and later East Dillon High, where he desperately needs Howard's help.
Although Jordan said he could barely throw a football when he started the show, Howard developed into a star. More importantly for Jordan, he developed a following.
"Forget being politically correct -- I wanted to make sure that people who were in love with Tim Riggins, in love with Matt Saracen, fell in love with me, too," Jordan said. "You wanted them to care about your character as much as they cared about them. I've seen people get cast on shows and they get picked apart. And I said, 'Damn, I don't want to go through all that."
Jordan said he benefited from the Newton parallels, as the show coincided with increased focus on Newton's off-field issues and worked many similarities into the storyline, simply because it made the show seem more realistic. Also, the show's cinematic style and reliance on improvisation challenged the young actor.
"Kyle Chandler said point blank, if you're not bringing something to improv, you're not doing your job, so I heard it from the man himself," Jordan said. "Literally, when we stepped onto the set, I felt as comfortable as I could be to experiment. There were certain scenes we shot in one take, because we just had it.
"If I was acting and a light blew out, I'd keep going. We were in it."
If "Friday Night Lights" was real Texas, "The Wire" was real Baltimore, and Jordan found that out in the first episode.
---
Jordan was born in Santa Ana, Calif., but raised in Newark, N.J. His best friends were drug dealers. His uncles were drug dealers. The city is known as the unofficial car theft capital of the world, and Jordan knew people who contributed to that reputation. "My best friend's dad was that guy."
[+] Enlarge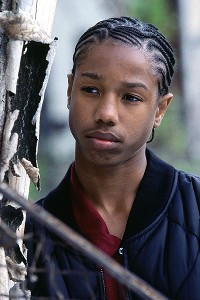 David Lee photo/HBO Jordan cut his teeth on the popular HBO series "The Wire" in 2002.
So when Jordan was portraying a character selling dope on the street corner, "I walked by it every day. I saw it every day," he said. "It's not hard for me to mimic the guy on the corner pitching. I used to see it all the time."
Jordan originally auditioned for the character of Bodie, but he was too young for the part, which eventually went to J.D. Williams. Show creators David Simon and Ed Burns liked Jordan's read -- and his authenticity -- and cast him as Wallace. While filming the show's pilot in the Baltimore projects, Jordan watched actors mix with actual Baltimoreans, making the show look as real as possible. Sometimes too authentic.
"The scene is, I'm serving a couple fiends who are coming up, and I tell them to go around the corner and I take their money, right?" Jordan says. "This guy comes up to me. I'm thinking he's an extra, and he's like, 'Let me get that special.' All right, cool. He gives me the money. All fake money, mind you. I figured the prop guys put in some real dollars, but I'm like whatever. Took his money. He goes around the corner. He's expecting to get some s---. There's no drugs. He's going nuts. He starts freaking out. 'Yo dude, what's going on, where's my f---ing money?!' I'm like, '... Cut! This isn't in the scene!'
"That's how real it was. Even the fiends thought we were doing the real s---."
Jordan's life in Newark may have helped him pull off the role of a drug dealer, but Jordan strived to take Wallace's character deeper, and it helped that Simon had a vision for the character that took him through a range of emotions.
"I like showing layers, showing choices," Jordan said. "A middle-aged white guy from Minnesota who watches 'The Wire' might think all black kids are like that. That's real for him, and the next time he encounters a black kid, that's going to be the first thing that comes to his mind. If I get a character like Vince, and I'm able to show that it's not that he's a bad kid, it's because he had s--- growing up, that he was dealing with the cards he was dealt and was trying to make the best decision he could -- it's like hiding the medicine in the food."
[+] Enlarge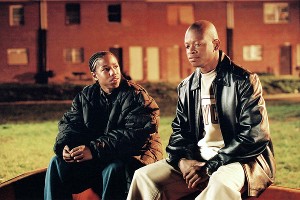 David Lee photo/HBO Jordan teams with actor Larry Gilliard Jr. in
a scene from the first season of "The Wire."
Jordan's turn as Wallace was a memorable one, but a brief one.
He was the youngest featured character on "The Wire" and perhaps its most sympathetic, a 16-year-old black drug dealer who wants out of the game. Jordan said a day doesn't go by when someone doesn't scream at him, "Where's Wallace?!" He is frequently asked about the chess scene -- when a young Wallace and Bodie are taught the game by D'Angelo Barksdale (Larry Gilliard Jr.) in terms they can understand -- and he is still considered one of the show's most beloved characters.
That's exactly why he lasted only one season.
"They always kill the guy that everybody cares about," Jordan said. "When [my character] first started using drugs on the show -- when Wallace first started sniffing because he was bothered by the body being put on the back porch -- I was like, 'Oh no, I'm dying.' I told my mom, 'That's it, I know I'm dead now. I can't last the whole season.' Three scripts later, I read it, I get a knock on my trailer, and it's David Simon, He's like, 'Hey, Mike, I need to talk to you man. Look, Mike, we love you; everybody loves you. That's why we have to kill you.'"
No longer a pawn, not quite a king, Jordan is at a career crossroads now.
---
Now is no time to slip up, and Jordan knows that. He is on his game like an Olympic athlete preparing for one shot at glory. It's gold or nothing at all, despite the fact that the opportunities for a young black actor can be limited in Hollywood.
"There was a stretch of time when I might have gone out on an audition once a month, and I had white friends who were going out four times a week," Jordan said. "It was a different hustle. You have one role that comes out -- say Tupac -- and there's 4,000 brothers going out for one role. All for Tupac! From the ages of 17-40, they're all going in, whoever can squeeze in. Fake it, dye their hair, shave it off. It creates a crab-in-a-barrel-type thing. Everyone is trying to get to the top."
[+] Enlarge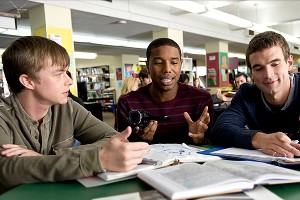 20th Century FoxDane DeHaan, Jordan and Alex Russell portray teenagers who make a stunning discovery and
gain superpowers in the new movie "Chronicle."
Jordan sits back in his chair and breaks into a smile as he thinks about where he was 10 years ago and where he is now.
He remembers being picked up at a train station in Baltimore by a young production assistant, nervous and a bit scared about his first major role in "The Wire." The PA was Anthony Hemingway, who 10 years later is the director of "Red Tails," which features one of Jordan's biggest roles.
Jordan has made a career out of playing the street hustler, but now he's finding a broader audience, with a guest role on NBC's "Parenthood" and his starring turn in "Chronicle" as Steve Montgomery, which had been written for a white actor.
"Now some people are following me, and that's something new to me, that I have people who care about what I'm doing in my career," Jordan said. "These two movies out, they're two completely opposite movies. One that might just be labeled as a black movie, even though it's not; it's an underdog story. Then you have 'Chronicle,' which was written for a white guy, and that's one of the things I love so much. Bro, my character's name was Steve Kazinsky. Now it's a joke between the directors and producers, 'Heyyy, it's Steve Kazinsky!' This is one of the roles I'm most proud of, because it was written for a white guy, but I got it, they changed it and now I'm Steve Montgomery."
Jordan again perks up when he talks about his goals for the future, which involve screenwriting and producing. He's acquired book rights and wants to create video games, and he harkens back to Cam Newton once more when he says, "I want to become an entity, a corporation, that guy."
"Let's start making some colorless material," Jordan said. "Not black movies, not black roles. Colorless. Where it doesn't matter who plays it. There has to be a reboot, a revamp. It's a new generation of filmmaking. Even comic books, they're changing. Times are changing. It's 2012. You know the new Spider-Man is black and Hispanic?' Look at me, man! I am the Dark Knight."
Jon Gold is a sportswriter for the Los Angeles Daily News and a freelance writer based in Los Angeles. You can find him on Twitter at @TheCoolSub or email him at jgold71@gmail.com.