Commentary
Super Bowl week: It's time to wing it
Updated:
February 5, 2012, 9:24 AM ET
By
Jerry Greene
| Page 2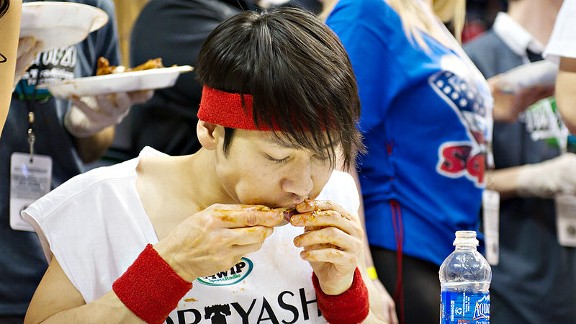 Gilbert Carrasquillo/Getty ImagesKobayashi won Wing Bowl 20 in Philadelphia on Friday, breaking the record by eating 337 wings.
You probably think everything important in American sports this past week happened in Indianapolis. Wrong, football breath. How could you forget one of our growing traditions, the 20th annual Wing Bowl in Philadelphia, which attracted 20,000 sports fans eager to see thousand of chickens rendered wingless -- along with nearly naked women mud wrestling?
The hero was famed Kobayashi, who knocked down 337 chicken wings in 30 minutes (a little more than 11 wings a minute for the mathematically challenged).
It all reminds me of a visit years ago to the now-defunct World's Chicken Plucking Championships that were held every October in little Spring Hill, Fla. Why this event is lost in history is puzzling. It included a guy who tried to jump a one-mile-wide lake on his motorcycle and fell short by all but the first 10 feet of the mile. Then there was the somewhat controversial Ms. Drumstick beauty contest that was judge purely on the contestants' shapely legs. To guarantee objectivity about the, um, drumsticks, all the contestants wore burlap bags over the rest of their bodies.
The highlight, of course, was the chicken plucking. You haven't seen anything until you see the feathers and blood start to fly. They always assured everyone that the chickens had been "put to sleep humanely" before being plucked. The chickens must have been grateful for that.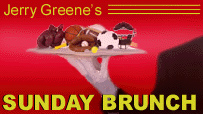 The closing was my favorite, however. A male-and-female choir dressed in formal attire would perform the "William Tell Overture" -- by clucking it.
That's entertainment.
There will be entertainment galore when we get to the main dishes in the Super Sunday Brunch, but first a few bits of tid, mostly about that Big Game in Indy.
• Not sure if anyone has mentioned this about the Super Bowl, but it's possible that the health of New England tight end Rob Gronkowski may be important. You heard it here first.
• Madonna chose Eli Manning over Tom Brady. Somewhere Gisele Bundchen must be saying "Thank you, Lord." (Not really.)
• The NFL sold 7,000 tickets for fans to watch 2,000 media work? Next year -- Media Red Carpet! "Dan LeBatard: Who are you wearing?"
• Colts owner Jim Irsay, who is a member of the Super Bowl committee, says there is serious talk about taking the Super Bowl overseas. Does Qatar know about this?
• Dave Letterman: "Oh, you know what it is? Super Bowl Sunday, how about that? You know how much money Americans spend on snacks during the Super Bowl game? A billion dollars, and that's just at Governor Christie's house."
• Tweet of the Week from Eagles QB Vince Young: "Twitter fam I have been invited to b on Dancing with the Stars what do y'all think about that lol." -- What we probably think is that "Dancing With the Stars" is in trouble when it's going after second-string quarterbacks.
[+] Enlarge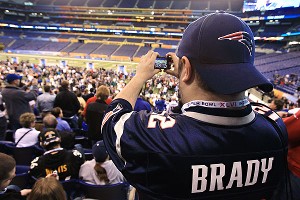 Scott Halleran/Getty ImagesThousands of fans paid money to sit in the stadium Tuesday to watch Super Bowl media day.
• And taking a tip from Bill Belichick, I've been practicing my halftime break all week. I'm in and out of the bathroom in 38 seconds flat, a personal best. I'm game ready.
Ding ding. Time for the main courses of the Super Sunday Brunch. We're staying away from the Super Bowl per se as you can find that in a thousand places. Not that it means we are staying away from America's favorite pastime. Enjoy.
• What kind of two weeks has it been for Indianapolis Colts owner Jim Irsay with two other teams in his town seeking Super Bowl glory while he continues to clean house? Judy Batista of The New York Times provides insight including Irsay's claim that hosting the big game is the final piece in a "golden era" that is over now. Find out more here.
• Moving to the NBA, T.J. Simers of the Los Angeles Times compares and contrasts the Clippers and Lakers. Hint to Lakers fans: You won't like it. He also works in a review of the flick "Extremely Loud and Incredibly Close." Anyone connected to that movie won't like what he says, either. See for yourself here.
␊ How about some baseball? Drew Davidson of the Fort Worth Star-Telegram gives us two lists: Top 5 and Bottom 5 offseasons. Hey, Mets fans, which list do you think you're on? See both lists here.
• Back to the less fortunate side of the NFL on Super Sunday. The Jacksonville Daily Record provides a Q&A with new Jaguars owner Shahid Khan, who swears he would have drafted Tim Tebow without benefit of hindsight. Current Jags QB Blaine Gabbert probably doesn't have this article displayed on his refrigerator door. Take a look here.
• We love to take you places you might not find yourself. So we close with an article by Roger Dooley for Neurosciencemarketing.com about neuroscience and the Super Bowl. Pay particular attention to the "brain movie" that's included. How often do you see one of those? Well, see it here.
And whatever you may watch later on this Super Sunday, have a great time. Kobayashi and I recommend about 337 chicken wings even if you didn't pluck them yourself.
Oh, one last thing: New England 34, New York Giants 20.
Jerry Greene is a regular contributor to ESPN.com and can be reached at osogreene@aol.com.