Commentary
Katy Perry, LMFAO and The Fray shine
Originally Published:
February 5, 2012
By
Laura Lane, Kelley Carter
| Page 2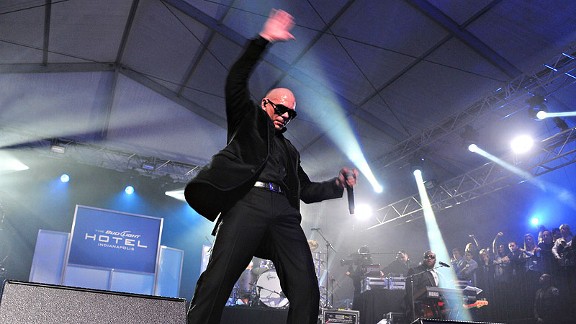 Stephen Lovekin/Getty Images Pitbull performs at the Bud Light Hotel, which also featured concerts by 50 Cent and Lil Jon.
INDIANAPOLIS -- It was the last day to rally before the Super Bowl, and all of the parties brought enough horsepower to last into the early morning. We took laps around Indy to bring you a taste of the party action. From EA's Madden Bowl on Thursday to the ESPN and Playboy parties Friday. Thanks for joining us on our ride and let the game begin!
LEATHER AND LACE
Why that title: Isn't is obvious? There's a dress code here, people, and if you've got the body, you better work it, honey.
Where: The rooftop of the Regions Bank Tower in downtown Indianapolis -- which was one of the coolest venues of the week. There were private VIP rooms that moneymakers shelled out $25,000 or more to book and entertain guests and clients privately. Another cool thing: Those with VIP access got to travel in and out of private lounges -- a champagne lounge, a Belvedere vodka lounge, etc. It's the little things.
Performers: They had more Playboy than the actual Playboy party. Well, they had the Playboy bunnies we know of, anyway. The original girls next door -- Kendra Wilkinson, Bridget Marquardt and Holly Madison hosted the Saturday night party. This was the second night of Leather and Laces, actually. The night before hosts were Carmen Electra, Jenny McCarthy and Jennifer "JWoww" Farley.
Celebrities we saw: Hank Baskett, Wilkinson, Marquardt and Madison.
Celebrities who were confirmed, but we didn't spot: We didn't see too many football players on the prowl on Saturday night, but understand athletes were swarming the event the night before.
Food factor: Guests noshed on sushi and cupcakes.
Overheard: "No sex in the champagne room!" one jovial guest told his friend. We're thinking he was just joking, considering that there was an actual champagne room here.
Race car rating: Pole position -- we swear we're not making a play on words here. (Though the go-go dancers who entertained that night looked like pros.) This actually was a really cool event, and we understand why before it began, the fire marshall was already limiting people inside -- the lines to get in stayed consistent all night long.
50 CENT, LIL JOHN, PITBULL
Why that title: No title for this one, really. Just a banging concert with three guys who know how to make us move like nobody's business.
Where: The concert was held at one of the hottest spots all week long: the renamed (for the week, anyway) Bud Light Hotel in downtown Indy. This was so appropriate, it's not even funny. Opener Lil John constantly reminded folks to drink up and drink plenty. He got zero complaints.
Performers: Lil John (Yeah! What?!), Pitbull (who performed all of his party tracks) and 50 Cent.
Celebrities we saw: Dhani Jones, Mike Alstott, Nelly, John, 50 Cent and Pitbull, of course.
Celebrities who were confirmed, but we didn't spot: We're sure there were plenty of celebrities fist-pumping on the second-floor VIP lounge, but it was so jam-packed here, that we couldn't inch out way in that direction.
Overheard: "I'm about to get so [expletive] drunk tonight," which was pretty much the battle cry of this event. We just hope they hopped in a cab after their task was complete.
Food factor: Food? At a concert? There may have been some brave waitresses passing around something to nibble on, but we didn't see it. Folks were too busy screaming and yelling out their favorite party hip-hop tracks (and partying like it's their birthday -- shout out to 50 Cent) to care about grub.
Race car rating: Lapped traffic: It didn't quite deliver what the EA Madden Bowl and Playboy parties did earlier in the week, but the fans who were there seemed to be happy with the show.
DIRECTV CELEBRITY BEACH BOWL
Why that title: DirecTV's annual Beach Bowl brings the beach to any Super Bowl city and selects celebrities to duke it out in a flag football match in front of thousands of fans.
Where: Victory Park Stadium was transformed into an indoor beach thanks to 1 million pounds of sand and a giant tent set in the center of the minor league baseball stadium. Rain? What rain? It might as well have been June in Southern California!
Performers: The Fray performed after the match.
Celebrities we saw: Snoop Dogg, Neil Patrick Harris, Kate Upton, Jordin Sparks, Chrissy Teigen, Matt Stafford, Chace Crawford, David Arquette, Deion Sanders, Brandon Molale, Erin Andrews, Matt Bomer, Maria Menounos, Nina Dobrev, Terrell Owens, Joe Manganiello, Joe Montana, Artie Lange, DJ Pauly D, and Jim Brown.
[+] Enlarge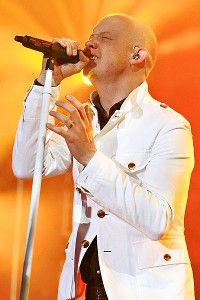 Christopher Polk/Getty Images Singer Isaac Slade of The Fray performs at DIRECTV's sixth annual Celebrity Beach Bowl Game.
Celebrities who were confirmed, but we didn't spot: While the DirecTV Bowl wasn't the caliber of stars as say the year J-Lo was there, the only celebrity we didn't spot who was on the tip sheet was Jaime Pressly. And let's be honest, we'll take Joe Montana over Jaime Pressly anytime.
Overheard: David Arquette looked down at his pale, white legs on the red carpet before the match and made an observational comment: "This is not 'Dancing With the Stars,' so no spray tan!" David also wasn't too confident about his team. "We've got some tough competition. I see Joe Montana and Terrell Owens on their team. We've got DJ Pauly D." Meanwhile, Sports Illustrated model Chrissy Teigen had one goal: not to sweat. "I have 30 minutes in between this and the red carpet for the NFL Honors, which I'm presenting at, so my goal is to not sweat, which should be cool because I don't run."
Food factor: If you were lucky enough to have a ticket in the VIP area, you had a buffet of food available to satisfy any imaginable craving: sliders, hot dogs, chili, soup, sandwich combos, Caesar salad, garden salad, sweet potato fries, pasta, chicken … need I say more?
Race car rating: Shoot out: When you have sports icons (Joe Montana, Deion Sanders), joined with today's hottest athletes (Matt Stafford, Terrell Owens), and lovable celebrities (Neil Patrick Harris, David Arquette and Snoop Dogg) all split into two teams and battling it out in a flag football match, it doesn't really matter who wins. Everyone ends up a champ! The DirecTV Celebrity Beach Bowl stuck to the same formula for the game that they've used in past years: have a lot of good food, a great gifting lounge, a huge venue and big names. Hey, if it ain't broke, don't fix it.
DIRECTV'S SUPER SATURDAY NIGHT PARTY
Why that title: The Saturday night party was hosted by DirecTV, Mark Cuban's HDNet and Peyton Manning.
Where: Victory Park Stadium's beach court that was used during the day for the Celebrity Beach Bowl was transformed into a club-like atmosphere with the help of some lighting changes and a stage in the center for dancers. It is a close call between ESPN and this bash for largest venue of the weekend.
Performers: Katy Perry put on the best performance of the entire weekend. She sang nearly every single one of her hits (and she has a lot of them) and her entourage of backup dancers, singers and band came in full football spirit. Katy donned a cropped football jersey T-shirt, while her team wore cheerleading outfits and referee uniforms. If you weren't a Katy Perry fan already, you became one. Opening for Katy was Tom Cruise's son and aspiring DJ Connor Cruise, who manned the turntables.
Celebrities we saw: This was the party to be at Saturday night. Aside from Katy Perry and Connor Cruise, Shaquille O'Neal and girlfriend Nicole "Hoopz" Alexander were on the side of the stage grooving to Katy's performance while Neil Patrick Harris and partner David Burtka snapped pictures a few seats away. Mark Cuban watched proudly, admiring the crowd. Inside the party we spotted David Arquette and girlfriend Christina McLarty, Dhani Jones, Spike Lee, Jane Krakowski, Christopher Meloni, Peyton Manning, Terrell Thomas and Jerry Jones.
Celebrities who were confirmed, but we didn't spot: There were no guarantees who didn't show!
Overheard: Katy Perry on stage: "I love that we've got Madonna at the Super Bowl now. That is amazing. Because now your girlfriends want to come, right? Before then, they were like, 'Nah. Oh Madonna's coming? Yeah, I'll come!' Now I've got to buy another $15,000 ticket."
Food factor: Just like earlier in the day, DirecTV did not disappoint when it came to food. Pizza, mini burgers, crab cakes, spanakopita, cookies and brownies were plentiful.
Race car rating: Champion run: This was the party of the weekend hands down. Not only was there plenty of space inside the event to dance and roam, the food never ran out, the drinks never stopped flowing and the music had everyone on their feet. We've seen enough Super Bowl music acts to be able to tell when a musician is mailing it in for the cold hard cash. Katy Perry performed her heart out. Well done, Mark Cuban, well done. The trophy is yours!
ROLLING STONE AND BACARDI BASH
Why that title: This was Rolling Stone's first Super Bowl Party and it teamed up with Bacardi, which was celebrating its 150th anniversary.
Where: The Crane Bay, an 18,000-square-foot events center that had been recently renovated for Super Bowl weekend.
Performers: It wouldn't be a proper Rolling Stone party if there weren't any rock bands performing. Rolling Stone locked down four great musical acts that didn't disappoint: Cobra Starship, Lupe Fiasco, Gym Class Heroes and LMFAO, who closed out the night with a high-energy performance complete with a crowd-surfing zebra balloon.
Celebrities we saw: Nikki Reed came with her American Idol alum husband Paul McDonald. Also in the house were Anna Farris, Alyssa Milano, Dave Navarro, Erin Andrews, Gabe Saporta, Jon Hamm, Pete Wentz, Joe Manganiello and Lance Bass. Aaron Rodgers and Matt Hasselbeck represented the athletes.
Celebrities who were confirmed, but we didn't spot: There were more than a dozen last-minute RSVPs who had a change of plans, but no-show offenders who were MIA at more than one event they were expect at this weekend included Alec Baldwin, Taylor Lautner and Kate Mara, whose family co-owns the Giants
Overheard: Word started spreading quickly that Gisele had landed in Indy. "I hope she comes out tonight!" a partygoer said. Sadly, G stayed in.
Food factor: Rolling Stone had a sweet tooth at the party and passed out cotton candy, mousse desserts and cookies. Yum, yum!
Race car rating: Rookie of the year. This party was solid and cemented Rolling Stone and Bacardi as serious party contenders at Super Bowl weekend. The great lineup of musical acts naturally drew celebrities and athletes to the bash. The venue was smaller than DirecTV and ESPN, but it gave the event a more exclusive feel. Welcome to the party circuit.
THE HOUSE OF HENNESSY
Why that title: This two-floor lounge was a cognac drinker's dream. The event was put on by the makers of Hennessy and they served signature cocktails all night long.
Where: Emmis Communications Building in downtown Indianapolis.
Performers: Rev. Run DJ'd, performed some of his popular tracks with innovative hip-hop group RUN DMC and rocked the house for more than an hour. Without question, this was the best music all week long. He ran through classic hip-hop tracks and delivered us the good stuff airing on the radio now. Brother Russell Simmons would have approved.
Celebrities we saw: Jesse Williams, J. Cole, B.o.B, and Rev. Run, of course.
Celebrities who were confirmed, but we didn't spot: They actually never promised who would be in attendance, but considering that the music was so good -- and we're not just saying this because the cocktails were so good -- we could care less which famous faces were or weren't there.
Overheard: "I just saw someone famous. You know the Kardashians? Well, one of their best friends, Malika, was just in the bathroom. She's so pretty," a bathroom attendant told a visitor from Arizona who was on the hunt for celebrities.
Food factor: When you're serving up something as strong as Hennessy -- and it doesn't matter how much fruit juice you use to dilute it, it's still gonna be strong -- you need something to soak it all up. There was much in the way of food, but the beef sliders got gobbled up fairly quickly by partygoers.
Race car rating: Super Speedway -- the music alone sold this party. It was the place where folks got their cardio hip-hop on and danced away all of those empty calories (ahem) accumulated during the days before the big game.
THE BLITZ, HOSTED BY VERNON DAVIS AND WALE
Why that title: The concerts were aplenty this Super Bowl party week, and they were easy hot spots because that's where the athletes wanted to be. The rapper Wale and Davis hosted the event here.
Where: Sensu Lounge, a hip sushi bar that was one of the hottest party spots all week long.
Performers: Wale.
Celebrities we saw: Pacman Jones, Wale, Terrell Owens and Davis.
Celebrities who were confirmed, but we didn't spot: All of the confirmed celebrities walked our way.
Overheard: "T.O.! You OK man?!" from someone who tried to flag him down, but couldn't quite reach him.
Food factor: We didn't get here until after 2 in the morning, so if there was food it was gone by the time we arrived.
Race car rating: Neutral -- the music was great, the company was fine and the characters on the red carpet were entertaining. We're just thinking we should have shown up earlier to get the full effect.
Laura Lane and Kelley Carter are regular contributors to ESPN.com.