Commentary
Now playing
If you'd take waves over Hollywood, check these out
Updated:
August 13, 2012, 3:19 PM ET
By
ESPN The Magazine
This story appears in the Feb. 20, 2012 "Rivalry Issue" of ESPN The Magazine. Subscribe today!
THE ROCK? Nic Cage? Reese Witherspoon? We'll take waves, layups and touchdowns over Hollywood schlock every time. If you're with us, check out these sports documentaries.
SPLINTERS
Select screenings Feb. 10 to March 13
PREVIEW: At the first-ever national surfing championship in Papua New Guinea, four competitors' quests for greatness unite and divide the host village of Vanimo.

SCOUTING REPORT: "I just had my camera, my surfboard and a pidgin dictionary. I ended up living there for nine months. I barely filmed anything in the first two months. I just learned their social class and found out who were the best surfers and who had the most compelling stories." -director Adam Pesce
---
ELEVATE
On DVD Feb. 14
PREVIEW: Four high school students from Senegal receive full scholarships to play basketball at U.S. prep schools, but the cultural and athletic challenges they encounter threaten their dreams of moving on to the NCAA.

SCOUTING REPORT: "You might think you're going to watch a basketball film, but you're not. Basketball is able to bring people from different backgrounds together, and I attempt to make people understand different cultures through the sport." -director Anne Buford
---
UNDEFEATED
In theaters Feb. 17
PREVIEW: During the 2009 football season, coach Bill Courtney tries to lead the under­funded inner-city Manassas Tigers to their first playoff game while putting many of the players on a path out of impoverished Memphis.

SCOUTING REPORT: "We chose the name because the subtextual theme is resilience. Plus, we like that you go into it expecting one thing, and then they lose their first game and you're like, 'Whoa. Wait.' " -co-director Dan Lindsay
Follow The Mag on Twitter, @ESPNmag, and like us on Facebook.
ESPN The Magazine: February 20, 2012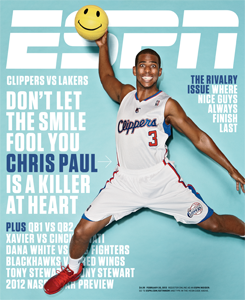 FEATURES

COLUMNS

MORE FROM THE ISSUE