Commentary
Murray State evokes Page 2 hoops attire
Originally Published:
February 9, 2012
By
DJ Gallo
| Page 2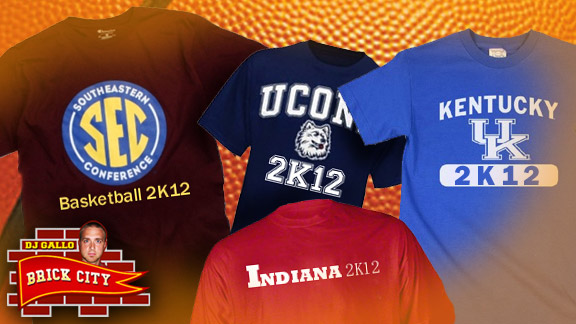 Kurt Snibbe/ESPN.com
Murray State is 23-0, the only undefeated team left in Division I and ranked No. 7 in the country. These are heady times in Murray, Ky.
But there is still a long way to go in the season. The national champion won't be crowned in New Orleans at the Final Four for eight more weeks. Maybe it's a bad idea to be selling a T-shirt touting your early-February accomplishments.
Or maybe it's a great idea. Why wait until April and potentially miss out on thousands of T-shirt sales? Everyone in college basketball should consider celebrating their midseason greatness. Pick up a few of these shirts at your finest local retailers ...

Illustrations by Kurt Snibbe
The Sweet 16


1. The end of Wednesday's Duke-North Carolina game was awesome (at least for people who aren't Tar Heels fans or card-carrying Duke haters). But it ruined a great stat. Entering the game, Duke had outscored North Carolina 5,858-5,857 over their past 75 games. Yes, just one point separated them. But now two points separate them over the past 76 contests. So much for making the case that Blue Devils-Tar Heels is a competitive rivalry.


2. With UNC leading by 10 with just over two minutes to play, the outcome no longer seemed in doubt. But if anyone believed a Blue Devils comeback was possible, it was probably Austin Rivers' father, Doc, who was in the stands. Note to the Duke players: Next time you have a big win, consider some gratuitous flexing, screaming and chest-pounding. There may be no "I" in "team," but "team" and "scream" have three of the same letters.


3. While Doc Rivers' rooting interest was obvious, it was probably a tougher call for Callie Rivers -- Doc's daughter and Austin's sister. She dates North Carolina guard Dexter Strickland, who is out for the year with a torn ACL. If Callie now also tears her ACL, the Durham Performing Arts Center should just go ahead and schedule the performance for its unique local take on "Romeo and Juliet."

4. With about four minutes left in the Duke-UNC game -- as the Tar Heels were putting the bow on their victory! -- ESPN analyst Dick Vitale said that he believes Kentucky freshman Anthony Davis could be the first player to earn the "Grand Slam" of college basketball: Freshman of the Year, Player of the Year, Defensive Player of the Year and No. 1 pick in the NBA draft. That would be amazing. Even more amazing: Since Davis would likely be picked by the Bobcats, Wizards or Hornets, he would be the first person to hit a grand slam and also get thrown out at home.

5. Mr. Vitale knows volumes more about college basketball than I do, but I think his prediction might be wrong when it comes to Davis being the No. 1 overall pick in the draft. It's unlikely the team at the top of the draft will pick anyone other than Laurent Rivard, Harvard's leading scorer. Can't risk missing out on the next Jeremy Lin.

6. You can really only stand and applaud UConn. Facing a ban from the 2013 NCAA tournament due to years of subpar academic performance, the school has asked the NCAA if it can instead punish itself in exchange for being eligible for the 2013 postseason.
From UConn president Susan Herbst: "We believe that we have made a very compelling case to the NCAA and will be deeply disappointed if our request for a waiver from the 2013 men's basketball postseason ban is denied. Our team's academic performance improved tremendously in 2010-11, and in the fall 2011 semester. We developed a new long-term academic plan for our team, and it has already shown positive results."
What are the positive results? Better grades, for one. And I'll bet if Kemba Walker was still there, they'd totally make him read a second book. And this one would have to not be about sports. Probably. Watch out, Harvard, Yale, MIT and Dartmouth -- there's a new academic power in New England.

7. While UConn's president says the school will be "deeply disappointed" if it's not allowed to punish itself, I fear that is exactly what may happen. I tried this approach when I was a kid after breaking a window with a football. My mom said I was grounded and that I had to pay for the window out of my allowance. I proposed not eating dessert that night. I ended up being "deeply disappointed."

8. Binghamton extended its best-in-the-nation losing streak -- or worst-in-the-nation losing streak, if you're a glass-half-empty kind of person -- to 24 this week with a 15-point loss at home to Boston University before 3,232 fans. 3,232 fans! That's four times what Towson was getting during its historic losing streak. If the Bearcats can threaten Towson's 41-game skid, it will be standing room only.

9. Page 2's old pal Isiah Thomas is still building his powerhouse at Florida International in Year 3: The Golden Panthers are 7-15 and 4-6 in the Sun Belt Conference. But Thomas' spirits are probably on the rise: FIU has won two in a row and, even better, the Knicks have won three in a row.

10. Ooh! UConn! You should also propose that you won't play any video games all night! I still wonder sometimes if that offer would have gotten me out of my mom-imposed window punishment. Everyone has regrets in life.

11. Kentucky guard Doron Lamb, on whether the Wildcats can be beaten if they shoot as well as they did against Florida: "Nah. No way. It's impossible." Don't make me link to Kevin Garnett again, Doron.

12. The Brick City Name of the Week honoree is Iowa State guard Bubu Palo. "Bubu" is a nickname. Palo's birth name is Yempabou Kevin Palo. "Yempabou" means "gift of God." And I think "Kevin" means "average American guy."

13. Wait! One more! UConn: Have you considered an offer to set the table and do the NCAA's dishes without complaining? It's worth a shot.

14. With college football signing day past, it's time to focus on college basketball recruiting. Specifically, this 7-foot-5 junior, Mamadou Ndiaye. Ndiaye plays for Huntington Beach (Calif.) Brethren Christian School -- Pac-12 country. This high school junior vs. any current team in the Pac-12: Who ya got? (If you pick a Pac-12 team, I'm going to need you to show your work. Thanks.)


15. The game of the weekend is on Saturday at 1:30 p.m. ET on ESPN3: No. 6 Baylor at No. 4 Missouri. Fun Fact: Since September 2011, average American sports fans have watched 1,468 percent more Baylor sports than they had in the entire rest of their lives.

16. Hey, UConn: Have you considered making a personal apology card out of construction paper? Moms love that kind of thing! I mean, the NCAA loves that kind of thing!
DJ Gallo is the founder of SportsPickle.com. He has written a book and written for Comedy Central, The Onion and ESPN The Magazine. He co-hosts the Page 2 Podcast and has appeared on ESPNews. You can follow him on Twitter at @DJGalloESPN.