Commentary
Jeremy Lin highlights Harvard athletes
Originally Published:
February 9, 2012
By
Zach McCann
| Page 2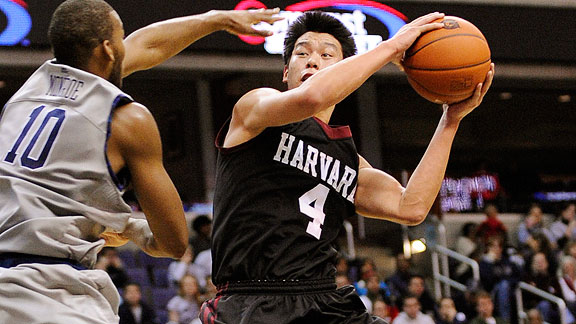 AP Photo/Nick WassHarvard's Jeremy Lin has inspired a cult following in New York after three breakout games.
While former Harvard University students dominate many facets of life in the U.S. -- politics, Fortune 500 companies, Hollywood, the Internet -- modern sports is one area where the needle-necks from Cambridge, Mass., don't rule. In sports, strangely, boasting an Ivy League education almost works as a black mark against a player's athletic prowess. The kid from Harvard, who didn't even get a full-ride basketball scholarship offer out of high school, is going to guard the five-star blue chipper everybody remembers from March Madness?
New York's newest cult hero, however, is helping bring some street cred to Crimson athletes. And Jeremy Lin isn't alone -- plenty of his fellow alumni have contributed to one of the best years for Harvard athletes since the mid-20th century.
Lin -- the undrafted, Taiwanese, blue-tongued Harvard graduate -- has three consecutive 20-point games for the New York Knicks, who are 3-0 since Linsanity began despite missing stars Amare Stoudemire and Carmelo Anthony. In addition to possessing a gold mine of a name for easy puns, Lin has become basketball's version of Tim Tebow, a good-spirited, feel-good story who's polarizing only because so many people don't believe he can be for real.
Well, for now, after scoring 23 points Wednesday night against the Wizards, it appears Lin is real and here to stay. Add him to the list of Harvard men enjoying athletics success. Here's our Winklevoss-free roundup of the men bringing notoriety to Harvard athletics this year:
Ryan Fitzpatrick, Buffalo Bills quarterback: The 2005 graduate led the Bills to a 3-0 start, made the Pro Bowl and grew perhaps the most impressive beard in sports. Buffalo rewarded the economics major with a six-year, $59 million contract in October. Not bad, although Fitzpatrick's old schoolmate, Mark Zuckerberg, ain't all that impressed.
Matt Birk, Baltimore Ravens center: Although his team lost in the AFC Championship Game, Birk still attended the Super Bowl to accept his Walter Payton Man of the Year award at halftime. Birk retired at the end of the season, finishing up a career that included six Pro Bowls, two All-Pro selections and six children with his wife, Adrianna.
Terdema Ussery, Dallas Mavericks CEO/president: Ussery, who's been deemed Mark Cuban's "right-hand man," shared in Dallas' NBA Finals upset of the Miami Heat last spring. A few months later, the friend of David Stern saw the NBA lockout end in time to save the season and even the All-Star Game. It's been a pretty good year for the '84 Masters student, even if he is working for a man in Cuban who only has a bachelor's from Indiana.
Brian Burke, Toronto Maple Leafs president/GM: The Maple Leafs are on pace to make the playoffs for the first time since 2003, and the franchise Burke presides over is worth more than any other NHL team. Clearly the law degree is paying off.
Harvard basketball team: The last time the Crimson played in the NCAA tournament, the world was still five years away from its first "I Love Lucy" episode. The Harvard men's basketball team, ranked No. 21 in the coaches' poll, will be dancing in March for the first time since 1946, barring a collapse. Coach Tommy Amaker has creatively turned Harvard into a contender without the luxury of athletic scholarships. That's Linsanity.