Commentary
Peyton Manning inspires local royalty
Originally Published:
March 5, 2012
By
Doug Williams
| Special to Page 2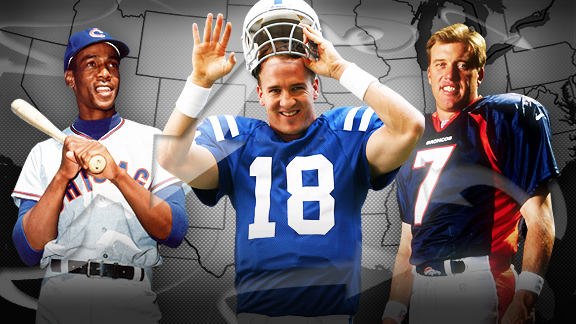 ESPN.com Illustration
That giant mural of Peyton Manning on the side of Lucas Oil Stadium will likely be coming down soon, and all those blue and white No. 18 jerseys could be stuffed into closets all over Indiana.
Though Manning became the face of Indianapolis sports for well over a decade -- from the day he was drafted No. 1 overall by the Colts in 1998 through his Super Bowl championship -- his days with the team and city reportedly have come to an end.
The Colts are expected to announce Wednesday that Manning will be released -- just another example of a painful divorce between a city and its sports icon.
Like Joe Montana and Johnny Unitas before him, Manning likely will play out his final seasons in a city that no one will associate with him 20 years from now.
Some personalities -- through longevity, likability, community connection and greatness -- become icons for their cities and fans, more than the sum of their scoring averages, records or all-league selections.
Just as Manning is Indianapolis, John Stockton and Karl Malone are Salt Lake City, Cal Ripken Jr. is Baltimore, Tony Gwynn is San Diego and Vince Lombardi is the man who turned Green Bay, Wis., into Title Town, USA.
"What makes him unusual, he came to a team that was so bad and turned them into such a good team for so long," Pete Fierle, manager of digital media communications for the Pro Football Hall of Fame, says of Manning. "And how many times [leading up to the Super Bowl] was [Lucas Oil Stadium] referred to as the stadium Peyton built? What modern player could have that tag line? I can't think of any."
A generational thing
Not every city has a definitive, No. 1 sports icon, just one personality who stands above the rest.
In some -- Phoenix? Jacksonville? Seattle? -- there hasn't yet been that one clear, lasting character connection to the rest of America. In others, there have been too many for just one to stand out.
Does the Bronx conjure up images of the Babe, Joe D. and Mickey Mantle, or Derek Jeter and Jenny from the Block?
In Boston, how do you choose between Tom Brady, Ted Williams, Bobby Orr, Bill Russell, Larry Bird or Carl Yastrzemski? (Or Ben Affleck, official film star of the Commonwealth?)
"Which generation do you want?" asks Jim Stark, executive director of the Michigan Sports Hall of Fame, when asked to name Detroit's icon.
"In team sports, I'd say you divide it up two ways," says Stark. "Earlier history I would say Ty Cobb for the Tigers, Joe Schmidt for the Lions, Gordie Howe for the Red Wings and then probably Dave Bing for the Pistons.
"Then if you wanted to come more the last [few] decades, for the Lions it's Barry Sanders, for the Tigers probably Al Kaline, for the Red Wings Steve Yzerman and for the Pistons probably Isiah Thomas."
To Stark, the true icon of Detroit sports is former heavyweight champ Joe Louis. The "Brown Bomber" and the Motor City are synonymous, crossing all interests and generations. The champ's name is on a downtown arena, and a 24-foot-long sculpture of his fist and right arm are suspended along the city's Jefferson Avenue.
"His presence is still large," says Stark.
Though it's impossible to produce a definitive list of personalities iconic to their cities, a few come to mind, seriously and otherwise, including:
Ernie Banks -- Chicago

Yes, that guy named Jordan played in Chicago. But in a way, MJ was too big for just one city -- even one as large as Chicago -- a national, global and galactic icon. As Grant DePorter, CEO of Harry Caray's Restaurant Group in Chicago, noted, Jordan "transcends all sports." Jordan went off to the Wizards and now he runs the NBA's Charlotte Bobcats. Meanwhile, Banks -- "Mr. Cub" -- remains a visible, active presence all over Chicago long after his retirement for a beloved franchise. "When Ernie's around, you see 50- and 60-year-old CEOs of Fortune 500 companies start shaking like little kids when they get a chance to meet him," says DePorter, who made headlines when he bought and blew up the "Steve Bartman ball" in 2004. In a city that's had Papa Bear George Halas, Walter Payton, MJ, Bobby Hull, Ron Santo and Sammy Sosa, Banks may be the most beloved of all, what one writer called "a sweet representation of the Chicago fan."
George Brett -- Kansas City

The first-ballot Hall of Fame third baseman, who played all 21 of his seasons in Royals blue, winning batting titles and helping his team to seven division titles, two pennants and the 1985 World Series championship, sticks to K.C. like pine tar. At Chappell's Restaurant in North Kansas City, often listed among the best sports bars in the country, visitors can find memorabilia from almost any famous American athlete. But Jim Chappell, who's collected the items for the huge collection, is K.C. to the core, so he knows about the Chiefs, Royals and sports all around the region. He can make a case for Len Dawson, Tom Watson or Buck O'Neil as the face of Kansas City, but in the end he admits it's Brett. "If you said Brett was the icon in Kansas City, you'd be correct," says Chappell, a close friend of Dawson, who took the Chiefs to two Super Bowls. "Nobody would argue with you." Brett has a statue outside Kauffman Stadium and still has a position with the Royals -- a team he tried to buy in the late '90s.
Crash Davis -- Durham, N.C.

The city is nearly 300 years old, is home to Duke University and Tobacco Road, but mention "Durham" to any sports fan and the fictional Crash Davis comes to mind, the career minor league, power-hitting catcher played by Kevin Costner in the 1988 movie "Bull Durham." Actually, there was a real Crash Davis, who played at Duke and for the Durham Bulls in the Carolina League in the 1940s, but he never dated Susan Sarandon and he hit just two homers in three seasons. Plenty of athletes have been quotable, but few have given us the quotes Crash gave us in the movie. "Relax, all right?" he tells pitcher Nuke LaLoosh. "Don't try to strike everybody out. Strikeouts are boring. Besides that, they're fascist. Throw some ground balls -- it's more democratic."
John Elway -- Denver
How much is Elway loved in the Mile High City? Fierle, of the Pro Football Hall of Fame, remembers Elway's induction ceremony at Canton as having the biggest crowd he can recall. It was an Orange crush. "We had people who drove cross country," he recalls. "We hold our enshrinement in a stadium that holds 23,000 people, and about 80 percent of that was in orange. Our ticket sales were huge." Elway played 16 years for the Broncos, started five Super Bowls, won two of them and was the model for what a quarterback was supposed to look like -- athletic, mobile and with an arm that is the standard against which all others are judged. In Denver -- where he's had auto dealerships, restaurants, owned an arena league team and now runs the Broncos -- Elway is royalty. Wrote longtime Denver Post columnist Woody Paige: "He is the Duke of Denver. ... He is the town's most celebrated celebrity. He is the most iconic sports figure in Colorado history."
Tony Gwynn -- San Diego

In a city with just two major franchises -- neither of which has won the Big One -- Gwynn first starred in two sports at San Diego State, then spent his entire 20-season major league Hall of Fame career with the Padres and now coaches baseball at his alma mater, which plays in a ballpark called Tony Gwynn Stadium. For many seasons, with both the Chargers and Padres in the tank, the only thing worth watching consistently was "Mr. Padre," who won eight National League batting titles and flirted with .400 in 1994. Late in his career, when the Padres reached the big stage of the 1998 World Series against the Yankees, he hit .500. He once was called San Diego's "civic treasure" by the Los Angeles Times for his "baseball skills, sunny, generous personality" and involvement in local causes. Plus there's this: The address of the Padres' current home, Petco Park, is 19 Tony Gwynn Way, and Gwynn's 10-foot, 1,200-pound statue sits beyond the right-field fence.
Dan Marino -- Miami

The Dolphins won two Super Bowls in the 1970s with a No-Name Defense and a talented group on offense, but none of those players received the individual acclaim of Marino, a quarterback who led his team to Super Bowl XIX -- and never returned in a record-setting 17-year career. Thousands of Marino fans, wearing his No. 13 jersey, flocked to Canton from South Florida for his Hall of Fame induction in 2005. A life-sized statue of Marino stands outside the Dolphins' Sun Life Stadium, located on Dan Marino Boulevard. Sure, Bob Griese piloted Miami to two championships, but it was Marino who earned a "starring" role in "Ace Ventura: Pet Detective."
Stan Musial -- St. Louis

It's a baseball town, and Stan the Man is still The Man almost 50 years after retirement. His statue stands outside the Cardinals' home field, and his bronze bust sits in the state capitol building, the first athlete to join the Hall of Famous Missourians, joining the likes of President Harry S. Truman and Walter Cronkite. In awarding Musial the Presidential Medal of Freedom last year, President Barack Obama called Musial "the best of American sports icons." For 22 seasons he played for the Cardinals, hitting for average and power and becoming a star of the entire Midwest, when fans followed him on the team's expansive radio network. John Grisham's novel, "A Painted House," even paid tribute to the Hall of Famer, with the main character, a young boy in 1950s Arkansas, saying at one point, "I had a Stan Musial baseball card hidden in a cigar box in my drawer, and if the house ever caught on fire, I would grab it before I grabbed anything else."
Cal Ripken Jr. -- Baltimore

When the large, metal statue of Ripken's No. 8 was stolen from in front of Camden Yards in 2009, the caper was described in the Baltimore Sun as "a theft both brazen and unimaginable in a city where residents revere Ripken." The man who broke Lou Gehrig's iron man streak is Maryland down to his marrow, having grown up in Aberdeen as the son of a longtime Orioles coach before playing 21 seasons for his local team, compiling 3,184 hits and 431 homers along the way. Today, a portion of the I-395 freeway is officially Cal Ripken Way, and the former shortstop and third baseman remains deeply involved in the community. When Ripken was inducted into the Baseball Hall of Fame in 2007, a record crowd of 75,000 turned out, including thousands who came by bus from Baltimore.
Bruce Springsteen -- New Jersey

Though the Giants, who play in New Jersey, just won the Super Bowl, there's no question who the Boss is in the Garden State. Springsteen, after all, wrote and sang "New Jersey Is My Home," whereas the Giants and Jets still claim "New York" in their titles. In a recent poll, Springsteen's popularity was so high in-state that he'd likely have a good chance to unseat popular Gov. Chris Christie. Bruce and his boys had a "12-minute party" performing at Super Bowl XLIII, but Springsteen didn't pretend to know anything about the Steelers and Cardinals, who were playing in the game. He did, however, call all the shots for the halftime show. "Who decides? The Boss decides," he told Rolling Stone.
John Stockton and Karl Malone -- Salt Lake City
The little white guy with the short shorts and the big black guy with the cowboy hat were the pick-and-roll duo that couldn't be separated, even in retirement. Two giant statues, just a bounce pass away from one another, stand in front of the city's Delta Center: Malone, the NBA's No. 2 all-time scorer, going up for a shot and Stockton, the league's No. 1 in assists, dribbling. Each played 19 seasons for the Jazz, combining for 2,980 games while leading the team to a string of 50- and 60-win seasons that included back-to-back trips to the NBA Finals in 1997 and '98. The two Hall of Famers also were partners in the Stockton to Malone Honda dealership in Sandy, Utah.
Doug Williams is a freelance writer based in San Diego.
Special to ESPN.com
Former sports editor, San Diego Union-Tribune
Freelance writer based in San Diego
ESPN.com contributor since 2010