Commentary
Where will Peyton Manning land?
Originally Published:
February 13, 2012
By
DJ Gallo
| Page 2
The Super Bowl is over. It's old news. The next important event on the NFL calendar is the courtship of Peyton Manning. Here are all the top contenders for the future Hall of Famer's services, with predictions on each team's shot at landing him:
New York Jets

It's no secret that Mark Sanchez was a major reason the Jets failed to live up to Rex Ryan's preseason prediction. The franchise showed a willingness to bring in a veteran before in Brett Favre -- and Manning is younger and better than Favre was in 2008. Perhaps best of all, the only flesh flashing scandal Peyton is linked to is mooning a trainer back in college.
Peyton chances: Good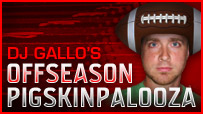 Arizona Cardinals

The Kevin Kolb trade didn't work out, and while John Skelton showed some promise, he's not exactly Peyton Manning. The Cardinals added Frank Reich to their staff as receivers coach. Reich is Manning's old position coach in Indianapolis. Interesting. With all the money Arizona has invested in Larry Fitzgerald, it needs someone to throw to him.
Peyton chances: Very Good
Miami Dolphins

Miami has been searching for a star quarterback since Dan Marino and owner Stephen Ross is reportedly "infatuated" with the idea of acquiring Manning. Putting Manning in warm weather with weapons such as Brandon Marshall and Reggie Bush makes too much sense to NOT happen.
Peyton chances: Strong
Washington Redskins

Dan Snyder has a history of making splashy acquisitions and Mike Shanahan desperately needs a quarterback to run Washington's offense in order to save his job and his reputation.
Peyton chances: Great
Baltimore Ravens

Baltimore continues to try to convince itself that Joe Flacco is the answer, but it would be insane not to replace him with Peyton Manning. Ray Lewis is likely entering his last season and will want to win more than ever. Baltimore also hired former Manning coach Jim Caldwell.
Peyton chances: All signs point to "yes"
Oakland Raiders

Carson Palmer is obviously not the answer. No doubt Mark Davis would love to bring in a quarterback his father would drool over. Manning to Oakland immediately restores the "Just win, baby" Raiders and makes them the favorites in the AFC West.
Peyton chances: Likely
Minnesota Vikings

The Vikings are a dome team, Christian Ponder is a long way from being an elite quarterback and Minnesota will likely be willing to throw a lot of money at Manning in order to replace the stink of the Favre-era mistake.
Peyton chances: Bet on it
Philadelphia Eagles

If last offseason proved anything, the Eagles are more than happy to bring in big names. A quarterback with Manning's accuracy would be a dream for Andy Reid's offense. Manning to the Eagles not only makes Dream Team 2.0 but, unlike Philadelphia's 2011 signings, legitimately improves the team. Think about it: Philadelphia has never won a Super Bowl. It also has never had a quarterback of Manning's ability. This is not a coincidence.
Peyton chances: Close to guaranteed
Dallas Cowboys

As much as Jerry Jones likes to express faith in Tony Romo, you know he would instantly pull the trigger on the opportunity to bring in a star quarterback with a Super Bowl ring and a track record of making the playoffs to sell tickets to his football palace.
Peyton chances: Bank on it
Cleveland Browns

The Browns have a good defense but no quarterback. Peyton Manning could instantly make them a playoff team, get credit for being the savior of a once great franchise and become the biggest star in a city dying for one.
Peyton chances: Better than good
Jacksonville Jaguars

New Jaguars owner Shahid Khan didn't buy the team to watch it continue to flounder. He wants to win and turn those upper-deck tarps into paying customers. Jaguars fans last season suffered through an awful team, a worse first-round quarterback, local hero Tim Tebow starring for Denver and former coach Tom Coughlin winning another Super Bowl. They need something to excite them. They need Peyton Manning.
Peyton chances: Excellent
Tampa Bay Buccaneers

Tampa has a young and talented roster. But last season showed they are undisciplined. Peyton Manning wouldn't allow that to happen. Plug him into the Buccaneers and they're back on their way to the top.
Peyton chances: Terrific
St. Louis Rams

The Rams are a dome team and it's known that new St. Louis coach Jeff Fisher is a huge Peyton Manning fan. Bringing in Manning also allows Sam Bradford a chance to press "reset" on his career while learning for a few years from one of the game's greats. By 2014 or so, St. Louis would have itself the next Aaron Rodgers.
Peyton chances: Probable
Green Bay Packers

Speaking of Aaron Rodgers, Green Bay seemed to get distracted late in the season. Aaron Rodgers was more about touchdown celebration routines and filming commercials. Acquiring Manning would restore Rodgers' underdog status and refocus his intensity. He has always been best after some time as a backup to a legend.
Peyton chances: Expected
Tennessee Titans

If Tennessee was building for the future, it would have played Jake Locker last season over Matt Hasselbeck. It didn't. It wants to win now. I'm not breaking any news here: Peyton Manning is better than Matt Hasselbeck.
Peyton chances: First-rate
Kansas City Chiefs

Put all of the best qualities of Kyle Orton and Matt Cassel into one quarterback and he'd still be Peyton Manning's backup.
Peyton chances: Top-notch
Seattle Seahawks

Pete Carroll desperately wants to recreate his potent USC offense in Seattle. Tarvaris Jackson is not the quarterback to do that. Hmm ... if only there was an elite quarterback available.
Peyton chances: Real
Buffalo Bills

The ink on Ryan Fitzpatrick's big contract was barely dry when it looked like a huge mistake. Buffalo's management owes its fans to finally get the quarterback position right. Bringing in Peyton Manning would do that and also set up at least two head-to-head battles with Tom Brady every year.
Peyton chances: Write it in pen
Chicago Bears

Back-to-back Bears seasons have been done in by Jay Cutler getting hurt. Not only is Cutler not in Manning's league as a quarterback, Manning has only missed time in his career to one injury. Throw in the fact that Lovie Smith has strong respect for Manning due to losing a Super Bowl to him and Manning to the Bears looks almost beyond logical.
Peyton chances: Start printing the jerseys
San Francisco 49ers

Alex Smith made real strides last season. You could say he improved 100 percent. He'd need to improve 1,000 percent to be in Peyton Manning's league. Give the 49ers a quarterback like Manning, and with their defense, they're your new Super Bowl favorites. Jim Harbaugh is too much of a competitor to let this opportunity go by.
Peyton chances: 99 percent(ers)
Atlanta Falcons

Matt Ryan is a nice quarterback. That's it. For the Falcons to ever really have success, they can't be happy with just having an above-average quarterback. Last year in the draft they showed they're willing to be bold. Now they can be even bolder.
Peyton chances: Superb
San Diego Chargers

For whatever reason, the Norv Turner-Philip Rivers pairing is not working. San Diego seems loyal to Turner. Perhaps it's not quite as loyal to Rivers, who is coming off his worst season as a pro.
Peyton chances: Very solid
Houston Texans

The Texans never were able to beat Peyton Manning. Can't beat him, join him, right? Adding Manning to the Texans would give them ownership of the AFC South for however long Peyton keeps playing.
Peyton chances: It's a sure thing
Cincinnati Bengals

Did Andy Dalton have a good rookie season? He did. Would it make sense to put him on the bench? Probably not. But Mike Brown runs the Bengals.
Peyton chances: They're grrrrrrrreat!
Carolina Panthers

Cam Newton is a football talent unlike any we've seen before. It's not right to just stick him at one position. Bringing in Peyton Manning would allow the Panthers to use Newton at tight end, receiver, running back -- and also take some snaps at quarterback. Wildcat offense? No. Unstoppable offense.
Peyton chances: Outstanding
Denver Broncos

John Elway told the Tebow faithful that Tim Tebow is Denver's starter "entering camp." Exiting camp it could be anyone. Peyton Manning, perhaps. Elway would love a classic passer and even the biggest Tebow backers couldn't complain about him backing up an all-time great.
Peyton chances: Highly possible
New Orleans Saints

Records are nice, but Drew Brees hasn't gotten past the divisional round of the playoffs in back-to-back seasons. The Saints are nothing away from the Superdome. If New Orleans brings Manning home, Brees would be forgotten instantly.
Peyton chances: Mardi Great.
Pittsburgh Steelers

The Steelers canned their offensive coordinator at the end of the season. That's not a team that is happy with its offense. A team that isn't happy with its offense will be open to anything.
Peyton chances: Stupendous
Detroit Lions

The Lions turned a corner last season. But they're not going to take the next step and become a real Super Bowl contender until they show a little more professionalism on the field. Matthew Stafford is too young to be the leader they need. Only Peyton Manning can do that.
Peyton chances: Magnificent
New England Patriots

Facts are facts: Tom Brady hasn't played well or has been outplayed in every Patriots elimination since 2004 -- including New England's collapse in the second half of the 2007 AFC Championship Game. Bill Belichick has the reputation of being a cold, calculating winner who won't let his feelings or history with a player get in the way of making the tough calls. Now's the time for Belichick to boldy move on.
Peyton chances: Great
New York Giants

Eli Manning has two Super Bowl rings to Peyton's one. But only the biggest Giants homers would claim that Eli is better than Peyton. As the saying goes: If you're not getting better, you're getting worse. Do they want to be a 9-7 team that put it all together late to win a championship and then faded away? Or are the Giants truly serious about defending their title?
Peyton chances: 100 percent (if the Giants are to be taken seriously)
Indianapolis Colts

The Colts are a terrible team, they're going nowhere and they have a track record of playoff failure. Peyton Manning wouldn't want to be any part of a franchise like that.
Peyton chances: 0 percent
DJ Gallo is the founder of SportsPickle.com. He has written a book and written for Comedy Central, The Onion and ESPN The Magazine. He co-hosts the Page 2 Podcast and has appeared on ESPNews. You can follow him on Twitter at @DJGalloESPN.