Commentary
Antron Brown lives for rush of NHRA
Originally Published:
February 16, 2012
By
Jon Gold
| Special to Page 2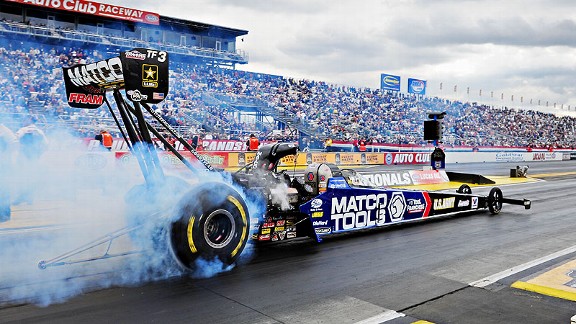 Mark J. Rebilas/US PresswireAntron Brown placed second in the Top Fuel division at the NHRA Winternationals last weekend.
POMONA, Calif. -- "It's the drive. It's the drive. It's the adrenaline of having only one chance. There's not three strikes. You get one strike, and you're done. You're going home. It's that rush that separates this sport from all the other sports out there. There's no second down. There's no mulligan. There's not 10 frames. There's not another turn. You get one gunfire. One gunfire. That's all you got. And when you go on it, there's no excuses. There's no next time. Next time is the next race. You come out here with your million-dollar set-up, and first round you mess up, you're going home. All that hard work, all those hours we talked about? For 3.7 seconds? You just spent a whole week's worth of preparation and you screw up because you blinked your eyes right as the tree comes down and now you're going home?
"That's what I love." -- NHRA driver Antron Brown
Antron Brown's life exists in milliseconds.
If football is a game of inches, drag racing is a game of eyelashes. It is about pulses and twitches and reaction. It is about concentrated energy, like the eye of a hurricane, hours and hours worth of work jammed into mere seconds.
A champion NHRA Top Fuel drag racer, Brown feeds off that energy. He bounces and he beams and he talks a million words a minute, his mouth seemingly the only thing moving faster than his car.

ESPN celebrates Black History Month by showcasing the stories and contributions of sports' biggest athletes from the past, present and future. More
When he starts talking about the sport he loves, the sport that his father loved and his uncle loved and his grandfather loved, he cannot be stopped. The words explode like the back of his dragster, in concentrated bursts of emphasis.
Brown talks speed like an artist describes shadows, down to the finest detail. He's always been fast, clocked at Olympic-trial levels in the 100-yard dash, a whiz on the basketball court, the quickest guy on the football field.
But his feet could make him go only so fast. So he sits in a thin skeleton of a machine with one of the world's most advanced engines and he goes 330 miles per hour.
It's the best four seconds of his day.
"You can be in it and it never gets old," Brown says, beaming. "The experience always changes. I cannot get used to it. Your mind may slow down, but you cannot grasp what you're doing. You're trying to control this beast -- this uncontrollable beast -- and every time you get in the ring it whips your butt, but you want to do it again."
What Brown craves is the pressure -- the pressure of the moment, of the stakes and of the speed.
In drag racing, the stakes cannot be higher. Brown drives a $200,000 car for Don Schumacher Racing, and he is one of the team's biggest stars. If he lives up to his potential -- some are pegging him to win the 2012 championship -- he could become the sport's biggest star and one of its first African-American champions. He feeds off that pressure like he has for his athletic career. He said he always had the last shot on the basketball court -- "And if we didn't have the ball, I'd steal it and then shoot" -- and always caught the last pass.
Then there's the other kind of pressure.
[+] Enlarge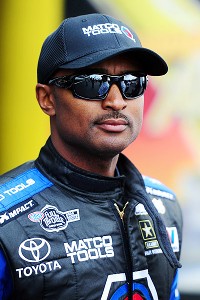 Mark J. Rebilas/US PresswireGrowing up in New Jersey as the son of a racer, Brown always dreamed of driving a dragster.
"You cannot explain it. You cannot capture it. You have to be in that cockpit when you press on that gas pedal and you feel 5.5 Gs hit you in your gut," Brown said. "It feels like somebody is trying to squeeze the life out of you. You go down a track in 3.7 seconds, and you're squeezing your stomach so hard so you can still breathe, so it can keep from squishing you down. It feels like you did 40 crunches in three seconds. It feels like you're trying to survive. It's the longest four seconds of my life. It's taxing. It's grueling. It hits you hard, and you're just trying to survive it.
"But that's the adrenaline rush in it. It's like you're in 'Star Wars' and you're going in warp drive. This is it. This is it. When you step on the gas, you're going to another level that you've never been at before."
Only Brown has been there before, for most of his life.
Though he only made it to the sport's top circuit in 2008 after 10 years as a Pro Stock motorcycle rider, Brown has spent a lifetime 3.7 seconds at a time. His father and uncle owned a two-man racing team in Trenton, N.J., sharing one car. His grandfather raced in the streets of the Garden State during the 1970s.
"I'm doing what they always dreamed of doing," Brown said. "They always dreamed of getting to this level. Our family wasn't millionaires. We couldn't own our own Top Fuel team. We got here because of blood, hard work, sweat and tears. They say, 'Boy, you have no idea what you're doing.' 'Exactly what we always wanted to do!' I'm a product of their desire."
He's becoming a whole lot more.
In a sport with only a handful of superstars, Brown has the chance to become one of the faces of the sport, and one of the few African-American faces.
Less than an hour before his qualifying race at the Pomona Auto Club Raceway for the NHRA Winternationals, Brown signs a picture for a young black man who came to the races just to see him.
"There just aren't many African-Americans in this sport," said 23-year-old Jonathan Jones of Moreno Valley, Calif. "That's really why I came. That's who I wanted to see. It's rare."
Said Don Schumacher Racing senior vice president Mike Lewis: "He's the best example of all things good about the NHRA. I've worked with him since 2003, I watched him do his license runs, I've learned about his abilities, and for the 15 years I've known him -- good days and bad days -- I've never seen Antron have a bad day, bad hour, bad minute. Happens to be a great athlete. Happens to be one of the great race car drivers out here. Antron Brown is the best example of someone who can engage an audience. His smile lights up the room."
[+] Enlarge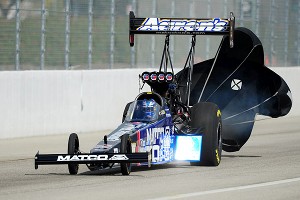 Mark J. Rebilas/US PresswireBrown has 15 victories to his credit since moving up to the NHRA's Top Fuel division in 2008.
In a sport with only a handful of African-American pioneers, Brown had his heroes, too. He rattles off the names of greats such as Don Prudhomme, "Big Daddy" Don Garlits, Kenny Bernstein, Eddie Hill and John Force. Only Prudhomme was African-American, and Brown hopes he can inspire some young racer the way Prudhomme inspired him.
"When you look through history, when you see one person who does something you want to do, it gives you hope," Brown said. "When an inner-city kid sees me out here, knowing I'm from Trenton, N.J., seeing me make it to where I'm at, it gives them hope. I came from the same place they came from -- not just the color I am, but where I'm from, because they can relate to me."
It took a while for Brown to get to this point in his career, and it'll take a little more for him to get to where he wants to be -- certainly not as fast as he's used to going -- but now that he's here, he's gripping the wheel tighter than ever.
He needs this stuff.
"Best feeling I have ever had on a drag strip was my first Top Fuel race," Brown said. "I went there and said, 'I am here.' From a kid, this was the field I wanted to do my whole life, and this was a dream. I used to draw these cars. I used to doodle in freakin' second grade and got in trouble all the time. I was supposed to be paying attention in class, and I was doodling Top Fuel dragsters and Funny Cars.
"When I got in that car, I had to stop for a second. You know when you close your eyes and you open your eyes and there's this sparkle around you? It felt like this was not real. I grabbed the steering wheel tight and I said I am here."
Jon Gold is a sportswriter for the Los Angeles Daily News and a freelance writer based in Los Angeles. You can find him on Twitter at @TheCoolSub or email him at jgold71@gmail.com.