Commentary
NBA: Where (Almost) Anything Happens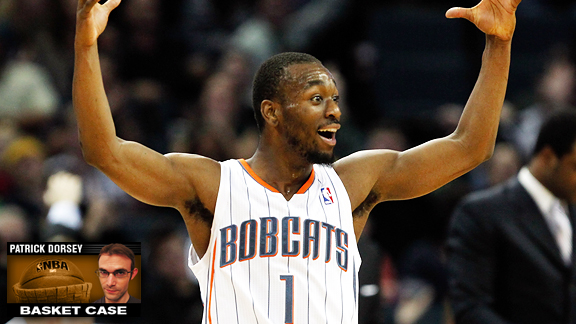 Getty ImagesSo you're telling Kemba Walker and the Charlotte Bobcats there's a chance?
The NBA's always been a little odd; an All-Star once swatted a bat midgame from midair, so yeah.
But this year? This year's been even stranger, the kind of unpredictable, post-lockout season that could turn an Asian-American Harvard graduate into American sports' biggest star -- no really, have you heard about this? -- or allow the (possibly worst of all time) Bobcats to actually win three games.
Welcome to the NBA 2011-12: Where (Almost) Anything Happens™ on Any Given Evening™.
You know, like …
• Steve Nash (the league's top assist man) dishing out fewer dimes than Robin Lopez (noted vacuum); or
• Kobe Bryant (NBA scoring leader) putting up the same amount of points as fellow Laker Andrew Goudelock (and the three bears); or
• Jeremy Lin actually being outscored by Bill Walker and Steve Novak!!!!
(And don't get us started on Gordon Hayward getting the first technical foul of his life.)
As we said, Where (Almost) Anything Happens.
Nowhere is this more evident than in the final scores, a roller coaster ride of weirdness where the Bulls beat Memphis by 40 and lose to them by 16 two weeks later, or the Bobcats actually win three games.
But enough talk. We've seen wheels of parity in football. Now it's time to take a ride on our NBA: Where (Almost) Anything Happens wheel of unpredictability -- one that shows each team beating the next … by at least 10 points. Yes, that's how crazy this not-even-half-finished season has been. And we didn't even need to make up a score for the Bobcats.
As we said, Where (Almost) Anything Happens.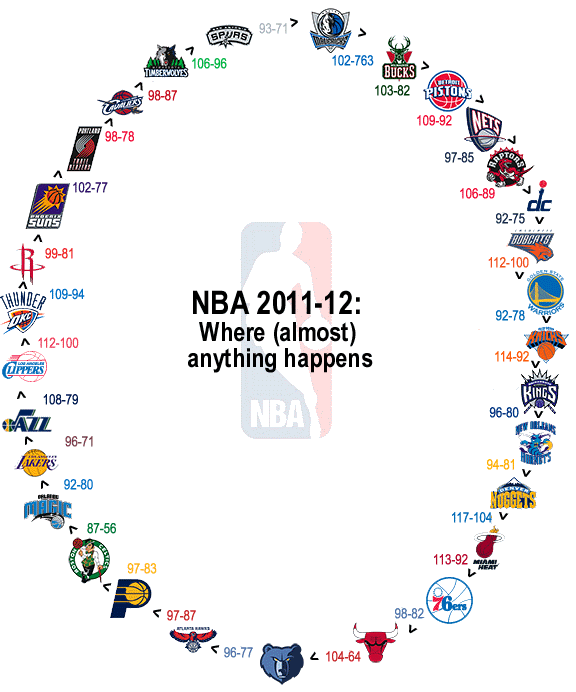 Illustration by Kurt Snibbe
IN PICTURES. AND WORDS.
"Wait, Johan Petro led my team in scoring tonight?"
"Wait, Willie Green led my team in scoring tonight?"
"Wait, Markieff Morris led my team in scoring tonight?"
"Wait, Gary Neal led my team in scoring tonight? Again?!"
"Wait, Derrick Brown led my team in scoring tonight? Maybe I should unretire."
"Of course that all happened, guys. It's the NBA! Where Almost Anything Happens!"
HAPPY VALENTWEET'S DAY!
So this is what they teach at Duke? We can only imagine Valentine's Day for Mrs. Krzyzewski -- a couple of vending machine sandwiches, a theatrical screening of that 900th win commemorative Blu-ray, and a hearty read through Coach K's 14-page bio on the Blue Devils' official website. Wait, was this supposed to be about the NBA?
JOKE OF THE WEEK
"BOOOOOOOOOOOO!"
--Knicks fans, to Sacramento Kings guard Isaiah Thomas
CRYSTAL (BASKET)BALL: WHAT WON'T HAPPEN EDITION
Remember, Almost Anything Happens™ in the NBA. These things won't.
Heat at Cavaliers, Friday: Dan Gilbert hooking LeBron James up with a real estate agent to help with the King's impending return to Cleveland.
Somewhere in New York, Friday: Jack Donaghy telling LeBron, "We'd all like to flee to the Cleve and club-hop with Omri Casspi and have lunch with Peyton Hillis, but we fight those urges because we have responsibilities."
Hornets at Thunder, Monday: OKC fans going, "Ya know, wouldn't it be nice if we had gotten to keep the Hornets?"
After Hornets at Thunder, early Tuesday: A mysterious, David Stern-looking character sneaking around the parking garage and asking the occasional fan, "Hey, wanna buy the Hornets?"
Magic at Nets, Wednesday: The entire New Jersey team wearing throw-forward unis that read "Brooklyn" on the front and "You see that, Dwight? Brooklyn!" on the back. (Or will this happen?)
Hawks at Knicks, Wednesday: Way, way too many Carmelo Anthony passes.
Bobcats at Raptors (Friday), at Pacers (Sunday), vs. Pacers (Wednesday): Wins.
Patrick Dorsey is a Page 2 editor. He averaged 12 points per game as a second-grader in YMCA hoops; all other basketball court records have been sealed. He can be reached at bypatrickdorsey(at)gmail(dot)com and is also on Twitter (@DorseyPatrick).