Commentary
MLB spring training's myriad storylines
Originally Published:
February 17, 2012
By
Jim Caple
| Page 2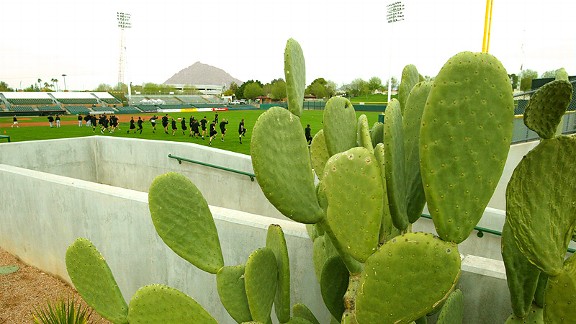 AP Photo/Eric RisbergSpring training is that wonderful time of year when all 30 teams believe they can win the World Series.
We interrupt nonstop hype over Jeremy Lin to deliver the most eagerly awaited words in baseball other than "My first action as owner is to lower beer prices": Pitchers and catchers report to spring training this weekend.
Here's how some teams look as spring training begins:

BOSTON: As part of new manager Bobby Valentine's old-school spring training regimen to get the Red Sox in proper shape to collapse in September, starting pitchers must run 10 foul line-to-foul line wind sprints before sneaking to the clubhouse for chicken and beer. Also, when playing golf each afternoon, players must carry their own clubs. And NCAA brackets must be filled out in cursive.

DETROIT: Prince Fielder promises he will report to camp in the best shape of his career, which, admittedly, isn't saying much.

CHICAGO CUBS: As a demonstration of their generosity, the Ricketts family will celebrate the team's final season at HoHoKam Park in Mesa, Ariz., by waiving the service charge on general-admission ticket orders for every fan who was alive when the Cubs last won a World Series and also "likes" new manager Dale Sveum on his Facebook page.

COLORADO: Recently signed pitcher Jamie Moyer is expected to be the first player in spring training history to be even older than the stadium ushers. To make Moyer feel more comfortable, the Rockies will play "Matlock" 24/7 on the clubhouse TV this spring, switch pregame snacks from sunflower seeds and gum to prunes and require players to wear their uniform pants with the stirrup socks showing and the waistband pulled up to at least three inches above the navel.

NEW YORK METS: As part of the team's new austerity measures, the Mets players and coaches have been told to hitchhike to spring training in Port St. Lucie, Fla. Said owner Fred Wilpon: "They'll still get here earlier than Rickey Henderson ever did."

NEW YORK YANKEES: When pitchers and catchers report Saturday, Joba Chamberlain is expected to become the first player in spring training history NOT to say he is in the best shape of his life. ... After one of his worst seasons in 2011, Derek Jeter already has reported to spring training so he can get an early start autographing bats and baseballs to put in the gift baskets he'll send women home with this year.

ST. LOUIS: Pitchers and catchers are scheduled to report this weekend. Position players will report Thursday. Squirrels and other rodents will report at the least opportune moment for the Cardinals' opponents.

CHICAGO WHITE SOX: New manager Robin Ventura said that one of the new fundamental drills he is adding is how NOT to charge the mound. ... Although position players don't begin workouts until Feb. 28, designated hitter Adam Dunn unfortunately says he is already in midseason form.

LOS ANGELES ANGELS OF ANAHEIM: With the additions of Albert Pujols and C.J. Wilson, the Rally Monkey said he will take it easy this spring by playing golf and working on his tan.

OAKLAND: The Athletics reportedly are close to signing Manny Ramirez, even though he would not be eligible to play with the team until late May. "That's OK," general manager Billy Beane said. "He never shows up to spring training much before then, anyway."

PITTSBURGH: The Pirates will prepare for October by playing two rounds of golf instead of just one each afternoon.

SEATTLE: Because they will open the season March 28 in Japan, Mariners pitchers reported last weekend. The team's offense, however, is not expected to show up until selected Tuesdays in August.

MIAMI: Marlins pitchers are scheduled to throw from the mound for the first time Sunday. Carlos Zambrano is scheduled to throw his first tantrum Monday.

HOUSTON: Interestingly, this year's reporting date coincides with the same day the Astros will be eliminated from the NL Central race.

TORONTO: To prepare himself for spring training, third baseman Brett Lawrie says he spent the winter taking ground balls, hitting in the cage, lifting weights, running sprints and playing a lot of cornhole.
Jim Caple is a senior writer for ESPN.com. You can follow him on Twitter @jimcaple.