Commentary
Could clowns start invading sports?
Updated:
February 19, 2012, 12:58 PM ET
By
Jerry Greene
| Page 2
How do you feel about clowns? If you are a fan of the New York Mets, there's no need to answer 'cause we already know. But what about everyone else? Do you love them, fear them or somehow love and fear them?
This is topical because the most athletic of all our reality shows, "Amazing Race," begins its 20th season Sunday night with a pair of married clowns among the competitors. As far as we know, they do not have to compete wearing those big clown shoes because that would be tough.
But their presence in "Amazing Race" caused us to wonder where else would we like to see clowns? Here are a few possibilities:
• The BCS boardroom.
• Mount Rushmore (yes, I have a fifth president in mind, but I'm not telling you which one).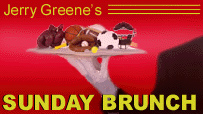 • John Daly's playing partner.
• The Sports Illustrated swimsuit cover.
• Fighting an MMA match (just visualize that).
• Did I mention the Mets?
BTW, let's pray for the "Amazing Race" clowns, Dave and Cherie Gregg, because the title of Sunday night's first episode is "Tears of a Clown." That doesn't sound good.
While you are thinking of other likely places to find a clown (and there's no need to mention being author of the Sunday Brunch 'cause that's a given), let's mention a few bits of tid while our literary chefs prepare the sumptuous menu for today's Brunch.
• MMA fighter Gina Carano is going to star in a second movie called "In the Blood." Director John Stockwell said: "This role will showcase not only Gina's fighting skills, but also her acting abilities." Apparently that means she'll actually talk in this one.
[+] Enlarge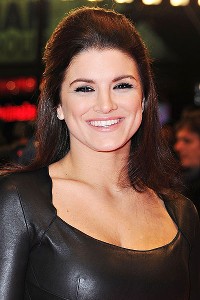 Pascal Le Segretain/Getty ImagesMMA fighter Gina Carano is going to star in a second movie called "In the Blood."
• Admit it, wouldn't you like to be posterized just once?
• How big is Jeremy Lin in New York? Out of sheer reflex habit, the Yankees offered him a free-agent contract.
• Management for the Charlotte Bobcats sent a "look-to-the-future" email letter to season-ticket holders that listed the names of young players they think will blossom into stars. Only problem is that they misspelled Bismack Biyombo and Byron Mullens -- but it's the thought, right?
• Tweet of the Week from Orlando Sentinel columnist Mike Bianchi: "Danica Patrick wonders why she is always described as 'sexy.' Hmmm, could it be bikini shoots & Go Daddy commercials?"
Ding ding. That's the Brunch bell, but before you dig in, be advised that there are no Jeremy Lin stories here. You can find them elsewhere and practically anywhere, so hopefully you'll enjoy some variety in your sports diet. Let's see what's on the table.
• One sports hero that will be mentioned here is Gary Carter, who died last week. George Vecsey of The New York Times gives us an honest and admiring look at Carter's time with the Mets. Discover the memories here.
• New York is hardly the only place loving its sports. Greg Cote of The Miami Herald makes a case that South Florida has never had a more interesting sporting climate than right now. Basketball, baseball, hockey, football and just about anything else. Seems like all sports are taking their talents to South Beach. Read Cote's case here.
• Did we mention football? That sport really has no offseason. Ron Cook of the Pittsburgh Post-Gazette looks at the past, present and future of Hines Ward with the Steelers -- and says they owe him absolutely nothing. Find out how that's possible here.
• We're a week away from the Daytona 500, a perfect time to look at the legend of the Pettys and where it's at now. Don Coble in the Florida Times-Union tells us that from 1949 through Richard Petty's retirement in 1992, the family won 263 races -- but has won just five since. And yet they still drive. Find out why here.
• And as a bonus close to the Brunch, Rick Morrissey of the Chicago Sun-Times warns us of one of the scourges of modern society -- yes, the public marriage proposal. If you don't know why it should bother you, let Morrissey enlighten you here.
That's it and remember one thing -- when they call it "speed weeks," they are not talking about you.
Jerry Greene is a regular contributor to ESPN.com and can be reached at osogreene@aol.com.