Commentary
Inside Cam Newton's new starring role
Originally Published:
February 21, 2012
By
David Fleming
| Page 2
CHARLOTTE, N.C. -- It's late on a clear, brisk evening when Cam Newton's shiny black SUV rolls to a stop inside the deserted loading dock at Bank of America Stadium. A wisp of smoke swirls into the inky darkness as the Panthers' record-breaking Rookie of the Year QB grabs his backpack and pulls on the hood of his red windbreaker. He glances to the left, deep into the dark, empty tunnels of the stadium. Then, even more dramatically, to the right. Newton unlatches the door, leans into it with his shoulder and places his sparkling, black and red Under Armour shoes down on the concrete. He moves slowly, and with purpose, as if recreating the original moon landing.
The left shoe touches down first, perfectly.
Then the right, and ...
"CUT!" yells the director.
"Cam, wait for your cue, please, wait until you hear 'action' -- OK?"
Out of the woodwork, and from every conceivable corner and shadow, more than 100 people emerge with a collective groan. What looked like a deserted stadium five seconds ago is now a beehive of activity. Sound guys, camera men, lighting guys, fog machiners, computer operators, cable guys, makeup crews, wardrobe teams, catering, extras, they were all here shooting action scenes out on the field until 4 a.m. last night and, if things keep going this way, they're likely to repeat that marathon session tonight.
Newton pulls the hood off his head, says he's sorry (and means it), cracks a joke about his acting chops, flashes that Hollywood smile of his and, in an instant, the director is laughing and slapping him on the back, the extras are fawning around him, and the entire crew is back on his side and back to life. Just like that, the mojo has returned to the set. And as the white clapboard marked A7 1102 D12 snaps shut and the scene starts all over again -- this time, properly, on "action" -- you watch Newton and see the way he so easily commands and calms a room, even one full of veteran Hollywood types twice his age, and you have to wonder: Is this what a star in the making looks like?
The folks from Under Armour certainly think so.
Near the end of Newton's amazing rookie season, just after he became the first quarterback in NFL history to pass for 4,000 yards and rush for 500, Under Armour decided to produce its first campaign focused on a single athlete. And they were nice enough to give me an exclusive look behind the scenes as they rushed to complete "Cam's Night Out" and get it on the air before the start of the NFL combine in Indy. "This is a surreal moment for me right now. I'm kinda speechless," Newton whispered to me on set between takes. "It's something I've always wanted to do and dreamed about as an athlete."
Having once spent an entire day with Mike Vick on a mind-numbing, excruciatingly tedious shoe commercial shoot in L.A. (where, I swear, they provided him with a new, clean bath towel every time he sneezed -- now you know why shoes cost so much), I considered begging off this assignment. That is, until I learned the concept behind the spot: take a QB doing things with a football no one has ever seen or thought of before and match him up with a DJ doing the same things with beats. To pull it off, Under Armour smartly teamed Newton up with AraabMuzik, the lightning-quick and groundbreaking DJ/producer from Providence, R.I. (born Abraham Orellana), who has done for MPC drum machines what Apple did for phones: turned the technology into an instrument of art.
"People are gonna be shocked and amazed by the finished product," says Newton. "For a person to do what he does and at such high speeds and to still be able to create such great music, that's what really blows you away."
[+] Enlarge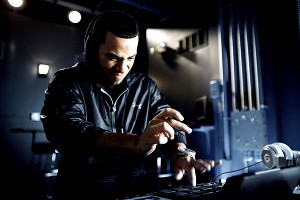 Under ArmourDJ/producer AraabMuzik and his MPC drum machine complement Cam Newton's rapid-fire game.
That's what happened when Araab met with producers in Baltimore to pick tracks for Newton's commercial. He had written dozens of hooks and beats but nothing seemed quite right and while the suits huddled in the next room to discuss their options, Araab improvised something completely different that he thought would match Newton's style and personality.
"I've got all different options as far as sounds and clips and beats and I have to manage them all at once," says Araab, who wears a lot of Giants gear in his publicity shots but admits it's just a coincidence -- he's not really a fan. "I think, in some ways, that's the same as a QB. You can program and plan but sometimes the best option is to wipe it all out and improvise, too."
When he did, heads perked up all over the studio. That's it, that's it, they said. And when they played it for Newton, he agreed. In the spot, Araab is high up in the stadium stands, situated like he's in a DJ booth, swinging a diamond encrusted watch the size of a frisbee while dropping a ridiculously catchy three-part beat that seems way too cool to waste on Bank of America Stadium. It starts with a rata-tat-tat-tat-tat-tat from an electronic marching snare, splashed by an old-school, Prince-synth cannonball and then a campy, disco-era purr of "CAM!" that sounds like a misting of fresh Cristal bubbles.
It's not exactly Peyton Manning in a bowl cut and fake mustache pushing credit cards, if that's what you're wondering.
Instead, you know that weird brain-wiring quirk where you can't think of any other melodies or song titles when something else is playing? That's what Araab's stuff is like, especially here. Once you experience this commercial you won't be able to hear anything else for a week, or possibly more.
In the advertising world I believe they call that mission accomplished. "It works because we can relate to each other," the QB told me about the DJ. "Araab goes into the club, I go onto the field, and people are waiting and anticipating something great to happen and we both have to deliver. He's come through and left people in amazement and I'm still faced with that challenge."
Really? I wondered. Even after the eye-popping stats, the records and all the awards?
"I'm never gonna get complacent and say 'I've arrived,'" Newton continued. "My whole mentality for this offseason is: the best is yet to come. I did some good things. But, yeah, I also did some bad things too. Now that I've gone back and watched all the film, it's kinda disgusting to even look at some of the things I'm watching. There's a lot of room for improvement. The focus point for me is consistency. I was not consistent enough to be an elite quarterback in this league. And, even more important, I think, is I've been in discussions with all my teammates and everybody is on board and won't be satisfied until we're playing for it all.
"I want to go down in history as the greatest and that's a large statement to make, I know, but if you're not playing this game to be great, then why are you playing?"
The concept behind this commercial is a look at the work that gets done, behind the scenes, to reach those kinds of lofty goals. (Something we both agreed will be far more simple and effective now that whiz kid offensive coordinator Rob Chudzinski isn't leaving town for a head coaching gig.) After finishing the SUV scene, which opens the one-minute-long spot, the production company swarmed to set up the next location: Newton meeting up with Araab in a stadium tunnel before hitting the field for the workout.
This one took a bit longer to get through. For starters, it was a challenge to get the lighting right in order to cast the perfect shadows on the concrete walls. Newton and Araab were actually meeting for the first time and the camera angles were tricky based on the almost two-foot difference in their heights.
The first take was too sinister. On the third, Newton got the giggles. On the seventh he exited the shot on the wrong side of the camera. "I went to day school, man," Newton tells the director, "my brain doesn't work at night." Another take is ruined by too much background noise, according to a guy with a walkie-talkie wearing sunglasses at 8:35 at night. Cam coughs during one take. A train goes by outside the stadium and botches another.
And then, Newton nails it. The crew claps. The director slaps him on the back. "You like those?" he asks his star. "Yeah," says Newton. "OK then, we're moving on, people!"
While they set up again (and I contemplated the idea that people do actually talk like that on sets), Araab wandered over to a table away from the action where an engineer was already editing film with a stack of computers and five huge TV panels. A few of us then gathered around in the cold and watched a key shot from the previous night's filming. It's a full screen, slo-mo capture of the actual product (imagine that?), a teal and platinum super hi-top cleat. The space-age shoe digs into the turf and cuts upfield, leaving behind what we're supposed to sense is some kind of a magical vapor trail that propels Newton to the Super Bowl, to Canton and then, I guess, to a rave on some distant Moon station.
Rata-tat-tat-tat-tat-tat. Psssssssssssshhhhhhhh! CAM!
And, right on cue, the camera shows Newton as he cuts, spins and leaps into the end zone.
Afterward he stands, tall and proud, and, as the music stops, Newton screams to the heavens as he rips open his Superman pose.
Then he looks straight into the camera, through it really (the kid's got chops after all), and with emotion and rage pent up for more than a year the QB half smiles and half growls -- WHAT?!!? -- questioning us, challenging us, daring us to say something about him now.
What are you looking at? Newton seems to be asking.
What are we looking at?
The next great pitchman in sports, that's what.
David Fleming is a senior writer for ESPN The Magazine and a columnist for ESPN.com. While covering the NFL for the past 16 years at Sports Illustrated and ESPN, he has written more than 30 cover stories and two books ("Noah's Rainbow" and "Breaker Boys"), and his work has been anthologized in "The Best American Sports Writing."