Commentary
Maryeve Dufault racing unique path
Originally Published:
February 21, 2012
By
Zach McCann
| Page 2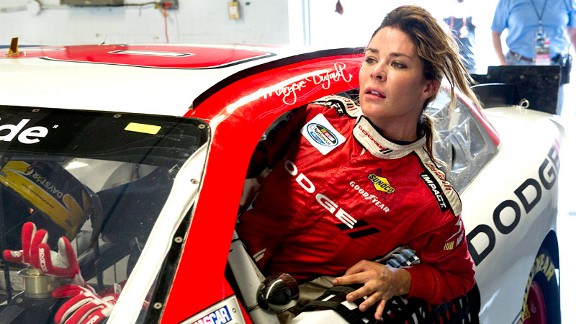 AP Photo/The Canadian Press, Paul ChiassonMaryeve Dufault has modeled on "The Price Is Right," in Maxim, and on "The Bold and the Beautiful."
As a model on "The Price Is Right," Maryeve Dufault would smile, bend her knees and gesture to the right as Bob Barker belted out something like, "A brand new car!" Then she'd strut to the other side of the car, maybe lean up against it, smile and gesture again.
Truth is, though, she'd rather have been driving the brand new car than presenting it to the stay-at-home dads, night workers and hung over college students watching at home.
Dufault's modeling career, from America's favorite game show to an episode of "Entourage" to the August 2011 issue of Maxim, is what she's most famous for, but she didn't move to the U.S. from Quebec to become a model.
She came here to be a race car driver.
"I hate that, when people turn it around," says Dufault, 30, who competed in 14 ARCA races last year and raced in the Montreal NASCAR Nationwide Series race in August. "Some people might say it's bad because people think you just want to be a model and it's a bad image for female racers. Well, if it's a bad image, would you like to pay for my racing? Would you like to handle my budget?"
Dufault wants to follow the path led by NASCAR's most famous female driver, Danica Patrick, who she met in 2004. A full-time racer with a devoted sponsor (GoDaddy.com) and some respect on the race track is exactly who Dufault wants to be, and she'll do almost anything to achieve it.
She's been in love with racing since her motorcycle-racing father put her on a motorbike when she was 4 years old. Her childhood, with her father and older brother racing motorcycles, consisted of competing on go-karts and motocross bikes.
Her family never had a lot of money, which helped her learn the business of the sport. Or, more bluntly, you can't compete without lots and lots of money. She once lost a go-kart race to a teenager with a car much faster than hers. Not surprisingly, she said, he came from a rich family. That lesson still resonates with her.
Once an adult, Dufault followed a cousin to Los Angeles in hopes of learning English (she grew up speaking French) and pursuing a race career. And, knowing she'd need money to fund her racing career, she figured L.A. would be a great place to pick up side gigs modeling and acting.
"The question was, 'How am I going to make this racing happen?'" Dufault said. "So I started doing some modeling on the side. You work one day and get a pretty good paycheck."
Dufault has landed some visible modeling work. In addition to the modeling jobs above, she's also notably represented the suntan lotion maker Hawaiian Tropic and modeled for the soap opera "The Bold and the Beautiful."
"It takes patience standing there, and I need to move," Dufault says of modeling. "But it's interesting. It's nothing too complicated, to be honest."
She poured most of her modeling money into her racing career, helping it finally get off the ground in 2010, when she competed in two NASCAR Canadian Tires Series events. Then, in '11, she hooked up with the Tony Marks Racing team and ran in 14 races, including a top-10 finish at Chicagoland.
But her first NASCAR Nationwide Series race -- the NAPA Auto Parts 200 on Aug. 20, 2011, in Montreal -- didn't go so well. She wrecked early and spun out another time, dropping out of contention and simply running laps for points by the end of it. She finished 30th.
"I didn't give up. Maybe I should've just parked the car, but I didn't and I kept going because that's not the way I am," she said. "Maybe it was a mistake with the equipment we had, but it was a risk -- sometimes you fail and sometimes you succeed."
Dufault, who now spends most of her time at her shop in Mooresville, N.C., plans to split her time between ARCA, the NASCAR Trucks Series and the Nationwide Series this season.
The road ahead is foggy, but eventually, the former "Price is Right" model hopes to be driving full-time in NASCAR Cup in her very own "brand new car."