Commentary
College football realignment is solved!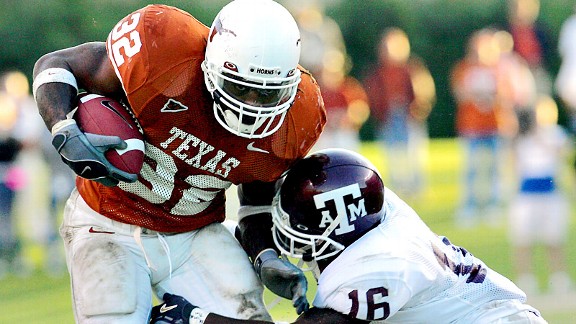 Ronald Martinez/Getty ImagesPage 2's conference realignment plan uses common sense to restore the Texas-Texas A&M rivalry.
Editor's note: Art Garfamudis originally wrote for Page 2 in 2008 before he retired to dedicate himself to preparing his safe house for any number of civilization-threatening crises. The depletion of his potable water, dried food and ammunition has lured him out of retirement to again present his unique perspective on the sports world in a new column, Art for Art's Sake.
Have no fear Football Bowl Subdivision, here I come on my white horse to save you from the mess you've made of yourself. That's right, I've got a plan to tidy up after the NCAA and the BCS that will make things better for everyone. Even people who don't care about football will benefit from the plan I'm about to present. How? Because, once it's put into action, they won't have to listen to their friends and family whine about how bad things are in college football anymore.
There's something I should come clean on before going into this, though. The truth is, I don't care about colleges or what goes on at them except for the sports they produce. Advanced degrees are for chumps, and the places where you go to get them are basically overgrown funhouses where a lucky portion of the youth population goes to avoid working at the outlet mall for a couple of years.
So, anyway, what are the main beefs with the current plan?
No playoff system (only college sporting situation without one, right?)
Favors some conferences over others
Polls are whacked
Schools changing conferences too much
My plan fixes all that.
The first thing we have to realize is that the whole enterprise needs to be dismantled and built up again from point zero. In the process, I'm going to run over a lot of sacred cows with an express train. Sorry, but it's gotta be done. Here's how my plan will impact some long-established things:
Rivalries: You think your school's big rivalry is sacred, don't you? Come on! They killed the Texas-Texas A&M rivalry. What more do you need to know? If that one can go away, then they can all go away. Repeat after me: In college athletics nothing is sacred once money enters the equation. To illustrate, here's an equation for you I made up myself:
$ for university = Extra-special rivalry X 5
That's right: No matter how wonderful you think your school's rivalry with Hated State is, it can vanish as fast as a snap of your fingers for the right price. Besides, I believe my plan has a way to keep the greatest rivalries alive, so relax.
Here's my plan:
Independent schools: Sorry fellas, you gotta think of the big picture from now on. No more independent teams. Either you're in or you're out. You want to stay independent? Move down to the next level of play. Up here, everyone's in it together.
Polls: Gone. Dead. Kaputnik. Don't need 'em. Don't want 'em.
Sub-FBS patsies: No more. FBS teams play only FBS teams. The schedule is too short (11 games) to mess with anyone else.
Bowl games: The major bowls can continue to rotate the important postseason games. What the rest of the bowls do once my schedule has been completed doesn't concern me in the least.
The alignment: The 124 schools of the FBS will be broken into six conferences of 16 teams and two conferences of 14 teams. So that there can be no claims of favoritism or stacking the deck, the conferences will be aligned on a purely alphabetical basis. Yup, by the alphabet. Geography, tradition -- these things aren't criteria anymore. Hey, don't look at me. The major conferences and their member schools abandoned geography and tradition years ago. I'm just taking it to its logical conclusion. (Note: If a school's official name starts with "University of" they will be placed not with the U's, but where that "of" designates. For instance, University of Texas goes with the T's.) Here are the conferences -- with better names to be determined at a later date:
Conference A-B: Air Force, Akron, Alabama, Alabama-Birmingham, Arizona, Arizona State, Arkansas, Arkansas State, Army, Auburn, Ball State, Baylor, Boise State, Boston College, Bowling Green, Brigham Young
Conference B-F: Buffalo, California, California at Los Angeles (UCLA), Central Florida, Central Michigan, Cincinnati, Clemson, Colorado, Colorado State, Connecticut, Duke, East Carolina, Eastern Michigan, Florida, Florida Atlantic, Florida International
Conference F-L: Florida State, Fresno State, Georgia, Georgia Tech, Hawaii, Houston, Idaho, Illinois, Indiana, Iowa, Iowa State, Kansas, Kansas State, Kent State, Kentucky, Louisiana State
Conference L-M: Louisiana Tech, Louisiana-Lafayette, Louisiana-Monroe, Louisville, Marshall, Maryland, Massachusetts, Memphis, Miami, Miami (Ohio), Michigan, Michigan State, Middle Tennessee, Minnesota, Mississippi, Mississippi State
Conference M-O: Missouri, Navy, Nebraska, Nevada, Nevada-Las Vegas, New Mexico, New Mexico State, North Carolina, North Carolina State, North Texas, Northern Illinois, Northwestern, Notre Dame, Ohio, Ohio State, Oklahoma
Conference O-S: Oklahoma State, Oregon, Oregon State, Penn State, Pittsburgh, Purdue, Rice, Rutgers, San Diego State, San Jose State, South Alabama, South Carolina, South Florida, Southern California, Southern Methodist University, Southern Mississippi
Conference S-T: Stanford, Syracuse, Temple, Tennessee, Texas, Texas A&M, Texas-San Antonio, Texas Christian, Texas State, Texas Tech, Texas-El Paso, Toledo, Troy, Tulane
Conference T-W: Tulsa, Utah, Utah State, Vanderbilt, Virginia, Virginia Tech, Wake Forest, Washington, Washington State, West Virginia, Western Kentucky, Western Michigan, Wisconsin, Wyoming
How it works:
New schools: Any school that chooses to field an FBS team in the future will be slotted into one of the 14-team conferences, no matter where they fit in the alphabet. Also, if a school changes its name, it will stay in the same conference.
Divisions: Each conference will be broken into two divisions. This can also be done alphabetically or an attempt can be made to take geography into account. Round 1 of the playoffs is the conference championship.
Schedule: Sixteen-team conferences: Play each team in own division and three teams in other division. Fourteen-team conferences: Play each team in own division and four teams in other division.
Nonconference game: Every team gets one. This is how many of the great rivalries will be kept alive. Army-Navy, Ohio State-Michigan and USC-Notre Dame -- to name a few -- will all survive because of this. How a conference does in its nonconference games will help determine seeding in the playoffs.
Playoffs: The eight conference champions will be seeded according to their won-loss records and how well their conferences played against their nonconference opponents. There will be three rounds: quarterfinals, semifinals and a big finish with the championship game.
Look, it doesn't have to go down exactly like this. There's more than one way to skin a cat (unless the cat is still alive). I'm a reasonable guy given the right mix of medications; use this as a jumping-off point for a discussion, but just remember: the further you move away from my plan and the closer you stay to the way things already are, the worse you're going to make it.
Artemis Arthur Garfamudis originally studied typing at the Miss DuPrix School of Business on Route 22 in North Plainfield, N.J. He has since taken several refresher typing courses. It is with great pride that he types all his own columns.
Follow Art Garfamudis on Twitter @artgarfamudis ... if you dare.