Commentary
The evolution of batting practice caps
Originally Published:
February 23, 2012
By
Paul Lukas
| Page 2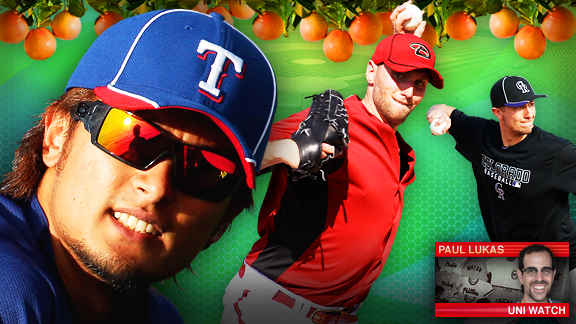 ESPN.com Illustration
About two weeks ago, as pitchers and catchers were getting ready for their annual pilgrimage to Florida and Arizona, A's pitcher Brandon McCarthy listed his three least-favorite things about spring training, one of which led to some raised eyebrows throughout the uni-verse: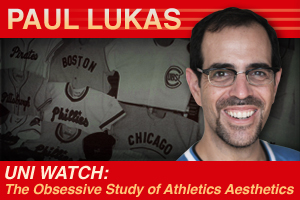 "The hats. ... I think this is the most common complaint. MLB issues these spring training hats that are pretty universally hated. They usually have a silly line(s) on them so they're different from the regular season hats, and the material feels like a wet dish rag if you sweat in them (which you will). Every day that you put them on, you get the same sad feeling Ralphie got in 'A Christmas Story' when he's wearing the footed pajamas."
The caps McCarthy was referring to are officially known as batting practice caps, or just BP caps, but most MLB teams wear them throughout spring training -- for workouts and also for Grapefruit and Cactus League games -- so we're going to be seeing a lot of them between now and Opening Day (even if they're "pretty universally hated" by the players, as McCarthy claims).
When did BP caps come into vogue, anyway? Unlike, BP jerseys, which were pioneered by the White Sox in the early 1970s and then slowly spread throughout the remaining big league teams over the next two decades (the Dodgers were the last team to get on board, in 1995), BP caps weren't born until 1999 and were introduced all at once, on an MLB-wide basis. At the time, everyone thought the whole idea was kind of silly. As a then-new column called Uni Watch quipped in May of '99, "Can the postgame interview cap be far behind?"
Thirteen years later, the concept of having separate headwear just for batting practice is, well, still pretty silly, but BP caps have become part of the MLB firmament all the same. There's even a fairly routinized design rotation: MLB tends to stick with a given BP cap template for three or four seasons and then introduces a new one for all 30 teams. As a result, BP cap history can be broken down into major four eras. To get a sense of this progression, let's take a look at the BP cap timeline of the Texas Rangers, whose headwear stylings provide a good look at where the BP has been and where it has gone.
Era 1 (1999-2002): Meet the Mesh. As you can see here, the first generation of BP caps were just normal-looking designs rendered in mesh fabric, instead of the usual wool. Uni Watch never liked this look, because mesh (a) isn't a good baseball fabric and (b) isn't a good cap fabric. A lose-lose. Back to the drawing board, guys.
Era 2 (2003-06): A Tasty Sandwich. Here's where things got interesting. The mesh was replaced by a piqué-style polyester fabric, the brims were curvier and had contrast-colored edges (this is known in the cap biz as a sandwich brim, because the colored layer sits between the top and bottom layers), and many teams used fun alternate logos. If you absolutely have to have a BP cap, this strikes Uni Watch as the right design approach. It has youth appeal (which, let's face it, is the whole point of BP caps) without pandering, and it's playful enough to say "This doesn't have as much gravitas as our game cap" without looking like a complete joke.
(As an aside, this is also the cap template that may have helped Tigers pitcher Kenny Rogers to illegally doctor the baseball during the 2006 World Series. For details on that chapter in uni history, look here.)
Era 3 (2007-09): Do-Rags and Don'ts. What was that about looking like a joke? This is where the BP cap train started running off the rails. The progression of the wavy red line is actually a pretty neat visual trick, but it doesn't look good on a cap. And those stretch panels on the sides were supposed to simulate the look of a do-rag being worn under the cap -- lame (and they looked even worse when the stretch panel color didn't match the rest of the cap). How bad were these caps? So bad that outfielder Tony Gwynn Jr., then with the Brewers, engaged in this conversation with a blogger named David Arnott prior to a 2007 game:
Arnott [shouting from the first-row railing]: "Won't you get fined for not wearing the BP cap?"
Gwynn [obligingly shouting back]: "Hell no! The manager ain't even wearing it."
Arnott: "What's wrong with the BP cap?"
Gwynn: "They suck!"
Arnott: "How so?"
Gwynn: "They just do."
Hey, he said it, Uni Watch didn't.
Era 4 (2010-present): Death Panels. Is there a rule that says each new generation of BP caps has to get progressively ridiculous? Apparently. Between the extraneous piping and the multi-paneled brim, it kinda makes the do-rag template look tasteful by comparison. Fortunately, some teams have opted to keep things a bit more sedate, but the raised piping on the brim still looks like a stray shoelace or something, and it's hard not to snicker at the stretch panel in the back. No wonder McCarthy and the other players don't like these things.
But MLB doesn't really care what McCarthy or his fellow players think. MLB only cares about whether fans will buy BP caps, because that's the real reason BP caps exist -- for merchandising. So what do fans think of BP caps?
That question was recently posed over on the Uni Watch Blog, where more than 100 readers chimed in with their thoughts. A few patterns quickly became apparent:
• People who like BP caps really like that they have a lower crown than MLB's regular game caps, which many folks think are too boxy. (Word to the wise: New Era makes low-crown game caps, although they can be hard to find.)
• Fans also like the flex-fit aspect of BP caps, especially since MLB's game caps are often sized inconsistently (i.e., two game caps that are both supposedly 7-3/8 may not fit the same).
• Another plus: Fans like the breathability of the BP cap fabric, especially in hot weather. In fact, so many people mentioned this that Uni Watch has begun to wonder why MLB and New Era don't just use the BP fabric for game caps, or at least offer it as an option.
• A slightly smaller but still substantial number of fans also like that BP cap brims are curvier than the brims on game caps.
[+] Enlarge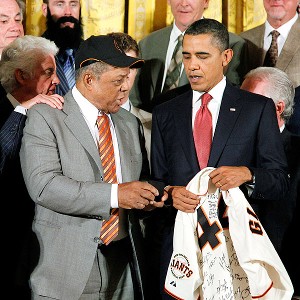 AP Photo/Manuel Balce CenetaWillie Mays is a big fan of the batting practice cap, and almost always wears it at appearances.
Those four points kept coming up again and again. One thing that did not come up very often, however, was positive feedback on the state of BP cap design. The typical comment was, "They look stupid, but I'm willing to tolerate that because they fit better, feel better, etc." In other words, BP caps are selling in spite of all the design gewgaws, not because of them. (Attention MLB: Uni Watch's invoice for all this focus-grouping is in the mail.)
Interestingly, there's a former player who apparently loves BP caps, even though he retired more than a quarter-century before they were invented. That would be none other than Willie Mays, who almost always wears a Giants BP cap whenever he appears in public -- even when hanging out with President Obama!
Is there any storyline behind the Say Hey Kid's headwear preferences? "No, there's no particular significance to it," says Giants media relations coordinator Jim Moorehead. "It's great for the team and for MLB branding, but no one has asked him to wear it. It's just become his favorite hat."
Interesting. Now we just need to set up a Bay Area summit meeting between Mays and Brandon McCarthy, so they can debate the BP cap's pros and cons.
London Calling
Don't look now, but the Summer Olympics are just a few months away, so some of the apparel is starting to surface. That includes the new uniform for USA Basketball. It's pretty sedate by Nike standards, but what's the deal with that chest insignia? Uni Watch's first reaction was that the heavy, chunky lettering felt a lot like a European heraldic crest -- not very USA-ish.
But wait, maybe the jersey design is based on the B-2 Stealth Bomber! That's certainly more American, except nobody has ever accused LeBron James or Kobe Bryant of being stealthy. In any case, it's an unusual design, and a good opening salvo in the Olympic uni sweepstakes.
Paul Lukas still thinks the postgame interview cap is bound to happen eventually. If you liked this column, you'll probably like his daily Uni Watch web site, plus you can follow him on Twitter and Facebook. Want to learn about his Uni Watch Membership Program, be added to his mailing list so you'll always know when a new column has been posted, or just ask him a question? Contact him here.