Commentary
All-Star Weekend party time in O-Town!
Updated:
February 23, 2012, 10:24 PM ET
By
Kelley Carter
| Page 2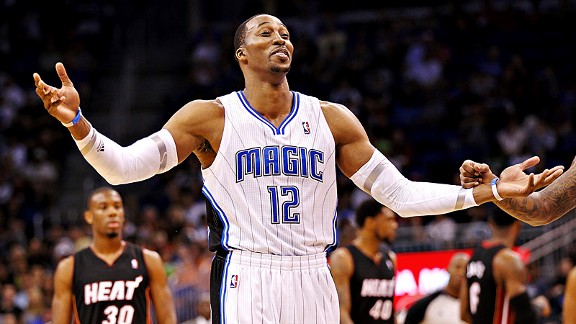 Mike Ehrmann/Getty ImagesAre you ready to party with Dwight Howard in Orlando this weekend?
ORLANDO -- Leave the kids at home.
NBA All-Star Weekend -- and the party scene it inspires -- will be in the mouse's house this weekend and it'll be an adult affair. The weekend won't be as "Wild 'N Out" as a Super Bowl to-do, but the world's tallest men will be partying in the Sunshine State to celebrate the sport, toast the league's best players and party in the name of all things basketball.
Maybe we should blame the lockout, but events are still being planned and finalized for the big weekend as you're reading this! Still, we were able to snag some key details of what sounds like some of the hottest, exclusive events going on in Orlando this weekend. Here are some of the biggest events your favorite party-loving Page 2 reporters will be checking out in the fair city of Orlando:
THURSDAY
The Fifth Annual Dwyane Wade All-Star Party
The Miami Heat star will kick off the week's events at hot spot VAiN Orlando in the city's downtown. We're expecting a bit of Hollywood glitterati to be in the house too, considering that his girlfriend, actress Gabrielle Union, will be walking the red carpet at the premiere of her forthcoming film, "Think Like A Man," which happens in Orlando on Saturday. We're told castmates Kevin Hart, Terrence J, Regina Hall, LaLa Anthony and Gary Owen will be in attendance at the film's premiere, so we're expecting to see them hanging out at several events this weekend.
FRIDAY
The adidas Footaction ASW party with Dwight Howard
It's Dwight Howard and a party at an airport hangar. Does more really need to be said here? Last year, this was the party to try to crash in Los Angeles (it was on a rooftop and it rained, but it still was rocking) -- so we have high expectations this go-round.
Hennessy Friday night event hosted by Cee-Lo and Victor Cruz
If there's not a salsa-off happening at this private party, then we'll be pretty disappointed. But with Cee-Lo Green in the mix, one thing is certain: The music will be slamming. OK, two things: The music might also have a naughty word in it. But we're not complaining.
Xpensive Habits hosted by Kevin Durant
Again: Here's another hotly anticipated party that happens in a private airport hangar. One of the DJs who'll be rocking the house is Lil Jon -- we loved his set at the Super Bowl; there was a lot of encouragement to partygoers to take shots. We'll report back on which hangar is rocking the most.
Ciroc Museum hosted by Kevin Hart
The funnyman is taking over the Orlando Science Center and teaming up with model Eva Marcille to host this tipoff party in downtown Orlando. Men won't care much about this fact, but … we hear they're giving away 20 pairs of Christian Louboutin shoes. Free red bottom heels? Winners will surely feel like "Basketball Wives."
Kenny "The Jet" Smith party hosted by Mary J. Blige
One of our favorite divas will be hosting an event with one of our favorite basketball analysts. The event happens at the Ballroom on Church Street, and if the Queen of Hip-Hop Soul is rocking the mike this night, we won't miss a note.
Dwight Howard & Floyd Mayweather NBA All-Star Party
Howard plays host again this week, this time with boxing ace Mayweather at VAiN Orlando. The guys behind this event were behind some of the hottest affairs in Indianapolis for the Super Bowl, so we're expecting the party to end well past last call. Bring on the energy shots.
2012 Sprint NBA All-Star Celebrity Game
Some of our favorite rappers, reality stars and R&B crooners will be showing off their skills at the annual celeb game. Those who will be suiting up this year include Vinny Guadagnino ("Jersey Shore") , Ne-Yo, Hart, Common, J. Cole, Jesse Williams and Javier Colon. Which celebs got hops? We'll report back.
SATURDAY
Carmelo Anthony & Fabolous NBA All-Star Party
New York is in the building! Anthony (and maybe, just maybe there'll be a Jeremy Lin appearance?!) and rapper Fab will get the party going this night. Fab rocked the mike as a guest at an All-Star event last year; we can't wait to see what he does as the main act at this Orlando date.
Kelley L. Carter is an entertainment and pop culture freelance journalist.
Page 2
Kelley L. Carter is an Emmy-winning entertainment journalist who has written for publications including USA Today, the Chicago Tribune, the Detroit Free Press, Vibe and Essence magazines. She also regularly provides expert pop culture and entertainment commentary for outlets including CNN, E! and the TV Guide Channel.