Commentary
NC State ejections are a cautionary tale
Originally Published:
February 23, 2012
By
DJ Gallo
| Page 2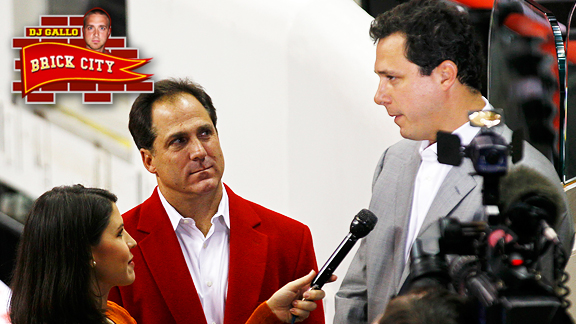 AP ImagesIf former NC State stars Chris Corchiani and Tom Gugliotta can be ejected, hecklers should take heed.
NC State alums Tom Gugliotta and Chris Corchiani were thrown out of a game at the RBC Center last weekend by referee Karl Hess. The two former Wolfpack stars were giving Hess some grief for his calls, and he ran them.
Officials have been heckled forever, yet it seems they no longer have the patience to put up with criticism. We all may have to soften our trademark referee heckles, lest we also find ourselves thrown out of games.
Consider these alternatives:
"Hey, ref! Get some glasses!"
Message: Implies that the referee may have a problem with his vision and that prescription eyewear could remedy the issue and return his eyesight -- which would, in turn, make him better at his profession.
Nicer version: "Excuse me! Mr. Referee, sir! The American Optometric Association suggests that adults have a complete vision screening every year. Are you current with your checkups?"
"Hey, ref! Are you blind?"
Message: The frequency of missed calls is so great, one has to wonder if the referee has not just a vision deficiency, but is perhaps completely robbed of his sight.
Nicer version: "Pardon me, good man in the stripes! I am concerned that you have not followed the American Optometric Association's checkup guidelines in quite some time! There is no shame in blindness. From Stevie Wonder to David Paterson, blind Americans have achieved much! Perhaps you are limiting your impact on the world by sticking to the referee profession!"
"Hey, ref! You're missing a good game!"
Message: The quality of play is outstanding, but the official's general incompetence is impacting the game in a negative manner.
Nicer version: "Ho, there! Good official! Let the excellence all around you inspire you to greatness as well!"
"Hey, ref! #### you! #######!"
Message: The ref is a ####ing #######.
Nicer version: "Your performance on this night has brought me to great anger!"
Sweet 16

1. Congratulations to the Binghamton Bearcats on ending their 27-game losing streak with an upset of Vermont. Despite its struggles, Binghamton actually leads the America East in attendance -- and has for nine consecutive years. That's an impressive fan base.

2. (Note to self: Open something that provides entertainment in Binghamton, N.Y. It will be huge.)

3. The nation's longest losing streak is now the 20-game run of futility by Navy. The Midshipmen have fallen a long way from the days of David Robinson. They clearly need to go back to recruiting athletes who grow five inches during their collegiate careers.

4. The dunk of the week was this week's self-alley-oop from Hampton guard Darrion Pellum. Have you not ever heard of Pellum? Well, based on the players in this year's NBA dunk contest, total lack of name recognition may only bolster Pellum's bona fides as an elite dunker.

5. Xavier beat Dayton by three points Saturday night, but something that happened before the game got more attention. Good thing that didn't happen at a Xavier-Cincinnati game or someone might have used a stool shard as a shiv.

6. Are any NC State basketball legends reading this column? If so, I would now like to eject you from the remainder of the article. Why? No reason. Just seemed like a fun thing to do.

7. Tom Gugliotta and Chris Corchiani can't claim complete innocence. They did heckle the official and, well ... this: short shorts with spandex? Were you intending to play basketball that day or go rollerblading, Mr. Corchiani?

8. Northwestern State attempted 26 3-pointers Wednesday night and made none of them. That's right -- 0-for-26. At home. Poor Vic the Demon. First he's born cross-eyed, then he starts coming apart at the seams and now he has to witness and 0-for-26 game.

9. Maryland athletic director Kevin Anderson wants to end the basketball scheduling dispute with Georgetown and is trying to force the Hoyas' hand by vowing Maryland will not play Georgetown in any sport until that happens. This is brinksmanship at its best. No Maryland-Georgetown swim meets? Get ready for angry, torch-wielding mobs.

10. Despite a down year in the Big East, ESPN bracketologist Joe Lunardi predicts the conference will still get the most NCAA tournament bids with nine. But remember that the Big East is a 16-team basketball conference going on 64. In future years it will have the most NCAA tournament teams, the most NIT teams, and the most teams with losing records.

11. Northwestern's NCAA tournament hopes essentially ended Tuesday night when an overtime loss to Michigan dropped the Wildcats to 16-11 on the season. So it looks like we'll likely make it through 2012 with Northwestern still not having a bowl win since 1947 or a single NCAA tournament appearance in its history. In your face, Mayans.

12. Arizona State coach Herb Sendek received a unique vote of confidence from ASU president Michael Crow this week. The Sun Devils won only 12 games in 2010-11 and are 8-19 this season. That might put many coaches on the hot seat, but Sendek isn't far off from giving Crow the kind of program he wants. "I'll take a 15-13 record if [the opponents] that beat us leave the court saying, 'Man, that was hard,'" Crow told the Arizona Republic.
Since winning seems unlikely for Sendek this season, what he needs to focus on is his postgame handshakes with the coaches who beat him. "Great game, [opposing coach's name]. Hey, would you mind mentioning in your postgame news conference that despite appearances, beating us was really difficult? It will help me with my boss. Thanks. I appreciate it."

13. Speaking of postgame handshakes, Jim Harbaugh served as Indiana's team manager during the Hoosiers' home game against North Carolina Central on Wednesday night. Harbaugh is Tom Crean's brother-in-law and the evening went off without incident, but let's all agree to never give the ultra-intense 49ers coach access to metal chairs again. He's dangerous enough already.

14. Outside of Binghamton's win, the best college basketball news of the week is Kansas State likely cementing its NCAA tournament bid with big wins over No. 10 Baylor and No. 3 Missouri. We must treasure every chance we have to see Frank Martin coach in the extreme pressure of the NCAA tournament. May his access to metal folding chairs be great.




15. Bryant University is 2-26 this season. Brown is 7-20. Providence is 13-15. Rhode Island is 5-23. The state of Division I college basketball in Rhode Island is abysmal. Or is it? The Rams have a player named Orion Outerbridge, who is this week's Brick City Name of the Week award winner. Seems to me that the sting of a combined state record of 27-84 is eased by the joy of getting to say "Orion Outerbridge."


16. This weekend's best game is on Saturday afternoon when No. 3 Missouri visits No. 5 Kansas. With Missouri's move to the SEC putting the future of the rivalry in question, major bragging rights are on the line. It's probably best for all involved if the Jayhawks win. Then they can feel good about their basketball program while Missouri can easily transition into SEC mode by pretending it doesn't care about basketball.
DJ Gallo is the founder of SportsPickle.com. He has written a book and written for Comedy Central, The Onion and ESPN The Magazine. He co-hosts the Page 2 Podcast and has appeared on ESPNews. You can follow him on Twitter at @DJGalloESPN.