Commentary
Sports movies vs. the Academy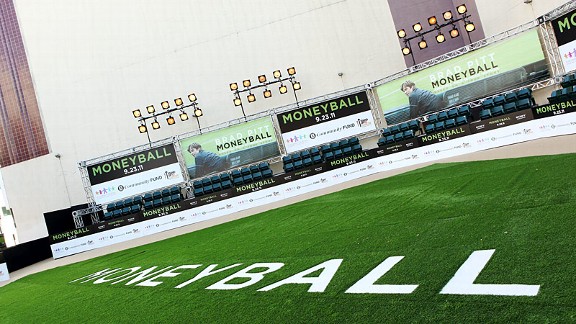 Eric Charbonneau/Getty ImagesIt's a near-barren landscape for sports movies at the Oscars. Will 'Moneyball' change that?
In sports, America loves an upset.
In sports movies, America loves an underdog.
Which brings us to "Moneyball" -- a film about underdogs and (sort of) upsets -- and Sunday's Academy Awards, where said movie is aiming for the ultimate takedown of a frontrunner.
So can it happen? Can "Moneyball" further resemble its plucky Oakland A's and make history as the first baseball movie ever to win Best Picture -- all while taking down "The Artist" (presumed by the experts to be the leader, thanks to its pre-Oscars awards haul) and leapfrogging assumed closest challengers "The Descendants," "Hugo" and "The Help"?
"The short answer," wrote Sasha Stone, founder and editor of the long-running Oscars blog Awards Daily, "is no."
No? But you never say never, right?
Maybe not in sports. But you do at the Oscars. Because even the more recent Best Picture surprises -- "Shakespeare in Love" (over "Saving Private Ryan") and "Crash" (over "Brokeback Mountain") -- had scored considerable pre-Oscar wins (e.g. Golden Globes, Screen Actors Guild). Their directors also received Academy Award nominations during those years, without which no film has claimed the top prize since 1989.
"Moneyball"? None of it. And at Oscar time, it's not like Billy Beane can unleash Scott Hatteberg and take down that opposing giant (one that, as awards contenders go, resembles the turn-of-the-century Yankees, with Oscar campaigner extraordinaire Harvey Weinstein playing the late George Steinbrenner and black-and-white film stock sitting in for pinstripes).
"[In] sports you have players who can beat one another and win," Stone said. "The Oscar race was already decided many weeks ago when ballots went out. Most voters turn them in early, and so last-minute surprises happen very rarely."
So assuming "Moneyball" doesn't pull off the film industry's equivalent of winning 50 baseball games in a row, where does that leave Oscar's relationship with sports movies?
Not that great.
[+] Enlarge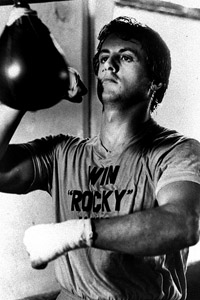 AP Photo/United ArtistsRocky Balboa, Oscar winner.
Sure, "Raging Bull" (boxing), "Breaking Away" (cycling), "Seabiscuit" (horse racing) and "The Hustler" (pool) all snagged Best Picture nods, while Robert De Niro ("Raging Bull") and Paul Newman ("The Hustler" sequel "The Color of Money") both claimed Best Actor (which Brad Pitt could win for "Moneyball"; more on that later).
But only three films with major sports bents have won Best Picture: 1976's "Rocky," 1981's "Chariots of Fire" (more on that movie here) and 2004's "Million Dollar Baby" (which had its major dramatic moment take place far from the boxing ring). And with two about boxing and one based around running, not one centers on a current major American sport.
Consider …
Baseball: Brought us "Field of Dreams" (three nominations, including Picture), "The Natural" (four, including Glenn Close for Supporting Actress), "Bull Durham" (only Original Screenplay), "Bang the Drum Slowly" (Vincent Gardenia for Supporting Actor) and "The Bad News Bears" (zilch), but no Big Oscar. Not even "Pride of the Yankees" claimed the top prize; it only won for one of its 11 nominations (Editing).
Football: Provided the delightful yet mostly forgotten "Heaven Can Wait" (nine nominations, including Picture), but Oscar made football wait … indefinitely, as 1996's "Jerry Maguire" snagged five nods (including Picture) but left us with little more than a memorable Cuba Gooding Jr. acceptance speech.
Basketball: "Hoosiers" earned the late, great Dennis Hopper his only acting nod (Supporting), but he was joined only by the film's score. Other than that? Pretty much all zeroes, although we're still shocked "Semi-Pro" got no sort of recognition for the "jive turkey" scene (there's no way in the world we can link to it).
Interestingly, sports is not the source of entertainment most glaringly ignored by Oscar; if "The Artist" -- about a silent film star's sagging career -- wins, it will be the first movie about moviemaking to win Best Picture, ever.
But that doesn't mean sports and Oscar are besties.
"[Academy members] tend to vote for one kind of movie -- conventional dramas with male characters facing a crisis, often a disability," Stone said. "[But] 'Jerry Maguire,' 'Bull Durham,' 'Field of Dreams,' 'The Natural,' 'North Dallas Forty' [zero nominations] -- they just never turned into Best Picture winners."
So it won't win there. What about for its other five nominations?
[+] Enlarge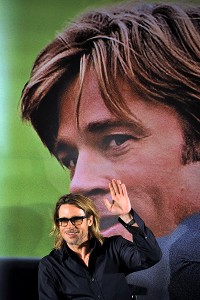 Jung Yeon-Je/AFP/Getty ImagesBrad Pitt, Oscar long shot.
Brad Pitt, Best Actor: Per the experts and early awards, Pitt seems to be behind favorite Jean Dujardin ("The Artist") and challenger/buddy George Clooney ("The Descendants"). But ... "[Pitt] absolutely has a shot," Stone said. "If you're betting your office pool, choose Dujardin. If you feel like betting on the long shot, go for Pitt."
Jonah Hill, Best Supporting Actor: Not a chance -- and same goes for Nick Nolte in the MMA-themed "Warrior." Every pundit around gives this to stately veteran Christopher Plummer ("Beginners").
Best Adapted Screenplay, Best Film Editing, Best Sound Mixing: Tech awards like Editing and Sound are slightly tougher to predict, although their respective guilds did not award "Moneyball." Screenplay could break the mold -- although all signs point to "Descendants" there, too.
Which means …
"Barring some kind of last-minute surprise, though, 'Moneyball' could go home empty-handed," Stone said. "What a shame! Billy Beane loses again."
But as Stone (a big fan of "Moneyball") asserts and as any cinephile will tell you, Oscar isn't everything.
"[Beane] might lose at the Oscars, but as in baseball, he will win in the long run as people remember back how great the film was overall."
Hey, just check that list of sports movies. Any non-Best Picture winners on there you remember?
Patrick Dorsey is a Page 2 editor and former freshman at Chapman University film school. He is on Twitter at @DorseyPatrick and can be emailed at bypatrickdorsey(at)gmail(dot)com.