Commentary
Hey, America: Orlando is a city, too!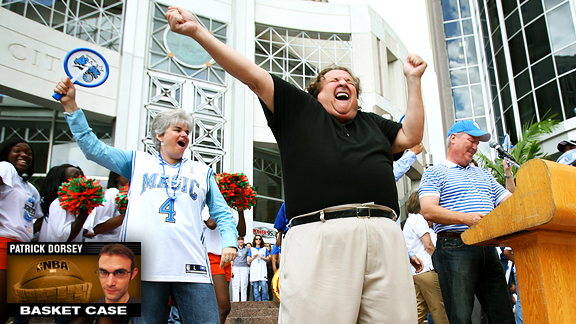 Getty ImagesTo dismiss Orlando is to dismiss some fun fans -- like Dennis Salvagio, center, a.k.a. "The Fat Guy."
Orlando. The City Beautiful. O-Town. O-seph and the Amazing Technicolor Dreamcoat.
(OK, we made that last one up.)
What we're trying to say is, Orlando might not be New York. L.A., either. It's not as dynamic as Chicago, nor as sizable as Dallas. But it's certainly no wasteland -- like, say, the Yukon, or Cleveland (kidding!) -- and not a place that should be simply dismissed in the Dwight Howard Future Discussion.
But that's happening. Maybe not by Dwight, but by fans nationwide. That's why -- as the basketball world flocks to central Florida for All-Star Weekend, and as rumors fly like so many multicolored bonus balls in a 3-point contest -- Basket Case is here to make the case for Orlando, the city.
Disclaimer: This writer never has lived in Orlando, so the information herein comes from exhaustive research, an interview with the Magic's No. 1 fan and a late-night screening of the criminally underrated "Ernest Saves Christmas."
Fans: See this video, courtesy of the Orlando Sentinel.
Yeah, fan songs are easy to find these days. But this one is quality (from local musician Jeff Wilson) and has an innocence missing from tunes about, for example, Rob Gronkowski. The clip? Filled with real fans -- including, most prominently, Dennis Salvagio, an area attorney who moved from Philadelphia 40 years ago, and in the Magic's expansion season became known as its biggest fan: "The Fat Guy."
If loving the Magic is fun (at least in the current era) for locals, imagine what it's like for Howard.
"What Dwight has to understand," Salvagio said, "is he's endeared himself to a lot of people here, young and old, and as a result of that the people of Orlando have embraced him.
"Everybody has a Dwight Howard shirt. Everybody."
Sports Scene: Brooklyn? More like Brook-Lin (sorry). L.A.? Kobe pretty much runs the place. And there's a reason a major rumored factor against Chicago is the presence of reigning NBA MVP Derrick Rose.
Then there are the nonbasketball squads in those cities, like the Yankees, Cowboys or … do they have a football franchise in Los Angeles yet?
"If he goes to L.A. or Chicago or New York," Salvagio said, "what happens is he just becomes one thing out of many, whereas here, he's the one thing out of one."
In sports, yes. But there's more …
Weather: Come on. Locals consider California cold. Frost gets its own advisory. The last time Northerners worried about Frost, he was interviewing Nixon.
Hurricanes: New York has had one more recently.
[+] Enlarge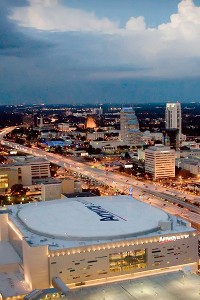 Jacob Langston/Getty ImagesHey, nice arena, Orlando.
Tourist attractions: Needs no explanation.
Music: It's the boy band capital of the U.S., home to 'N Sync, Backstreet Boys and (duh) O-Town. This place is pretty heavy, too; Trivium hails from here, as do death metal pioneers Death (yeah, that's the band's name, what of it?).
Film and television: For those unimpressed by "Ernest," how about the Charlize Theron Oscar vehicle "Monster"? On the TV side, did you know that "Whose Line Is It Anyway?" star Wayne Brady is a native? Are we playing the "questions" game right now?
Space Coast: It's close, real close.
Mood: Men's Health rated it the happiest major city in Florida! Granted, it was only 82nd in America, but that's just anti-orange juice bias there.
Restaurants: The parent company of Olive Garden and Red Lobster resides here (Darden). You say "so what?" We say unlimited salad.
Arena: They built a rather nice one recently.
Golf: Tiger Woods moved away, so perhaps tee times are easier to find. There will be no jokes at the end of this entry.
Let's not forget: NBA contract rules favor Dwight (players can make tens of millions more if they sign with their current team). The lack of state taxes favors all individuals. In other words, "He can make more money here," Salvagio said.
Isn't everyone always after a low cost of living?
OTHER FUN FAN OF THE WEEK
Lest we appear too pro-Orlando …
IN PICTURES. AND WORDS.
If Howard stays in O-Town, he can expect so much more! Such as …
Big, blown-up pictures of his face (but without the other guy).
All the warm-up shirts you can eat.
And:
CRYSTAL (BASKET)BALL
[+] Enlarge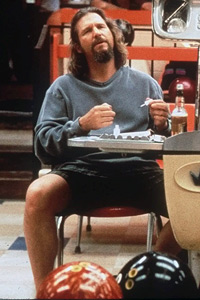 AP PhotoIf only The Dude would make an appearance at the Dunk Contest.
Rising Stars Challenge: Jeremy Lin is subbed out halfway through the first quarter, causing the Orlando crowd to turn on coach Shaquille O'Neal. Oh wait.
Skills Challenge: Stephen Curry takes the dribbling and passing stations, Deron Williams claims shooting and Kyrie Irving wins the singing competition.
Shooting Stars: Noted good guy and Team New York competitor Allan Houston expresses no outward disdain when the scoreboard lists him as "Al-Lin Houst-Lin."
Three-Point Contest: Hometown hero Ryan Anderson wins the shooting portion, while Kevin Love definitely does not win singing.
Celebrity Game: Nick Anderson, still haunted by his Orlando free-throw failure in the 1995 NBA Finals, redeems himself with a huge game after a pep talk from Danny Duberstein.
Slam Dunk Contest: Inspired by Blake Griffin's Kia dunk, Jeremy Evans leaps over a Hyundai. In response, Paul George jumps Hyundai pitchman Jeff Bridges.
All-Star Game: Kobe Bryant engineers a Gasol-for-Howard trade during the Kiss Cam timeout … only to realize that Pau's brother, Marc, is the lone family member named an All-Star this year.
Patrick Dorsey is a Page 2 editor. He averaged 12 points per game as a second-grader in YMCA hoops; all other basketball court records have been sealed. He can be reached at bypatrickdorsey(at)gmail(dot)com and is also on Twitter (@DorseyPatrick).
ESPN Editor
General Editor
Joined ESPN in 2011
Arizona native, LA resident, Northwestern graduate