Commentary
NASCAR drivers still get starstruck
Originally Published:
February 24, 2012
By
Bill Speros
| Special to Page 2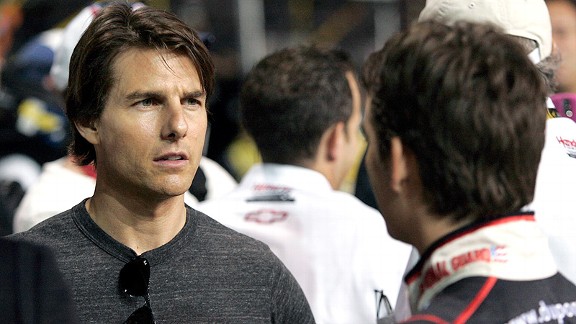 AP Photo/Steve HelberNASCAR drivers are household names, but Tom Cruise would still awe many of them.
DAYTONA BEACH, Fla. - Danica Patrick, who makes her Daytona 500 debut on Sunday, would leave most fans starstruck in her presence. And she's had the same effect on at least one of her fellow drivers.
"I like hugging Danica Patrick; I get to hug Danica Patrick. I've even got a picture of me hugging Danica Patrick. I'm thankful for that," said two-time Daytona 500 winner Michael Waltrip, who drives the No. 40 Toyota and owns three cars racing Sunday.
After 27 seasons as a Sprint Cup driver, Waltrip still enjoys greeting stars around the track. He told Page 2 during NASCAR media day, when Page 2 asked several NASCAR drivers about their celebrity fixations, that he doesn't plan to stop. "Meeting Patrick Dempsey, that was pretty cool ... and Brian Johnson of AC/DC [at the 24 Hours of Daytona]," Waltrip said. "You've got to enjoy life. Zac Efron, I think that's his name, was at Iowa doing a movie when we were there. I got his picture for my daughter. If I thought I was too cool to do stuff like that, I wouldn't be happy."
Unfortunately for Waltrip, he will have plenty of free time for star-gazing this weekend after crashing in Thursday's first qualifying race and missing out on his 26th Daytona 500 start. He had started every Daytona 500 since 1987.
Patrick had a scare in the same race, hitting the inside wall after being bumped on the final lap, but escaped unhurt. She probably could have used one of those hugs.
No. 88 Chevrolet driver Dale Earnhardt Jr. leaves plenty of fans awestruck and knows the feeling. "I thought that was really cool when Beyonce came to the Daytona 500. She came here and sang once. I thought that was really brave of her to kind of get out of her comfort zone. And anytime the president shows up, no matter who he is, it's a pretty big deal."
But there's at least one Hollywood A-lister he has not run into yet. "Tom Hanks ... I'd love to meet him. I've been a big fan for a long time."
[+] Enlarge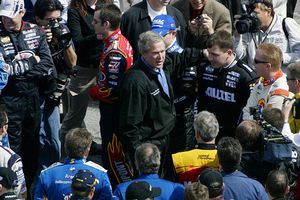 Jonathan Ferrey/Getty ImagesSeveral drivers, like those huddled around George W. Bush at Daytona in 2004, said meeting a president is always cool.
Matt Kenseth, who won Thursday's second qualifier in his No. 17 Ford, and Elliott Sadler also found themselves starstruck in the presence of the commander in chief. "We've done a lot of neat things, from going to the White House, to ringing the opening bell on Wall Street ... going to the White House and meeting President Bush after winning the [2003] championship," Kenseth said. "That was pretty special."
Added Sadler: "I got to meet George W. Bush here [in 2004] and shake his hand. It's not every day you get to walk up and shake the president's hand, no matter what his name is. It was cool that the president came down and spent some time on the grid with the drivers."
Defending Sprint Cup champion owner/driver Tony Stewart, who continued his winning ways in the No. 14 Chevrolet with a victory in Thursday's first qualifying race, was more nonchalant. "I don't know that anything makes me starstruck anymore," he said. "Meeting A.J. Foyt the first time did."
When Juan Pablo Montoya gets ready to drive the No. 42 Chevrolet, celebrity is the last thing on his mind. "I was in Formula One, and when you go to Monaco and when you go to the Indy 500, you don't do this to see movie stars or whatever you want to call stars," he said. "You do this because you want to kick ass and that's it. I don't care who is watching; as long as someone is watching, we are all good."
Kasey Kahne, racing with some stars himself as part of the Rick Hendrick stable in the No. 5 Chevrolet, was starstruck during his early days in NASCAR. "The first time I met Jeff Gordon [about 10 years ago], I had dinner with him and Jimmie Johnson at a sushi restaurant," Kahne said. "I was in kind of awe of those guys and now I'm teammates with them. A lot changes in 10 years."
Well, not everything.
"I met Aaron Rodgers a couple of weeks ago," he said. "I think he's about as good as they get at the quarterback spot ... As far as musicians go, George Straight, Eric Church, Blake Shelton. It's pretty awesome to get to shake their hand, meet those guys and say hi, and then go listen to them."
[+] Enlarge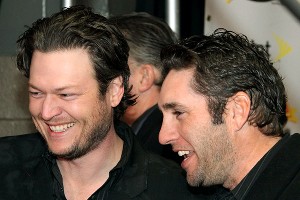 Frederick Breedon/Getty ImagesElliott Sadler, right, and Blake Shelton are close friends, although Sadler is unimpressed with Shelton's driving skills.
Sadler, a fan of Tom Cruise and Vince Vaughn before and after meeting them, was more comfortable than anything else when he first connected with Shelton in 2001. The two became fast, best friends. "Blake is starstruck when he's in the same room with me," said Sadler, who added that their friendship includes back-and-forth practical jokes (no details were offered) and forays into each other's world. "I shot a video with him once in Nashville ("Some Beach" -- Sadler is driving the convertible at the start) and he cannot drive a worth a lick. I can't sing, but he definitely can't drive."
Sadler, who will drive the No. 33 Chevrolet from the 10th spot on the grid, missed last year's country royal wedding between Shelton and Miranda Lambert on May 14 because of the NASCAR race at Dover. "Miranda purposely scheduled it that weekend so that we couldn't make it," Sadler said with a smile.
"We're just really good friends; we just hit it off from the first time we met each other," Sadler said of Shelton, a co-host of "The Voice." "Blake's got a weird sense of humor, just like me. We enjoy not being serious. We're both a little bit off center. The coolest thing about Blake Shelton is that he has not changed. He's the same guy now as he was the first day I met him, and I think that's why he's so successful. He's still the same humble guy. He says what he wants to say and doesn't really care."
As a member of the Roush-Fenway Racing team driving the No. 99 Ford, Daytona 500 pole-sitter Carl Edwards has met his share of baseball players and other celebrities. But he's been left starstruck by an NHRA drag racing legend.
"John Force is a pretty cool guy to meet," Edwards said. "He's a larger-than-life character. When he's in the room, he's the center of attention ... I followed him on TV. When you see him on TV or at the racetrack, you just have to stop and watch. He just takes whatever is going on and steers it however way he wants it to go."
Edwards said he's also been impressed by John Henry, and not just because he's part owner of his racing team, the Red Sox and the Liverpool Football Club. "When [Henry] comes to the races, he knows about the race cars, he knows everybody's name. He's a hands-on guy. I didn't expect that from a guy of his stature ... He's just a regular, normal guy."
Ricky Stenhouse Jr., the defending Nationwide Series champion who is a Roush-Fenway teammate of Kenseth and Edwards in the No. 6 Ford, finds himself caught up in both Linsanity and Tebowmania.
"It would be awesome to meet Tim Tebow," he said. "His faith is strong, and growing up a Christian, it's cool to see him, and Jeremy Lin's the same way, set an example for young kids. That's what's cool about them."
Mark Martin, who began his NASCAR career in 1981 and has started 830 Sprint Cup races, is more awed these days by technology, like (electronic fuel injection) "The EFI was a surprise to me, how computerized it is; you can't operate that thing without a laptop," he said. "The technology is just part of what we do."
Martin will run his 25th Daytona 500 Sunday, tying Waltrip's record, while driving for Waltrip's racing team in the No. 55 Toyota.
Nationwide Series driver Sam Hornish Jr., the 2006 Indy 500 winner and a three-time IndyCar champion, recalled meeting one his favorite performers at the ESPYs -- skateboarder Rob Dyrdek of "Rob and Big" fame. "He came up to me and introduced himself," he said. "And I'm like 'I know who you are.' And he said 'You're Sam Hornish, I can't believe I'm on your radar.' I said, 'Dude, whose radar aren't you on? Maybe the president's? You have a show on MTV.'"
Would Hornish want a show on MTV? "No, they've already done the 'Jackass' thing."
Hornish, who lists Jim Caviezel and Morgan Freeman among many celebrities who left him starstruck, isn't always impressed by the stars. "There was a rock star who I remember meeting -- I'm not going to say his name -- and after I spoke with him for about 10 minutes, I'm thinking this guy's got some problems," Hornish said. "I turned around for about two seconds, then he turned back to me and introduced himself to me like we had never met. And he was one of the younger guys."
Veteran NASCAR driver Dave Blaney, starting his No. 36 Chevy from the 24th spot Sunday, has one star in mind who would leave him starstruck. "I'd love to meet Courteney Cox," he said. "Guess that shows my age."
Then there's Camping World Series Truck driver Ron Hornaday. "Larry the Cable Guy. He's my hero," said Hornaday, who is friends with Larry (Dan Whitney) off the track. "He's such a goober. He makes everyone laugh. To be that goofy ... Just the other day, he's with [the Naked Cowboy] in New York for his TV show ("Only in America") singing and playing a guitar in his underwear. Could you do that? I know I couldn't, at least not in NASCAR."