Commentary
Celebrating the greatest leaps of all time
Originally Published:
February 28, 2012
By
Doug Williams
| Special to Page 2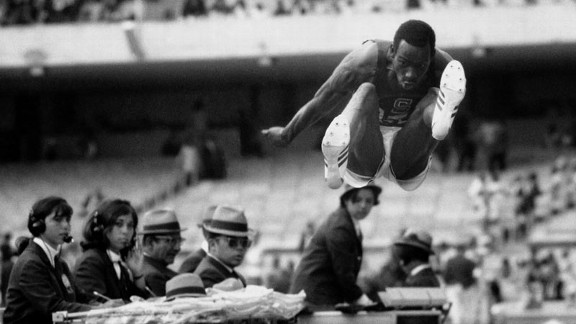 Douglas Miller/Keystone/Getty ImagesBob Beamon's world-record effort in the 1968 Olympics long jump was the ultimate sports leap.
As Bob Beamon stood at the top of the runway, his eyes fixed on his takeoff point and the long jump pit ahead, he had no idea he was about to make history.
But in a feat that covered just six seconds, from his first step to his perfect landing, Beamon launched himself 29 feet, 2½ inches to shatter the world record by nearly two feet at the 1968 Mexico City Olympics.
It was perhaps the most stunning performance in the annals of track and field and ranked as one of the greatest athletic feats of the 20th century.
Defending Olympic champion Lynn Davies of Great Britain told Beamon, "You have destroyed this event." Added the Soviet Union's Igor Ter-Ovanesyan, who had been the co-world record holder: "Compared to this jump, we are as children."
Some credited the thin air at high altitude. To others, it was just a perfect melding of fate and an athlete meeting his moment -- one that just happened to occur in a leap year.
Certainly not all of history's greatest leaps have occurred in leap years, or by people (or animals) born in them.
But as we approach Wednesday's rarest of dates, Feb. 29 -- when those who come into the world are called "Leaplings" or "Leapers" -- it's the perfect time to take a look at some of the most awesome leaps ever made.
ATHLETE DIVISON
[+] Enlarge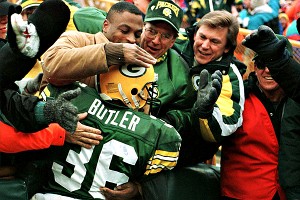 AP Photo/Dan CurrierLeRoy Butler began one of the NFL's most revered traditions with a leap into the Lambeau stands.
The Lambeau Leap
In a 1993 game against the visiting Los Angeles Raiders at Lambeau Field, the Packers' Reggie White recovered a fumble, then pitched the ball to safety LeRoy Butler, who raced to the end zone. Butler then leaped over the railing and into the arms of delighted Packers fans. It was the first Lambeau Leap, a celebration Packers players have been sharing with fans after TDs ever since. Tom Murphy, the archivist for the Packers Hall of Fame who was at that game, says he's not sure who gave "the Leap" its name. "It's just a phrase that caught on over time, I guess," he says. "It was a great way to share the excitement with the fans." While Butler's celebration was pure improv, his teammates -- particularly receiver Robert Brooks -- followed suit. By 1994, says Murphy, the Lambeau Leap was the rage. "I suppose if you started it today, you'd be penalized," says Murphy.
Quotable: "It's an incredible feeling as I run back to the bench," Butler wrote about the moment years later. "Dorsey Levens and a lot of other teammates keep telling me how cool that moment was. It took off from there."
Wow factor: Hardly Beamonesque, but fun.
Jerome Simpson, Bengals
In a Christmas Eve game against the Arizona Cardinals this past season, the Cincinnati wide receiver took a short pass from quarterback Andy Dalton and took off alone down the sideline. As Cardinals linebacker Daryl Washington closed in at the goal line, Simpson sprung completely over him in a somersault and stuck a two-footed landing a la Olga Korbut in the end zone for a touchdown. Other players have vaulted for TDs before, but no one had ever done the flip-clean landing combo.
Quotable: "I've jumped over a guy before, but never did a flip and landed it," Simpson told reporters.
Quotable II: "I don't know what the Russian judge would've given him," said Bengals coach Marvin Lewis.
Wow factor: Even the Russian judge would have said, "Da!"
Top 10 Athletes Born on Leap Day
1. Henri Richard
Hockey Hall of Famer
2. Bryce Paup
1995 AP Defensive Player of the Year, four-time Pro Bowler
3. Al Rosen
192 HR, 1953 MVP
4. Simon Gagne
Two-time NHL all-star
5. Taylor Twellman
2005 MLS MVP
6. John Niland
Six-time Pro Bowler and two-time All-Pro at offensive guard
7. Cam Ward
Won 2006 Conn Smythe
8. Pepper Martin
Four-time MLB All-Star
9. Cullen Jones
Holds American record in 50-meter freestyle
10. Chucky Brown
13-year NBA career
-- ESPN Stats & Info
Kerri Strug, U.S. gymnast
With a gold medal on the line for the American women's team at the 1996 Atlanta Olympics, the 18-year-old, 4-foot-9 Strug -- despite injuring her left ankle on her first vault ("I heard a snap," she said later) -- took off full speed, propelled herself through her second vault and high into the air before sticking her landing, something she knew was going to be excruciating. She immediately hopped around on one foot with her arms raised, then collapsed in pain. She had to be carried her off the mat and her coach, Bela Karolyi, carried her to the medal podium, where her teammates lifted her to their spot.
Quotable: "People think these girls are fragile dolls. They're not," said Karolyi. "They're courageous."
Ow factor: High, with two torn ligaments and a bad sprain.
The First Jump Shooter
Maybe it was Glenn Roberts in Virginia or "Jumping" Joe Fulks in Kentucky or Kenny Sailors at Wyoming. Or, maybe it was John Miller Cooper in Missouri or Whitey Skoog in Minnesota. Nobody's quite sure who launched the first jump shot in the history of basketball, but whoever it was -- somewhere in the 1930s -- his impact was enormous and revolutionized the game. John Christgau, who wrote the book, "The Origins of the Jump Shot," told the New York Times he traced stories of the shot's origin all the way back to 1905, but couldn't find the definitive pioneer.
Wow factor: From Jerry West to George Gervin to Reggie Miller and Ray Allen, the shot has had the sweet swish of success.
Julius Erving, Virginia Squires
Before Blake Griffin and Michael Jordan, there was Dr. J. In the 1972 NBA vs. ABA All-Star Game, Erving did the unthinkable, taking off from the foul line on a fast break after a steal and dunking over Oscar Robertson. In the decades since, others have leaped from the line to dunk -- in dunk contests and games -- but Dr. J, then just 22, was a pioneer.
Quotable: "(Erving) leaped from behind the free-throw line, hung in the air for two or three seconds it seemed, and dunked it," said Mel Daniels, an ABA star in the game. "It was an absolutely amazing dunk and you had to see it to really appreciate it."
Quotable II: "Oscar Robertson was there and just looking at me like, 'What does this kid think he is going to do?' " said Erving, years later. "He figured that I was gong to come out of the air before I made it to the basket, but I got all the way."
Wow factor: Five basketballs out of five. While no footage exists of his 1972 dunk, the YouTube clip of Erving's free-throw line dunk in the 1976 ABA All-Star Game will do.
[+] Enlarge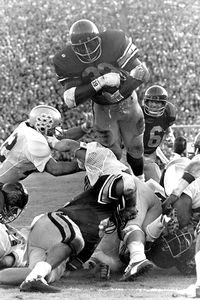 USC athletics Sam "Bam" Cunningham turned the leap into an art form.
Sam "Bam" Cunningham, USC fullback
Anthony Davis was the featured tailback for the 1972 Trojans, but it was Cunningham -- who in 2011 was inducted into the College Football Hall of Fame -- who pioneered the leaping, short-yardage touchdown plunge. The athletic, 6-foot-3, 218-pound fullback forever put the "Bam" into his name with USC's 42-17 win over Ohio State in the '73 Rose Bowl. Cunningham tied the Rose Bowl record for touchdowns in a game with four, each coming on high leaps over the line of scrimmage at the goal line, three from a yard out and one from 2 yards. Marcus Allen, Barry Sanders, LaDainian Tomlinson and Walter Payton (among many others) have all followed his example since, but it was Cunningham -- on national TV, in a game to lock up USC's national title -- who turned the leap into an art form.
Quote: "It was outstanding in its simplicity," recalled USC's Lynn Swann later. "The team moved down the field, you get to the goal line and you get it to Sam who goes over the top for a touchdown. Sam was the exclamation mark."
Wow factor: The whole USC team, which had 33 future NFL draftees on its roster.
Masato "Spider-Man" Akamatsu, Hiroshima Carp
In the legion of leaping outfielders who have stolen home runs, it's hard to pick a definitive best. But the Carp center fielder certainly is on any list for his catch in August 2010, when he sprinted back to the center field fence while tracking a would-be home run hit by Shuichi Murata of the Yokohama BayStars, then leaped/climbed to the top of the padded fence and then stretched high over the secondary railing to cleanly backhand the ball, an estimated 15 feet above the field.
Quotable: After watching Akamatsu's catch and another over-the-wall catch by a teammate days later, MSNBC's Keith Olbermann said: "Just like Major League Baseball is testing for steroids, it's probably time for Nippon Professional Baseball to start testing for flubber."
Wow factor: Over the wall.
DAREDEVIL DIVISION
Capt. Joseph Kittinger, U.S. Air Force
The sign below the door of the helium gondola that carried Kittinger to an altitude of 102,800 feet on Aug. 16, 1960 read: "This is the highest step in the world." Kittinger leaped from the door on what ranks as the highest parachute drop in history (about 19.5 miles). The veteran pilot, who was then 32 -- he later flew missions in Vietnam and was a prisoner of war -- was in free fall for 4½ minutes before opening his chute at about 18,000 feet. When he landed in the New Mexico desert, it was 13 minutes, 45 seconds after he stepped from the gondola. He reached a top speed of 652 mph. His feat was part of ongoing tests of high-altitude suits and chutes.
Quotable: "I'm very glad to be back with you all," Kittinger said after landing.
Wow factor: Stratospheric. Even 52 years later, the video of his first step into the void is breathtaking.
Evel Knievel, professional daredevil
He jumped over buildings, cars, canyons -- anything he saw as a challenge -- but his biggest stunt might have been trying to jump over the 1,600-foot wide Snake River Canyon in Idaho in 1974. After steering his rocket-powered motorcycle at 350 mph off a long ramp over the canyon, however, his safety chute opened prematurely, ending his bid. He landed safely on the canyon floor.
Quotable: "Right then I knew I could draw a big crowd by jumping over weird stuff," he said after making his first big motorcycle jump over parked cars and a box of rattlesnakes at the age of 27.
Quotable II: Upon retiring in 1980, he said he was "nothing but scar tissue and surgical steel" after 15 major operations.
Wow factor: Much higher than the movie he starred in, "Viva Knievel!"
"Fearless" Felix Baumgartner, commercial pilot/B.A.S.E. jumper
The Austrian will leap off just about anything, from the world's tallest buildings, to a 600-foot cave to the Christ the Redeemer statue above Rio de Janeiro. He's made about 2,500 jumps from buildings, cliffs, landmarks and planes. But perhaps his biggest leap came in December 2007, when he climbed over a security fence on the observation deck and leaped from the 90th floor of the Taipei 101 Tower -- the tallest building in the world at the time -- from a height of 1,669 feet.
Quotable: "I tried three times and now I've finally fulfilled a dream," said Baumgartner, who'd been thwarted by security on two previous occasions.
Wow factor: The five-second free fall before he opened his chute, captured on video, is unnerving.
ANIMAL DIVISION
Baxter, Belgian Malinois
In May 2011, 2-year-old Baxter took a flying leap off the end of a dock in Kansas City, Mo., to shatter the canine record in Big Air DockDogs jumping. He launched his 65-pound furry frame 29 feet, 7 inches into a pool to best the previous record of 28 feet, 10 inches. Earlier this month, Baxter also set the indoor record with a 29-foot, 3-inch leap. Baxter's owner and trainer, Tony Lampert of St. Louis, taught him how to jump first by chasing Frisbees, and then toys.
Quotable: "They're so athletic," said Lampert of Baxter's breed on the day of the record leap. "And they're just a natural for this sport because they love water, they love toys and they jump like the wind."
Wow factor: Good, but not quite as good as Buddy's catches in "Air Bud: Golden Receiver."
Rosie the Ribeter, frog
In 1986, Rosie -- an American bullfrog owned by Lee Giudici -- leaped 21 feet, 5¾ inches to set a world record at the annual Calaveras County Fair and Jumping Frog Jubilee held in Angels Camp, Calif. If any frog should break Rosie's record, its owner -- called a frog jockey -- will receive $5,000. A special Leap Day frog-jumping event will be held Wednesday (Feb. 29) in Angels Camp.
Quotable: You'll have to watch "Jump: A frogumentary," a 2005 film about the contest, its jockeys and Rosie's record.
Wow factor: Toadally wild.
MISCELLANEOUS DIVISION
Great Leap Forward
China's proclaimed campaign to move the country forward in industry and agriculture and the late 1950s and early 1960s actually turned into a Great Leap Backward, with harsh government crackdowns and executions of ordinary citizens and political dissidents.
Mao factor: Huge.
Butch & Sundance
In the 1969 movie "Butch Cassidy and the Sundance Kid," Paul Newman (Butch) and Robert Redford (Sundance), who are being chased by a posse, stand on a canyon ledge looking down at a river, pondering their only escape route. Sundance refuses to jump, saying, "I can't swim!" to which Butch replies, "Why, you crazy ... the fall'll probably kill you." The two then make the long leap into the river below and escape. The jump actually was done by stuntmen from a crane, which was hidden by a painting of the cliffs. The stuntmen landed on a mattress.
Quotable: "Oh, shhhhhhhhhhhh...!" -- Sundance in mid-leap.
Wow factor: One of the most memorable scenes from one of the American Film Institute's most memorable films.
Doug Williams is a freelance writer based in San Diego.