Commentary
Tom Brady, Gisele, Welker doing fine
Updated:
February 26, 2012, 9:44 AM ET
By
Jerry Greene
| Page 2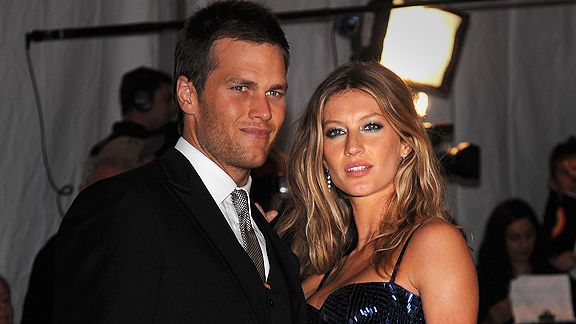 Dimitrios Kambouris/Getty ImagesTom Brady and his wife, Gisele, are in Costa Rica with wide receiver Wes Welker and his girlfriend.
Let's see, anything going on? Well, there's an automobile race in Daytona and a basketball game in Orlando, Fla. Also, outside of "our" world, Hollywood will honor a bunch of movies nobody has seen. So what should we talk about?
The NFL, of course.
No, not the Wonderlic test, although this is the only week of the year when it gets mentioned. (Sorry, Vince Young -- that incorrect report of your "6" on the test will haunt you forever.)
What we're here to clear up is another inaccurate report -- the one about Tom Brady and Gisele Bundchen not being happy with his wide receivers, including Wes Welker. Fear not, Brady is not still slumped over on the Super Bowl grass. He's been at Gisele's Costa Rican beach hideaway -- and Welker was there, too, along with Anna Burns, the former Ms. Hooters.
Unfortunately, despite the efforts of the Costa Rican paparazzi, we have no photographic evidence of if the foursome passed around a Nerf football and whether Welker hung on to it.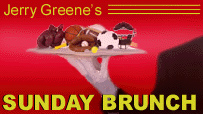 But they all seem to be recovering nicely together. Despite a Super Bowl loss, somehow they have found a way to carry on.
And while the rest of us recover from what ails us and while our sportswriting super chefs prepare the main Brunch courses, here are a few appetizers to chew on:
• Thanks to NASCAR in Saturday's Nationwide Series race for bringing back the Demolition Derby.
• Seen in Cleveland on the license plate of a Browns fan: "ths yr." Makes you want to cry and buy your own plate: "inyo drm."
• Orlando waiter: "We don't mind cutting your steak, Mr. James, but cutting it into little basketball circles takes a long time."
• Sneakers that glow in the dark? Fabulous! That way we can see what we're stepping in.
• So other than that, coach Pat Knight, what did you think of the game?
Ding ding. Finally, the Brunch Bell tells us that our super chefs are ready with the main courses. Let's dig in:
• Elsewhere in ESPN Land, you are getting marvelous reports about the NBA and NASCAR but the Brunch constantly fears you may forget about the NFL. There are two words that 31 team leaders are hesitant to say out loud: "Peyton Manning." Bob Kravitz of the Indianapolis Star tells us that Manning easily is the biggest elephant in the NFL room for the 2012 season. Check out his reasoning here.
• Let's move to college football. We've got what amounts to a Bottom 10 list as Ty Duffy of Bigleadsports.com provides brief bios of 10 head coaches in search of the most unlikable one. You get to vote and, when I looked, one guy is running away with the "title." Find out who here.
• Getting to the NBA, sort of, on its All-Star Weekend. If you find our presidential politics interesting, you'll be fascinated by what's going on in Russia. The odds of controlling the country are against billionaire Mikhail Prokhorov, owner of the New Jersey/Brooklyn Nets, but the 32nd richest man in the world usually gets what he wants. Andrew Kramer of The New York Times explains it all here.
• We search the globe for you. Let's go to Brazil to learn about how World Cup venues are being built with the help of prisoners and former "slave laborers" who are thankful for the opportunity to improve their lives. Tales Azzoni of The Associated Press fills us in here.
• Don't often get a chance to mention the WWE, but John Cena will be waving the green flag for the 54th Daytona 500, primarily because he is good friends with NASCAR driver Carl Edwards. Jim Varsallone of The Miami Herald talks to Edwards about the two companies and his friendship with Cena. There's also something near the end about "crushing" the Rock and Tony Stewart in a tag-team match. Talk about Pay-Per-View. Get the details here.
There you have it. Choose how you will spend your day after the Brunch -- watching guys (and one girl) turn left, watching guys dunk or watching a lot of attractive losers try to pretend that "getting nominated is a win." Whatever you choose, have a great day.
Jerry Greene is a regular contributor to ESPN.com and can be reached at osogreene@aol.com.