Commentary
Page 2 presents NFL Academy Awards
Originally Published:
February 27, 2012
By
DJ Gallo
| Page 2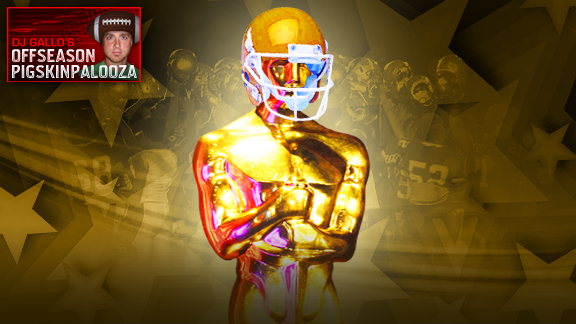 ESPN.com Illustration
The Academy Awards have been given out. Now it's time to hand out the 2012 NFL Academy Awards. Mandatory Billy Crystal song and dance number and … we begin.
Best picture nominees
"Moneyball"
A management team that is smarter than everyone else in the industry leads its team to a bunch of wins, yet these supposed geniuses repeatedly fall short of a championship. "Moneyball" is Bill Belichick and the Patriots, 2005-11.
"War Horse"
During a difficult, tumultuous and exciting time, one heroic horse leads the way. "War Horse" is the story of John Elway running the 2011 Denver Broncos.
"The Descendants"
A handsome man discovers he was betrayed by the person closest to him. "The Descendants" tells the tale of Jets quarterback Mark Sanchez and his team captain, Santonio Holmes.
"The Tree of Life"
This movie tries really hard, but is ultimately unwatchable. "The Tree of Life" is the Cleveland Browns.
"Midnight in Paris"
A group of Americans experience self-discovery abroad. "Midnight in Paris" is a take on the Washington Redskins' Oct. 30 trip to Toronto to play the Bills, in which they were shut out 23-0 and truly discovered that they were terrible.

"Extremely Loud and Incredibly Close"
"Extremely Loud and Incredibly Close" is continuous clips of everything Rex Ryan has ever said.

"The Help"
Women of different races look past what separates them and form a memorable and inspirational bond that uplifts all those around them. "The Help" tells the story of the Dallas Cowboys cheerleader tryouts.

"Hugo"
An innocent boy goes on a spectacular adventure. "Hugo" recaps Eli Manning's 2011 season.

"The Artist"
This film is a throwback to another era. Many people love it; many others hate it. "The Artist" is the story of Tim Tebow.



Best picture winner
All of the above films were great, but this was still the Best Picture of 2011
Acceptance speech: "I want to thank Gisele, the makers of the waterslide and WHEEEEEEEEE!"
Best actor
The Best actor award goes to calm, level-headed Ndamukong Suh for being able to convincingly portray a violent, out-of-control sociopath when he takes the field.
Acceptance speech: "If this statuette were a little heavier, it would be a good bludgeoning instrument."
Best director
Tom Coughlin. Almost drummed out of the industry at midseason, Coughlin inspired his struggling cast to pull together, resulting in a performance that surprised and amazed audiences.
Acceptance speech: "This is the second time I've won this, and I'm really going to cherish it, knowing that it's 50-50 I'll get canned if we lose our season opener."
Best supporting actor
Willis McGahee. Tim Tebow stole the show, but McGahee came through with yardage not seen since his performance in "2007."
Acceptance speech: "I'd rather not say anything in case it somehow gets taken out of context and made to sound like I'm bashing Tebow."
Best original screenplay
Probably something called by Andy Reid. The man loves a great screen play.
Acceptance speech: "I take responsibility for this."
Best adapted screenplay
An Andy Reid screen play Michael Vick audibled out of to instead hand the ball off to LeSean McCoy.
Acceptance speech: "I thought maybe it would be smart to get LeSean headed north and south right away instead of sending him out toward the sideline and giving the defense time to adjust while the ball was in the air. I hope Coach is OK with it. LeSean did score a touchdown on the play."
Best animated feature
An animated Jim Schwartz going after Jim Harbaugh for shaking his hand too hard.
Acceptance speech: "Hey, my hand still really hurts, you know!"
Best foreign feature
The Raiders repeatedly sending out Poland-born Sebastian Janikowski to attempt ridiculously long field goals.
Acceptance speech: "I couldn't have won this without my offense repeatedly stalling out at midfield. Thanks, guys!"
Best cinematography
Cinematography is about being visually stunning. Their story ultimately fell apart, but the 2011 Green Bay Packers definitely had some good cinematography.
Acceptance speech: [putting on imaginary championship belt]
Best costume design
Although great work went into the postgame news conference costumes of many highly paid skill-position players, this Ben Roethlisberger getup reigns supreme, evoking an era when gangsters apparently shopped at JC Penney.
Acceptance speech: "Hey, it's better than when I wore that red golf shirt and had a slicked-back mullet."
Best film editing
Best film editing goes to all the coaching staffs that faced the Colts for putting together game tape clips for their teams that made Indianapolis appear competent.
Acceptance speech: "It was hard, but it was also fun. We laughed a lot."
Best makeup
Eli Manning in "Preseason vs. the Jets."
Acceptance speech: "Golly. Thanks."
Best original score
Jerome Simpson's flip into the end zone.
Acceptance speech: "I got so high."
Best original song
John Parr for "St. Tebow's Fire."
Acceptance speech: "It's awesome to be relevant again for a few minutes."
Best visual effects
YouTube user "kennywitham" for slowing down this Vince Wilfork interception and setting it to the theme song from "Chariots of Fire."
Acceptance speech: [Laughter interspersed with vomiting.]
DJ Gallo is the founder of SportsPickle.com. He has written a book and written for Comedy Central, The Onion and ESPN The Magazine. He co-hosts the Page 2 Podcast and has appeared on ESPNEWS. You can follow him on Twitter at @DJGalloESPN.