Commentary
Brad Keselowski on his famous tweet
Updated:
February 29, 2012, 4:40 PM ET
By
Bill Speros
| Special to Page 2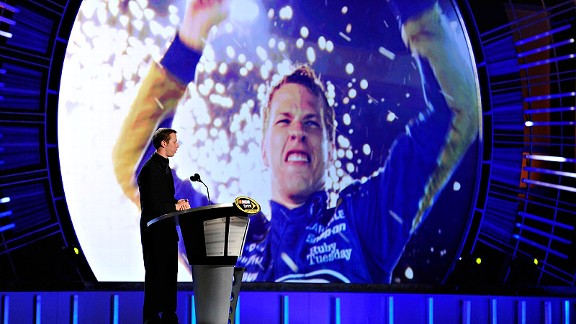 Ethan Miller/Getty ImagesBrad Keselowski was a presence at last year's NASCAR awards ceremony, and made his web presence felt on Monday.
Take one exploding jet dryer truck, add a nationally televised race and a social media-savvy driver, and what do you get? In the case of NASCAR's Brad Keselowski (@keselowski), it was about 135,000 new followers from the time he began tweeting with fans during the two-hour red-flag delay of Monday night's Daytona 500 until he left the track.
Page 2 caught up with Keselowski, who drives the No. 2 Miller Lite Dodge and finished 32nd after a Lap 187 wreck following the restart, via email and asked him a few questions about his national tweet-up.
How important is social media for you and drivers in general these days?
"Social media is here to stay. We often joke that it's really going to take off one day. NASCAR has done a great job embracing social media. I'm hoping that we can get more of the drivers fully engaged because the few of us that are really active need some help in that area. Plus, we have some characters in the garage and that includes crew chiefs, too."
What prompted you to send that first photo -- the one of the fire -- and did you expect to get such a great response?
"I'm always looking for something to tweet. First, I want to make sure everyone knows that I didn't tweet while the car was turned on. I don't tweet and drive. The reason I had my phone on me was simple. I was involved in a fairly serious wreck at Auto Club Speedway in 2007 and I wasn't able to talk to my parents. Then, at Road Atlanta last year when I broke my ankle, I had my phone and was able to let them know I was OK. Since then I have carried my phone in the car with me. Once we got out of the car and saw that everyone was OK, I decided to send the first tweet. It kind of took off from there."
Are you surprised that you gained so many fans, especially during a red-flag delay?
"Absolutely. I never thought it was going to snowball like that. It was cool to watch. Thanks to all the fans that followed me."
[+] Enlarge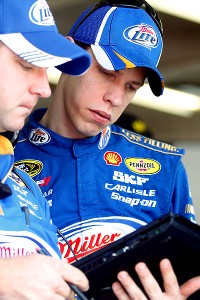 Todd Warshaw/Getty ImagesIs Brad Keselowski discussing race strategy, or composing his next tweet?
Did one tweet stand out?
"The one with the fire was just visually impressive, but I was also happy to tweet and retweet with the #Daytona500 hash tag. I think that helped keep the attention going during what proved to be a very long delay in our biggest race. We still got great ratings despite of it. Hopefully I was able to play a small part in that."
What type was the phone, and how did the battery not die?
"iPhone. It was fully charged before the race. No issues."
Did you ever think about ordering a pizza or something to eat?
"No, but pizza is good with a cold Miller Lite."
Are you concerned about any mixed messages in regard to tweeting while driving -- even though you were careful to make that distinction?
"Honestly, people can spin things to make them look like whatever they want. The car was not moving. It wasn't even running. I knew that we were in for a long delay so I decided to have fun with the fans. Personally, when I'm in my own car, I don't text and drive. Not even at a stoplight."