Commentary
College hoops intersects Sesame Street
Originally Published:
March 1, 2012
By
DJ Gallo
| Page 2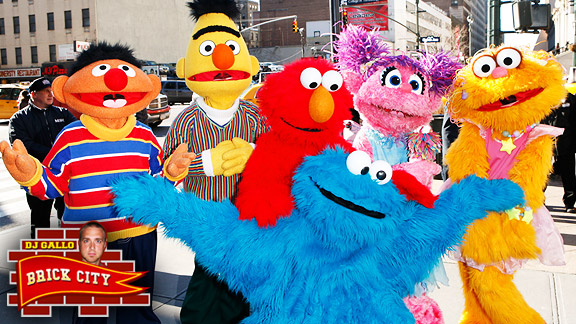 Getty Images
Kentucky freshman Anthony Davis is dominating opponents with his all-around game. He is projected by many to be the No. 1 pick in this year's NBA draft. Yet he may be best known for his huge unibrow.
And with huge unibrows come the inevitable comparisons to Bert from "Sesame Street." If Davis is Bert, who are the rest of college basketball's "Sesame Street" characters?
Ernie: Ernie is Bert's smaller, happy friend. Michael Kidd-Gilchrist is 3 inches shorter than Davis and is in a good mood.
Cookie Monster: He's blue and goes through delicious cookies in one bite. Kentucky's John Calipari wears blue and goes through highly rated recruits in one year.
Mr. Snuffleupagus: Huge, lumbering and good natured, the Mr. Snuffleupagus of college basketball is clearly Saint Louis head coach Rick Majerus.

Big Bird: He's very tall, has feathers and is bright yellow. West Virginia head coach Bob Huggins is tall, has feathery hair and has been known to wear bright yellow.

Oscar the Grouch: Oscar is always angry and hates everything. Oscar was probably inspired by Kansas State head coach Frank Martin.

Grover: Grover has a funny, distinctive voice and means well, but is prone to mistakes. Sounds like Illinois head coach Bruce Weber.

Elmo: Tiny and red, Elmo has had great success with small kids. Tiny with red hair, Gonzaga coach Mark Few has had great success with a small program.

Count von Count: The Count has jet-black hair, looks a bit mean and loves counting. Mike Krzyzewski has the exact same hair as the Count, looks a bit mean and can count to the highest number of wins … 924, 925, 926 wins! Ah-ha-ha!



Sweet 16

1. Why has Notre Dame played better in the second half of the season? Better shot selection? Better defense? No and no. There is only one reason: Eric Atkins, Jerian Grant and Pat Connaughton like hanging out together in a hot tub. Or, as the Chicago Tribune put it: "All of them. Together. Three dudes, soaking it up."

2. Grant says "I guess it is a little weird, outside looking in. But it's really nothing. It's just a hot tub." Is it? Sounds like someone has spent time with Will Ferrell.

3. Notre Dame center Jack Cooley says he wants nothing to do with the hot tub bonding sessions: "I've actually turned down the invitation to the 'man tub' or whatever. I'll be like, 'Yeah, yeah, I'll be right there guys.' And I just didn't go. It's like a [Facebook] friend request -- I just keep denying it. I don't really want any part of that." Good for Jack. After winning nine in a row, Notre Dame has lost two straight. Severely pruned skin cannot hold up over the long run. That's basic basketball knowledge.

4. Central Florida point guard A.J. Rompza spit at a ref following a confrontation between Knights players and officials after a loss to Rice last week. To learn more about Rompza, you can check out the website he launched with Michael Jordan's sons -- Marcus and Jeffrey -- HeirJordan.com. It's the go-to website for all the breaking news on Michael Jordan's sons and a guy they know.

5. I'm with UCLA head coach Ben Howland. Have you ever asked for water, only to be handed a bottle that isn't cold enough and is slightly larger than you'd like? And then, if you're able to get over that, you realize the room you're in isn't exactly 76 degrees? You can learn about this and many other problems at Ben Howland's Twitter page: @Ben_Howland. Look for the hashtag #FirstWorldProblems.

6. But no doubt we are all shocked and outraged by the reports of the behavior by UCLA's players. Getting into fights? Drinking alcohol? Smoking marijuana? Do they think they are just any other college students or what? Ridiculous.

7. If it comes out that UCLA players are having sex and playing video games, it might be time to shut down the whole program.

8. You know what they need? A trip to the hot tub. But no girls or alcohol. Just dudes, soaking it up.

9. Navy extended the nation's longest losing streak to 22 games this week with two losses to Bucknell -- the latter coming in the Patriot League tournament, so the Midshipmen will not have another opportunity to win this season. But hope is on the horizon. They return a roster with 10 freshmen, evidence head coach Ed DeChellis has done a good job recruiting. Although, how hard is it to recruit at Navy, thanks to the Village People? "Where can you learn to fly, play in sports or skindive, study oceanography? / Sign up for the big band or sit in the grand stand when your team and others meet." No other program in the nation has a pitch as good as that.

10. This week's Name of the Week award goes to Eastern Kentucky forward Deverin Muff. Muff has not played in a game this year. I assume EKU fans have been chanting "We Want Deverin!" during garbage time.

11. Exciting news! Lamar has won two in a row since coach Pat Knight ripped the team in a postgame news conference. So now they have two wins on the season. Wait … they're 19-11? Huh? Those players sure know a lot about winning for not knowing anything about winning.

12. Lamar has one game left in the regular season and then the Southland Conference tournament. Chances are the Cardinals will get to 20 wins, which would be the most wins by any team Pat Knight has ever coached. I'm getting more confused the more I look into this team. I think I'll just stop now.

13. Nice flash mob work by the UConn crowd here.
14. But the best fan flash mob of the season goes to this high school crowd in California.

15. I suppose Notre Dame's hot tub crew could also be considered a flash mob depending on your point of view.


16. This weekend's best game is on Saturday night, when North Carolina visits Duke (7 p.m. ET on ESPN). It will be tough to match the drama of last month's meeting. The only way to top might be if Tyler Zeller hits a half-court shot at the buzzer for Duke.
DJ Gallo is the founder of SportsPickle.com. He has written a book and written for Comedy Central, The Onion and ESPN The Magazine. He co-hosts the Page 2 Podcast and has appeared on ESPNews. You can follow him on Twitter at @DJGalloESPN.