Commentary
It's the NBA's All-Mask Team!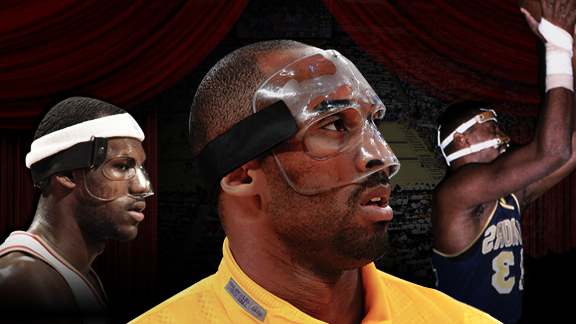 ESPN.com IllustrationLeBron James, Kobe Bryant and Wilt Chamberlain all have played from behind the mask.
The #KobeMask is here! OK, it arrived Wednesday night. And with it, Kobe Bryant landed on the long, impressive list of NBA players to adorn face masks.
Among players, there are all-time greats and afterthoughts. Among masks, there are sleek-looking numbers … and ones that would make even Billy Loomis go, "Dude, you're freaking me out."
So without more ado -- and with apologies to Alonzo Mourning, Wally Szczerbiak and whomever else we forgot -- we bring you Basket Case's All-Mask Team, featuring our starters (all-time great players), bench (all-time great masks) … and even a couple of bonus bits of headwear that never made it to the court.
STARTERS
Wilt Chamberlain, C: On this special anniversary we must celebrate Wilt, whose (according to news archives) broken nose and lost teeth put him behind the mask for some brief moments in the 1960s. Bill Russell (pictured) was sufficiently scared. And by scared we mean he kept winning championships instead of Chamberlain.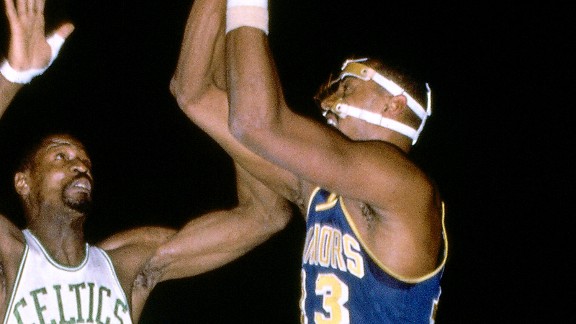 Dick Raphael/Getty Images
Dennis Rodman, F: Worn in 1994, it was the all-time rebounding specialist's all-time boringest accessory.
LeBron James, F: King James wore a traditional mask after an injury in 2005 (see above illustration). Interestingly, he still wears this headgear during most fourth quarters.
Kobe Bryant, G: Analysts will focus on the 31/7/8 he put up behind the plastic. Us? The mask's numerous … Twitter … accounts (and subsequent Twitter beef among them).
Oscar Robertson, G: A nasty 1967 mouth hit required several stitches and forced the Big O to wear this. And play in it. And later star alongside Laura Linney in "The Savages."
BENCH
Richard Hamilton, G: Of course he's on here. Dude's so Mask, you could call him Eric Stoltz.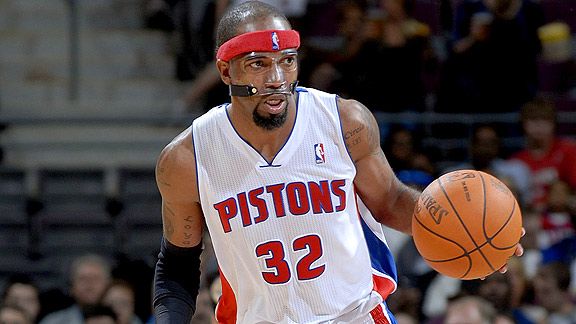 Allen Einstein/NBAE/Getty Images
Bill Laimbeer, C: Of course he's on here. Dude's so Mask, you could call him Jamie Kennedy.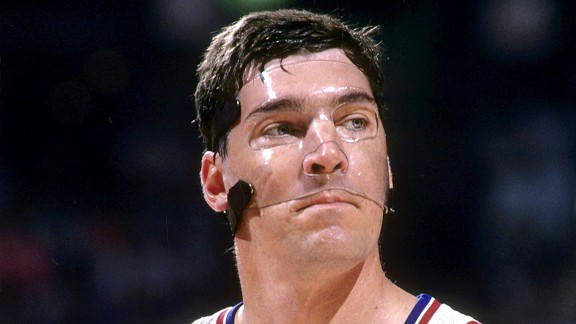 Getty Images
Will Perdue, C: Wore masks at multiple points in the 1990s, including this time with San Antonio when he 1) broke his eye socket and/or 2) forgot to remove part of his Silver Surfer outfit.
Brandon Williams, F: Another masked Spur. What he lacked in production, he made up for by scratching a "Z" on the backboard after every basket.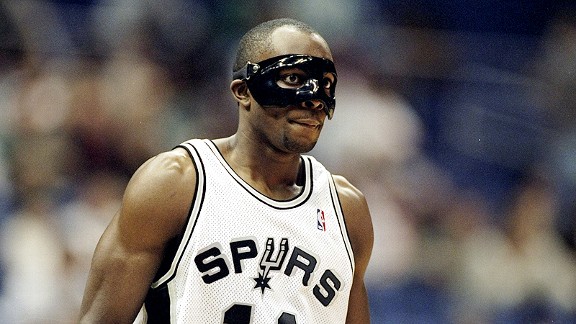 Stephen Dunn/Getty Images
Harold Pressley, F: Fact: Pressley broke his nose twice in five weeks in 1987. Rumor: The former Sacramento Kings forward wandered into the athletic trainer's office and said, "Gimme the Wilt."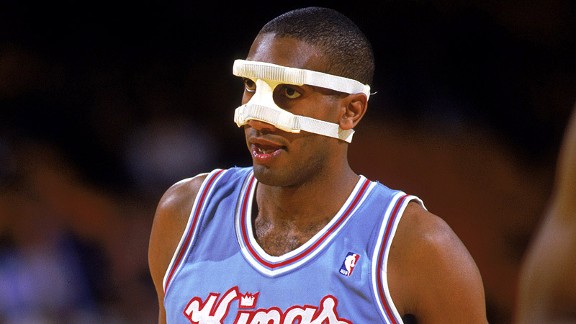 Mike Powell/Getty Images
BONUS: INACTIVES
Three players whose masks we wish had made it into games.
Dirk Nowitzki: OK, Finals MVP. Let's see you drop 30 while wearing this.
Shaquille O'Neal: He has a history of wearing masks.
Ron Artest/Metta World Peace: Isn't he the perfect Los Angeles Dodgers spokesman, though?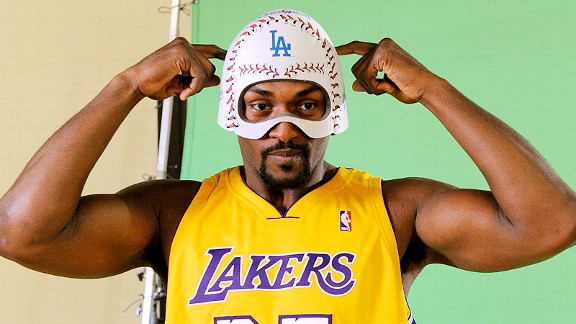 Kevork Djansezian/Getty Images
ALL-MASK TEAM TWITTER CAMPAIGN OF THE WEEK
Hmmm, maybe he should have been on the team …
IN PICTURES. AND WORDS.
More highlights of NBA headgear (non-mask edition):
Strategically placed headbands.
Glasses possibly stolen from a 'A Very Harold & Kumar 3D Christmas' screening.
The first glasses ever worn on a basketball court.
JOKE OF THE WEEK
CRYSTAL (BASKET)BALL
Predicting (a very small part of) the week ahead.
Heat at Lakers, Sunday: He'll bury shot after shot against the man who smacked him in the face, shaking off whatever pain remains to lead his team to victory. Yes, Jason Kapono will get revenge on Pat Riley and those damned Miami Heat.
Paul Lukas contributed to the masked madness.
Patrick Dorsey is a Page 2 editor. He averaged 12 points per game as a second-grader in YMCA hoops; all other basketball court records have been sealed. He can be reached at bypatrickdorsey(at)gmail(dot)com and is also on Twitter (@DorseyPatrick).