Commentary
Scenes from the Yankees' comedy jam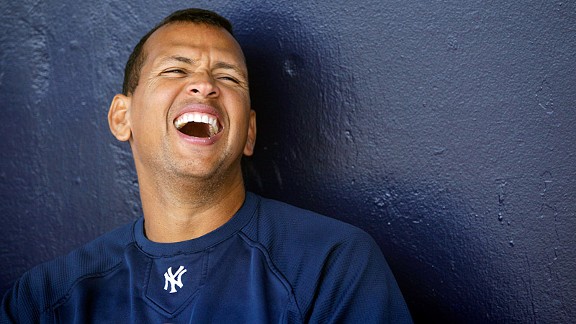 AP Photo/Matt SlocumThe New York Yankees shared some laughs, all while building team camaraderie in Tampa.
The Yankees took some time to get to know each other last Thursday by taking a team bonding trip to an improv club in Tampa, where pretty much everyone, from rookies to veterans, went out of their comfort zones and participated in comedic skits.
"Oh, to be a fly on the wall!" you're probably thinking, because it's amusing to see very serious elite athletes participating in activities traditionally reserved for mortals. Lucky for you, Page 2 had an undercover source* documenting all the hilarious antics. Here's what we saw.
* Two 9-year-olds stacked on top of each other in a trench coat wearing a Yankees hat.
---
A-ROD: I am going to improvise a scene. Can I get a suggestion for an occupation, a place and an activity?
RUSSELL MARTIN: Zookeeper!
BOONE LOGAN: Funeral parlor!
MICHAEL PINEDA: Water balloon fight!
A-ROD: Did I hear dashing sports hero, a supermodel party and gazing seductively at strangers? OK, here goes nothing!
(A-ROD spends the next 20 minutes flexing and winking at imaginary women, occasionally saying things like, "Please, no pictures." The non-roster hopefuls cheer hysterically.)
---
(JOBA CHAMBERLAIN and C.C. SABATHIA are instructed to improvise a scene using the prompts "Velveeta" and "labored breathing sounds." Their performance is flawless.)
---
(NICK SWISHER and HIROKI KURODA are paired up to improvise a scene that begins with the last line and must be performed in reverse. They are given neurosurgery as a topic.)
NICK SWISHER: Oh, no! He's dead! Looks like you can't put a rubber chicken in there after all.
HIROKI KURODA: ... brain ... baseball ...
SWISHER: What's that? Are you saying we should put a rubber chicken on his brain?
KURODA: ...fastball ... home run ...
SWISHER: Hmm, I wonder how us two neurosurgeons should fix DAVID ORTIZ, from our rival baseball team, the BOSTON RED SOX, who appears to be brain dead?!?
(The non-roster hopefuls laugh maniacally, squirting Shirley Temple from their noses.)
KURODA: ...You know I only know, like, 50 English words, right?
---
(According to Ivan Nova, those present at the comedy club saw Mark Teixeira cut loose "in a way you could have never imagined," which Nick Swisher confirmed by naming him the "MVP" of the event. Here's what transpired.)
BRANDON LAIRD: Hey, who's on first?
MARK TEIXEIRA: Me.
-- scene --
---
JOE GIRARDI: Last but not least is a man who is no stranger to ending the night. Performing his baseball-themed rendition of Sir Mix-a-lot's "Baby Got Back" is your closer, Mariano "Sir-Strikes-A-Lot" Rivera! Here he is with "Baby Got BAT"!
(Non-roster hopefuls cheer without abandon as Rivera takes the stage, fanning themselves to keep from fainting.)
MARIANO RIVERA: Can I retire yet?
---
Unrelated to the improv outing, please take a moment to enjoy the Wikipedia picture of Yankees utility infielder Ramiro "Come Hither" Pena. Don't fall too hard, ladies.
Steve Etheridge is a Chicago-based writer. You can follow him on Twitter at @stetheridge. You can reach him at stetheridge@gmail.com.