Commentary
NFL should pay players in bounties
Originally Published:
March 5, 2012
By
DJ Gallo
| Page 2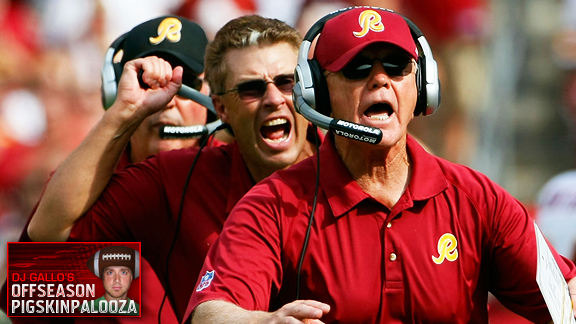 Getty ImagesDon't hide, Gregg Williams. That alleged "bounty" system might have its place in the NFL yet.
The bounty program the Saints had in place the past three seasons is the talk of the NFL. But as much as the league might wish it so, the Saints are not the only team that offered player bounties.
NFL Security is asking former Saints defensive coordinator Gregg Williams about bounty programs in Washington and Buffalo. Linebacker Bart Scott, who has spent his career with the Ravens and Jets, says bounties have been common during his career. Retired players say bounties have always existed.
Instead of punishing the Saints and opening up a can of worms that might force the NFL to punish every team in the sport, the league should instead embrace bounties.
An NFL full of bounties would be a far better product. Here's how it would work.
Base salaries + bounties
The NFL already has base salaries in place. The minimum for rookies in 2012 is $390,000. That basement increases to $465,000 for players with one year of experience on up to a minimum salary of $925,000 for veterans with 10-plus years in the league.
The existing salary structure could be kept as is, or every player could be paid a base salary of $500,000 regardless of experience. Either way, no player could make less than the minimum -- but the only way to make more would be to perform well on the field by accruing bounties. There would be no massive salaries for Peyton Manning or Chris Johnson or Albert Haynesworth. The only way to get rich would be to collect bounty bonuses.
The benefits of such a system are obvious:
• Player pay based on merit, not past performance
• No underpaid players
• No overpaid players
• An increased quality of play, with everyone playing for their paycheck on every snap
But the positives don't stop there.
Veteran players
[+] Enlarge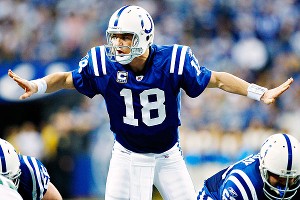 Jerry Lai/US PresswireDespite his health concerns, numerous NFL teams seem to be in a hurry to sign Peyton Manning.
Under a bounty-based player-payment system, the Colts would not be in the difficult position of deciding whether they want to keep franchise legend Peyton Manning. He would get his base salary, and if he could come back, show he's healthy and perform at his 2010 level -- say, 33 touchdowns at $200,000 per -- that would be $6.6 million right there, not including his base salary plus any other bounties available to him (game-winning drives, beating the Patriots, winning a playoff game). Whatever. Since Jim Irsay would be involved in the negotiation, Manning likely would be offered a substantial bounty in exchange for joining Twitter and retweeting his team owner.
With Manning locked in, the Colts still could draft Andrew Luck and have him on hand in case the veteran can't perform. They wouldn't be stuck paying two quarterbacks a huge salary. Whoever plays would make money; whoever doesn't would make the minimum.
Fan favorites on the obvious downside of their careers could stick around longer under the bounty system as well. The Steelers wouldn't have had to cut Hines Ward. Keep him for the $500,000 base and offer a $100,000 bounty for every touchdown and a $200,000 bounty for every Ravens player felled by a block. At the very least, the fans would be happy and Ward would barely dent the team's payroll; at the most, Ward would play with the joy and energy of a man half his age, pulling in touchdowns and knocking out rivals at a frightening clip.
Rookie players
Without huge guaranteed contracts for top picks, teams would no longer be financially doomed by busts. Instantly productive players such as Cam Newton and Andy Dalton would earn pay they deserved. Underperforming players such as JaMarcus Russell and Blaine Gabbert would have to survive on the league minimum, forcing them to make difficult personal financial decisions -- decisions that could compel them to abandon their expensive cough syrup or hair-care habits and perhaps ultimately increasing their focus on football.
Bounties could change game-to-game
Teams could offer bounties around each week's game plan. Does a coach want to win the time-of-possession and turnover battles? His chances of doing that go up if he offers each player 10 grand to make it happen. Make it 50 grand, and you won't see a team possess a ball longer or tighter.
Fan interaction
The line between real football and fantasy football gets blurrier every year. A huge percentage of weekly NFL viewers are watching simply to see how their fantasy players perform. Players openly acknowledge trying to score touchdowns for their fantasy owners.
[+] Enlarge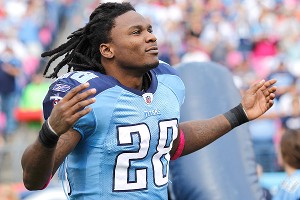 Joe Robbins/Getty ImagesWho wants to help fund Chris Johnson's fantasy touchdown Kickstarter?
So why not do away with the line completely and merge real football with fantasy football? Allow fans to offer up bounties. Would you offer $10, $20, $100 or even $1,000 to a player on your fantasy team for a touchdown? You might not, but plenty of others would.
If the NFL partnered with an online crowdfunding service like Kickstarter, players could see what bounties are available to them each week. You alone offering Chris Johnson 20 bucks for a touchdown might not do much, but 1,000 people nationwide doing the same? That's $20,000. Now we're getting into real money -- enough to possibly convince Johnson to turn upfield with some spring in his step.
The benefits are obvious. But are there some issues to work through? Sure.
How would the NFL prevent bounties for injuring other players?
A bounty system would be self-policing. If a player takes out an opponent, he would know that a bounty would be raised -- both on the opposing team and by angry fans on Kickstarter -- to have him injured in return. Soon kill shots would be a thing of the past. The NFL would be like Texas rules: If everyone has a gun, people might think twice before drawing.
How does a team reward non-glory positions like offensive line or fullback?
Bounties don't have to be given just for touchdowns or sacks or interceptions. Want to give a player $100,000 for picking up a linebacker in the hole? Giants fullback Henry Hynoski could be the highest-paid player in the NFL. It's up to teams to structure their bounties around what they truly think is important. If they only want to reward touchdowns or knockout hits, it's their funeral. (Perhaps literally, in the latter case.)
Wouldn't good teams have massive payrolls while bad teams would be paying most of their players the league minimum?
Yes. Good teams would also make more money in season ticket revenue, merchandise sales and playoff games. Bad teams wouldn't make that money. Nothing would change. There wouldn't have to be a salary cap. A team's success would still be based on finding good players in the draft and through free agency, but there would be more pressure on management to win now. Smart fans can start a Kickstarter offering large sums to players who "accidentally" run over the team owner on the sidelines.
When Gregg Williams is called before Roger Goodell and NFL Security, he shouldn't be punished; he should be offered a job at the league office and put in charge of instituting a NFL-wide bounty program.
Bounties raise the level of play and create a meritocracy. Bounties are perfect. But just for football. Not for real life. Let's not have them seep into real life. You're probably reading this at work or in class, right? You would not be in line for a production-based bounty today. No, let NFL players get paid for their production. The rest of us are doing just fine.
DJ Gallo is the founder of SportsPickle.com. He has written a book and written for Comedy Central, The Onion and ESPN The Magazine. You can follow him on Twitter at @DJGalloESPN.