Commentary
How to stay healthy at the Olympics
Updated:
March 7, 2012, 1:02 PM ET
By
DJ Gallo
| Page 2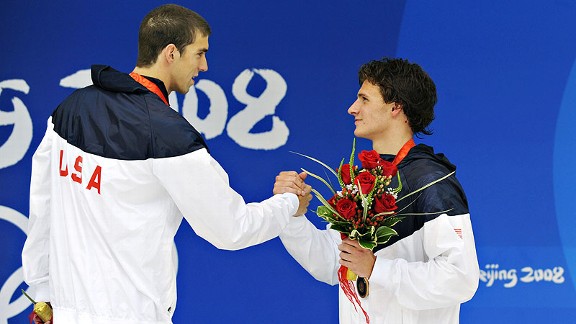 Timothy Clary/AFP/Getty ImagesMichael Phelps and Ryan Lochte have more to fret about than handshakes. Like that germ-filled pool.
The London 2012 Games are fast approaching. The British Olympic Association is hoping to dominate the medal stand, so it is encouraging its athletes to stay healthy. Specifically: the BOA wants its athletes to avoid shaking people's hands.
Said BOA chief medical officer Ian McCurdie: "The greatest threat to performance is illness and possibly injury. We are talking about minimizing risk of illness. It is all about hand hygiene."
Unfortunately, shaking hands is just one way to contract disease. There are many elements of the Olympics that British officials must encourage their athletes to avoid lest they be struck down.
Opening Ceremony
In almost every virus epidemic movie, the outbreak spreads due to international travel. What is the opening ceremony but a collection of people from every corner of the globe in an enclosed space breathing each other's pathogens? Forget a stadium. The opening ceremony should be held in a huge Petri dish. Gross. Avoid!
Long Jump
Jumping into a pile of sand and dirt? No, thank you. A good way to get pinworms is by playing in dirt. Don't know what pinworms are? Google them. You'll never jump long again. Or sleep.
Relay Races
Let me get this straight: You want me to grab some baton, no questions asked, that three other dudes were just running with and sweating all over? I think not. There's no way to know where that baton has been.
Wrestling
Maintaining personal space and avoiding contact with other people are important steps to avoiding cold, flu and other far more serious afflictions. But maintaining personal space and avoiding contact won't win you a wrestling match -- although if you lose a wrestling match, it's even worse. Getting pinned means you have been pushed down onto the floor. Floors are covered in bacteria. Just a square foot of floor contains millions of bacteria, and now they're crawling all over your face. What a disgusting, unhygienic sport.
Equestrian
How often do horses bathe? Not much and when they do, it's just some guy spraying them with a hose. Plus, do you trust the hygiene of an animal that openly defecates in public? I don't.
[+] Enlarge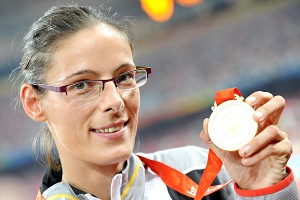 Fabrice Coffrini/Getty Images"This is probably covered in germs, isn't it?"
Swimming
Oh, yeah. Let's just take a bath with strangers. That seems super smart.
All Team Sports
It's almost impossible to get through one of these without touching another person. Trust me. I've tried.
Winning a Medal
Have you seen the medal ceremonies? Some guy walks right into your face, no doubt breathing all over you, to put a medal around your neck. No way. I'll pass. I'll come in dead-last, thank you very much. But at least I won't have SARS.
DJ Gallo is the founder of SportsPickle.com. He has written a book and written for Comedy Central, The Onion and ESPN The Magazine. You can follow him on Twitter at @DJGalloESPN.