Commentary
Make 'Junk Mail' a new Friday ritual!
Originally Published:
March 9, 2012
By
Sarah Phillips
| Page 2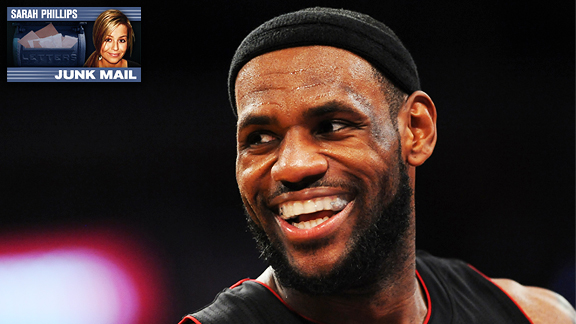 Getty ImagesLeBron James might be the greatest, most convenient scapegoat in history. He said so himself!
A few weeks ago, Chris from Mesa, Ariz., wrote to me and said, "You never respond to any of my questions on Twitter or via email!!!!!"
He also used some language unsuitable for this particular website.
But he was right -- about the lack of responses, not the spicy verbiage. The obvious response would be to reply to messages privately. But at Page 2, obvious means overrated. So instead, we're starting a mailbag!
Questions can range from a variety of topics: sports, reality TV, movies, music, life in general ... almost anything. Problems with your significant other? Send 'em over. Problems with your side piece? Even better! The more compelling and obscure the question, the more likely I am to respond.
Responses will be posted each Friday.
Without further ado, Page 2 presents the first installment of Junk Mail.
---
Q: "Bountygate" in New Orleans has my Saints on blast. Is it really a big deal?
-- John, Alexandria, La.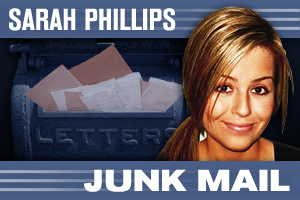 Initially, I was going to say yes. Then my mom reminded me about an alleged lapse in judgment I had in first grade. We had played to a standstill during a soccer playoff game, and only one girl from the opposing team was giving us trouble -- she also happened to be wearing the same shoes as I was, and allegedly, that didn't sit well with me.
So, at the half, I offered one of our defenders my postgame Chewy bar and orange wedges in exchange for pushing the girl down in the second half. She did. The girl left the game. We won. That was supposed to be the end of it.
But on the ride home, my mom noticed I didn't have my postgame snacks with me. I had a huge sweet tooth, so she knew something was up. I apparently confessed to the incident, but I'm sure it was forced through coercion.
Good thing the blogosphere wasn't as big back then, or else I might have wound up on the front page of TMZ under the headline: SIX-YEAR-OLD GIRL OFFERS BOUNTY DURING SOCCER MATCH.
The moral of the story: Bounties are common ... just don't get caught.
Q: Peyton Manning's farewell conference was a [lovefest], and I blame LeBron James. Everyone saw "The Decision" and how stupid James looked when he bolted on Cleveland, so Manning and [Colts owner Jim] Irsay hugged each other like besties in order to avoid media backlash. I was so mad watching my Colts cut Manning. Someone at that conference should have been mad and actin' a fool. When has a team ever had a player present while they announce they're cutting said player? It was a joke of a situation.
-- Dustin, Evansville, Ind.
Of course it's LeBron's fault! LeBron himself told ESPN's Heat Index last month, "You could be watching cartoons with your kids and you don't like it, you say, 'Blame it on LeBron.' If you go to the grocery store and they don't have the milk that you like, you just say, 'It's LeBron's fault.'"
As a matter of fact ...
Q: My girlfriend read through my texts and caught me messaging another chick. Not like [Brett] Favre texts. Just normal, friendly text messages. What do you think I should do?
-- Hu, Boulder, Colo.
Blame it on LeBron.
Q: I went to Vegas last weekend. Yadda, yadda. I lost $6K at the card tables. I haven't told my wife yet. I need your advice. What should I do?
-- Neil, Woodinville, Wash.
Blame it on LeBron.
Q: My 7-year-old daughter's pet fish died a week ago. It was her first pet. We haven't told her yet. It's been floating in the bowl. It's awful. To make it worse, she even feeds it every once in awhile. How do you think we should explain its death to her?
-- Harold, Breckenridge, Texas
Blame it on LeBron.
See, it really does work for anything!
Q: Lakers fan here. It's halfway through the season, and I'm still not used to calling Ron Artest "Metta World Peace." It can't just be me. It's such a weird name change, am I right?
-- Chuy, San Diego
Ron Artest wanting to be known as Metta World Peace is nowhere near as strange as the Apple commercial kid asking Siri to call him "Rock God."
Q: After landing the cover of Sports Illustrated's swimsuit edition, Kate Upton seems to be everywhere. It doesn't make any sense. Only chubby chasers like her. Fat girls, fall back. You can't spell "Kate" without "ate." Do you think Upton needs to drop a few pounds?
-- Sanjay, New York
Upton definitely needs to lose some weight, so she can keep up with trolls' imaginary girlfriends.
Q: I love being a Seattleite, so I'm disappointed by the comments made by our new Miss Seattle. After winning the crown last Saturday, Jean-Sun Hannah Ahn tweeted, "Ew, I'm seriously hating Seattle right now" and "Ugh can't stand cold rainy Seattle and the annoying people." Who wouldn't want to live in Seattle?
-- Todd, Seattle
To be fair, the Sonics ditched Seattle, too.
Q: Kanye West is reportedly dating Katy Perry. Say it ain't so!
-- Cynthia, Wilmington, Del.
Have you actually read the lyrics to their 2011 duet, "E.T."? They're either dating, or they're really attracted to aliens.
Referees [Jamie Lucky, Mike Eades and Bernie Clinton] wore "KH" tape on their shoes during the opening game of the ACC tournament to honor colleague Karl Hess. Hess received heat last month for ejecting former [NC State] players [Tom Gugliotta and Chris Corchiani] from the stands during a Wolfpack home game. Do you agree with the rebellious refs?
-- Allan, Wilmington, N.C.
Of course I agree with their actions. But it's a good thing we didn't see NBA referees Joey Crawford and Dick Bavetta sporting "TD" tape for Tim Donaghy after his gambling scandal made headlines in 2007.
Q: The Twitter bird logo is named "Larry" [in honor of former] Celtics forward Larry Bird. If you could name the logo, what would you call it?
-- Jessica, Boise, Idaho
I would have named it after Cash Money Records co-founder Birdman.
Q: I'm buying a new phone this weekend. What phone do you use to stream NBA games?
-- Seth, Pendleton, Ore.
I don't. Kevin Durant is right: I'm always stressing about overages. I downloaded Doodle Jump instead. I know, it's messed up.
Q: There's a 0.00000000000001 percent chance I'll ever read anything you write ever again.
-- CJ Calbreath, Parts unknown
Oh! So ... you're telling me there's a chance?
Submit questions to Sarah Phillips at JunkMailESPN@gmail.com.