Commentary
How much were bounties on QBs?
Updated:
March 11, 2012, 3:17 AM ET
By
Jerry Greene
| Page 2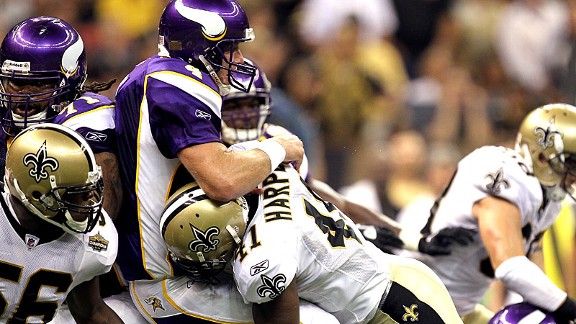 Ronald Martinez/Getty ImagesWe have an idea how much it cost to crush Brett Favre, but what about others?
Nobody asked, but …
Looks like there will be a lot of losers when the NFL dishes out punishment to members of the New Orleans Saints for three seasons of a bounty program designed to reward, among other things, knocking opposing players out of the game. But there is one person who has already benefited from the public exposure of the practice.
Yes, our main man Brett Favre. The Saints pulverized Favre during the 2009 NFC Championship Game and we now are told there was a $10,000 bounty on his head (and his knees and his arms and his neck, etc.).
Favre's response last week? "It's football." That reminded a lot of us of why we once loved Favre before his final two-season tour of the NFL. No wonder nearly all of us, even including Betty White, would love to play pickup football with him and then drink some brewskies.
But what about all the quarterbacks that the Saints didn't go after? How would you feel to find out that when the Saints played you, there was a $75 bounty on your head? Or maybe a six-pack. Talk about humiliating.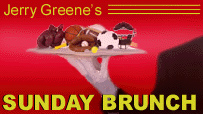 Imagine your name coming up in the Saints' locker room and somebody saying: "Don't hurt him! We want him in the game."
Which reminds us of poor Matt Moore and, dare we say it, poor Tim Tebow. How must it feel to be the incumbent starter on a team that is desperately trying to sign a quarterback who wasn't healthy enough to play last season? (Peyton Manning, not our man Favre.) And what happens on the team that doesn't get Manning? What does that team say? "Matt, baby, we always loved you!"
Sure.
Meanwhile, as our sports writing stars apply finishing garnishes to our literary Brunch, here are a few more moments to consider from the week that was:
• Is this worse than a bounty? Belgian soccer player Julien Lecomte was on a stretcher because of a collision that left him with a concussion and three displaced vertebrae. That's when the referee stood over him and whipped out a red card for flopping. Tough country, Belgium.
• Speaking of flopping, Mike Tyson is going to play Mike Tyson in a one-man Vegas show. Go ahead, boo, I dare you.
• Hollywood insider rumor: The next movie in the "Halloween" series will star the Marlins Park outfield sculpture.
• In the NFL, six (six!) punters/kickers were designated as "franchise players." Yeah, if I were starting an NFL team, my first pick would be a kicker.
• ESPN and EA Sports will start with two players from every team in its competition to determine the player on the "Madden NFL '13' cover. Wonder how many are kickers?
• If the lights ever go out during a Baylor basketball game, it won't stop the Bears' players from seeing each other.
Ding ding. At last, the Brunch bell signals its time to dig into this week's top entrees. And we're starting with a fascinating read:
• China Mieville is an amazing writer and his "City and the City" is a marvelous book. For The New York Times, he writes a deep-core look at what London is thinking and doing about the upcoming Olympics. Consider this sentence: "There will be snipers in helicopters; jets; warships in the Thames; more British troops on duty in London than in Afghanistan." You've got to read the rest here.
• Continuing to take you to places you may not frequently go, have you thought about yoga lately? Perhaps you should. Jason Gay of The Wall Street Journal shows us how we may soon be describing how well the rabbit fought off the scorpion. Find out more about yoga's booming popularity here.
• We were not going to discuss the bounty issue here because you can find talk about it everywhere. But you should know why T.J. Simers of the Los Angeles Times calls you a hypocrite if you are expressing moral outrage about this. Get ready to argue here.
• Nothing gets us going better than a totally sarcastic notes column, which Mike Bianchi of the Orlando Sentinel delivers. He has shots at Urban Meyer, Dwight Howard, the Knicks, the Browns and many, many more. Check it out here.
• We take pride in finding treats that you may have missed. Here's one from mashable.com, a list of 16 must-follow tweeters during March Madness. Our own Jay Bilas and Andy Katz are here. plus 14 more. Copy the list here.
Olympics, yoga, hypocrisy, sarcasm and tweets. That's a filling Brunch. Let's hope the rest of your day is just as stimulating. Oh, and change your clocks.
Jerry Greene is a regular contributor to ESPN.com and can be reached at osogreene@aol.com.