Commentary
Jim Gaffigan on Manning, new special
Originally Published:
March 13, 2012
By
Dave Wilson
| Page 2
Indiana and Peyton Manning have been as intertwined as Jim Gaffigan and Hot Pockets jokes.
So when the state's beloved QB was released by the Colts, Page 2 turned to the Prince of Pale himself to get Gaffigan's take on his home state's mood. The northwest Indiana native took a break from editing his new comedy special, which will be available as a $5 download on April 11, to talk football.
[+] Enlarge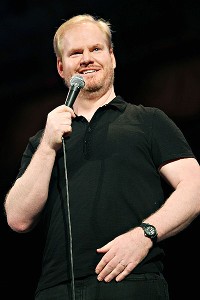 Astrid Stawiarz/Getty ImagesJim Gaffigan reflects wistfully upon the end of the Peyton Manning era in Indianapolis.
"Growing up in Indiana, all I wanted to do was get out of there. Sure, there was [David] Letterman and there was [John] Mellencamp. ... But when I came to New York, I realized how truly Midwestern I was," Gaffigan said. "As the Colts started getting better, it started getting exciting. There was [Indiana University], there was Purdue, but there was nothing statewide. There was just something that was really exciting about it."
One of the hardest-working comedians in the business, Gaffigan even found himself performing for the team before its two recent Super Bowl appearances, along with Mellencamp, a sort of "Indianafest."
"I feel like Peyton Manning was such a great representative for what I liked about Indiana. He has a certain civility, a modesty," Gaffigan said. "I really feel like he's the last hero. We know he's not going to wake up with a hooker. We know that he's not going to do something real nasty. I don't think that Eli's going to do anything nasty. I think Archie did a good job."
Despite performing for the team, and even hanging with the owner during the Super Bowl in Indianapolis this year, Gaffigan laughed when asked if he felt any pressure to be on top of the news after Rob Lowe's infamous Manning tweet.
"I know this sounds strange coming from the guy that goes on stage and makes people laugh, but I'm not really crazy about attention. I mean, I'll whore myself to help promote that I'm doing my special online," Gaffigan said. "But I'm not interested in breaking news or anything like that. I have no desire to be in People Magazine."
Gaffigan, who has been in New York City for 25 years now, said the gentlemanly press conference with Manning and Colts owner Jim Irsay had a very Midwest feel to it.
"If you imagine the Irsay-Peyton situation in any other city, this is a really ugly ending, and I think they ended it with a lot of dignity," Gaffigan said. "I think it went down in a manner that we hoped it would. We're all sad, but I don't see any ego mixed in there. I didn't see anyone trying to be right. That's a compliment to Jim Irsay too. It doesn't seem like he got his ego all caught up in this. There were probably 100 moments things could've gone wrong. Peyton and Irsay kind of stayed on point."
Gaffigan contrasted the tension to the messy "Tonight Show" standoff between NBC and Conan O'Brien. He also said he's not sure he could've handled it as well.
"I'm not the healthiest, most well-adjusted person. I just think that it was handled with a lot of dignity. It just feels like people did the right thing," Gaffigan said. "But I'm a comedian who tells diarrhea jokes. What do I know?"
Speaking of jokes, Gaffigan is following fellow comedian Louis CK's path in offering his new special, "Jim Gaffigan: Mr. Universe," as a download for $5. He's donating $1 of each sale to the Bob Woodruff Foundation, a charity for wounded veterans and their families, saying he was inspired by meeting veterans helped by the foundation when he performed at "Stand Up For Heroes."
"The whole idea of this download thing is not to be rich," Gaffigan said. "It's to make my money back, maybe to help to pay for one of my four kids to go to college, then if I can help someone else, then that would be great too. There are men and women that are much braver than me who can use the help."
Gaffigan knows offering the special digitally is a risk, despite Louis CK's success with it. But in typical deadpan fashion, he brushes the risk aside.
"If no one buys the special or if lots of people steal it, then I suppose I will lose a lot of money and have egg on my face," he says on his website. "But then again I have four kids so I am always losing money and usually have egg or some kind of food on my face so it might just feel normal."