Commentary
Party of Five gets March Madness
Updated:
March 13, 2012, 2:07 PM ET
By
Page 2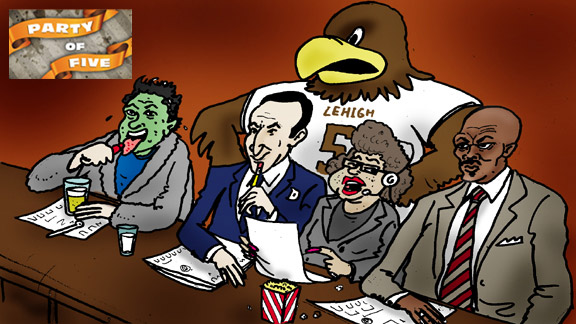 Kurt Snibbe for ESPN.comFrom Coach K to Coach Carter, everyone's got March Madness. It's enough to make you fake sick.
Death, taxes and BRACKETS! OMG MARCH MADNESS IS HERE!!!!
Sorry about that.
But it's true. That yearly frenzy is back -- the one that involves assessing the 64-team 65-team 68-team field, choosing a 5-12 upset, and rationalizing, rationalizing, rationalizing.
So let's get the NCAA party started early, before the First Four, the Final Four and the Middle We Don't Feel Like Doing the Math! Today's esteemed panelists are DJ Gallo, Vincent Thomas, Thomas Neumann, Sarah Phillips and Samantha Steele -- plus a special guest in Question No. 5.
And next week, you can be that special guest! Just leave your best (read: funniest and/or most entertaining) answer to Question No. 5 in the comments section, and the winner will get to answer a question in next week's Party of Five. The winner will be picked by the end of Wednesday; please check your ESPN Messages Inbox on Thursday morning to see if you're the one.
And now, let the madness commence!
1. With the games starting, what's the best way to follow the Tourney while faced with other responsibilities? (e.g., work, parenting, driving, driving to work with your kids in the car, etc.)?
[+] Enlarge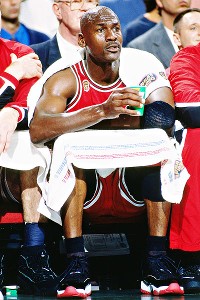 Nathaniel S. Butler/NBAE/Getty ImagesWould MJ fake the flu to stay home and watch the tourney?
DJ Gallo (@DJGalloESPN): It has been popular in recent years to schedule elective surgery on the Wednesday before the NCAA tournament starts so Days 1-4 of the action can be spent recuperating on the couch. Vasectomies are up 50 percent during March Madness. A vasectomy is the perfect NCAA tournament surgery because it's impossible to watch 12 hours of television each day for four consecutive days if you have children. Kids insist on being fed and need to be changed and they like to be played with. Plus they'll stupidly pick "SpongeBob" or "Dora" over a more exciting 5-12 game every time. Kids are dumb. Get a vasectomy.
Vincent Thomas (@VinceCAThomas): I'm fond of simply lying. Outright, defiant lying. "Boss, I'm sick. Can't come to work today or tomorrow." I'm also fond of irresponsibility. "OK, guys, I'm going to lunch." Then never return. Don't answer your phone, either. When you come in Friday morning, start with the lying again and then do the lunch thing all over again.
Thomas Neumann (@tnn95): Assemble a group of co-workers and managers who solemnly swear to cover for each other. Make sure to recruit the receptionist, who knows the comings and goings of the office suits. Plus, as the two-time defending champ of your office pool, the receptionist has a vested interest in the tournament. Finally, don't forget to position lookouts at the perimeters of your work area. Of course, if you're a Pac-12 fan, there's an 83 percent chance none of this applies to you.
Sarah Phillips (@SarahPhilli): There's no need to be deceptive -- tell the truth. If your boss doesn't approve, find a new job. If your family doesn't approve … find a new family.
Samantha Steele (@Samantha_Steele): I'm 26, I don't have any other responsibilities. Next question.
2. Underdogs -- fun or annoying?
Gallo: Fun if I picked them in my bracket, annoying if I didn't. And funnoying if I picked them in a bracket pool that doesn't pay a lot of money.
Thomas: Annoying, but less annoying -- to some -- than the fact that the entire Big East Conference will be playing in this year's tournament.
Neumann: Fun! Are you kidding me? Come on. Are you the kind of person who goes to a casino and roots for the house?! What kind of a human being would root for this guy over this guy?
Phillips: Underdogs are all fun and games, until they reach the title game and shoot 18.8 percent from the field.
Steele: Fun, unless you ARE the underdog. It's annoying and patronizing when everyone treats you like the Little Sisters of the Poor. And it's not like teams don't know that in their support, people are essentially just saying "We like you because you're small, generally unathletic and a school no one's heard of." As a small, unathletic girl who went to a school no one's heard of myself, I speak as the official spokeswoman of underdogs everywhere. We only like underdogs because when they win, they make us feel like we can beat people who are better than us. But life is tough, and better people always win. Did I mention I also do motivational speaking on the side?
[+] Enlarge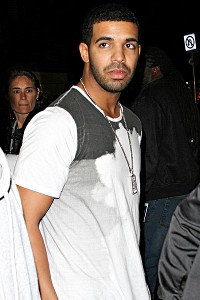 Alexander Tamargo/Getty ImagesHmmm, maybe Drake's team could pull an upset this year.
3. What's your fail-safe strategy for filling out a bracket?
Gallo: It used to be running a pool myself and then cheating by changing my bracket Sunday night after the first two rounds are over. But now all the pools are run online and my hacking skills are not nearly as good as my pencil and eraser skills, so it's been several years since I've won a tournament pool. Today I use the dartboard method. It has yet to work, but I have gotten a lot better at darts.
Thomas: Research has nothing to do with anything, and cheating typically helps. But my go-to gal is my little cousin Sydney. She doesn't know Coach K from Coach Carter or Drake's coach from "Degrassi."
Neumann: Copy the receptionist's bracket. Remember, that's the two-time defending champion of your office pool!
Phillips: I used a complex algorithm to win my bracket in 2007. Unfortunately, I haven't won since then. It only works on NIT brackets now.
Steele: I choose the teams who play the most active defense, have a solid 5 with great length, 2s and 3s who can elevate, a coach who's been there before and an unselfish PG. That is, of course, unless their colors clash. That's a deal-breaker. (Ahem … Baylor … no primary color matches "highlighter.")
4. Having said that, fill in the blank: When my bracket gets busted, I will _________.
Gallo: Cheer myself up by winning a darts tournament.
[+] Enlarge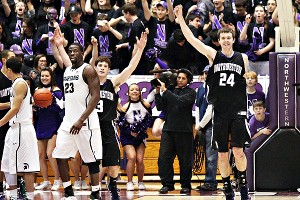 Chris Sweda/Getty Images) Hint: Northwestern could be an NIT sleeper.
Thomas: Plotting some subversive act of revenge/projection on whomever ends up winning the pool.
Neumann: … be very upset that I once again copied all my picks from a decoy bracket skillfully planted by the receptionist.
Phillips: I fill out the NIT bracket as a contingency plan. No one else does, so I'm guaranteed to win my pool!
Steele: Do what all losers do: Blame my friends/parents/anyone in that general vicinity, and cheat. Always keep a blank bracket in your pocket. Or just use pencil. People will wonder why you don't do it online like everyone else, but I remind them that technology isn't reliable.
5. READER QUESTION: What is *guaranteed* to happen in the 2012 NCAA tournament? (Note: Any real basketball analysis is severely frowned upon.)
Gallo: No matter what happens, everyone will refer to this tournament as "the craziest March Madness ever." Also, while laying on your couch in sweatpants, covered in chip crumbs, you will be inspired by the "One Shining Moment" montage to achieve your dreams. But not until after you first play a few minutes of "NBA 2K12." Then after that it's totally on to the dream-achieving. Oh, look at that. It's pretty late now. Off to bed. Maybe tomorrow, dreams.
[+] Enlarge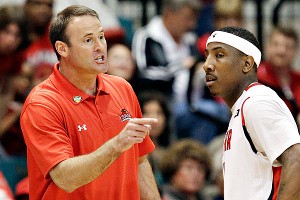 AP Photo/David J. PhillipYou can already see Pat Knight getting misty about saying goodbye to his seniors.
Thomas: I'm going to get bar stool/couch sores on my buttocks. Guarans. Say what? TMI? My bad. But just know that I already went out and copped some bed sore cream.
Neumann: (1) Seniors will be overcome by tears when their team is ousted. (Except at Lamar, where the seniors might want a piece of the coach as soon as the game clock strikes zero.) (2) The coach of the lowest-seeded team to reach the Sweet 16 will be linked to the Illinois job. (3) The receptionist will once again win your office pool.
Phillips: A lower seed will make a deep run and generate a popular catchphrase. In 2010 it was "The Butler did it!" after the Butler Bulldogs. In 2011 it was "Shaka the world!" after VCU Rams head coach Shaka Smart. In 2012, maybe it will be the Gonzaga Bulldogs making a run and receiving admiration by the German drinking toast from "The Man Show": "Ziggy zaggy, ziggy zaggy, hoi, hoi, hoi!"
Steele: Everyone will hate on the receptionist. Which is fine with her, because I've been that receptionist who looks like she knows nothing about basketball, and what YOU don't know is that behind that Vogue magazine she seems to be reading, it's the 1966 version of John Wooden's "Practical Modern Basketball." Complete with notes from her great-uncle, John Wooden.
And our special guest …
Jay Johnson (Roswell, Ga.): After one day of games, you will realize that (1) all your hopes of winning your office pool rest on that one No. 8 seed you picked actually making it to the Final Four … and absolutely no 1, 2, 3 or 4 seeds making it past the Sweet 16; and (2) you will really HATE that person who won the office pool by picking the team with the most "cosmopolitan" jersey color combination.
Page 2's Party of Five is a rotating cast of characters answering all of sports' most important questions. Check back next week to see who has joined the Party. No RSVP required.