Commentary
Junk Mail: Knicks, Peyton, the Melos
Originally Published:
March 16, 2012
By
Sarah Phillips
| Page 2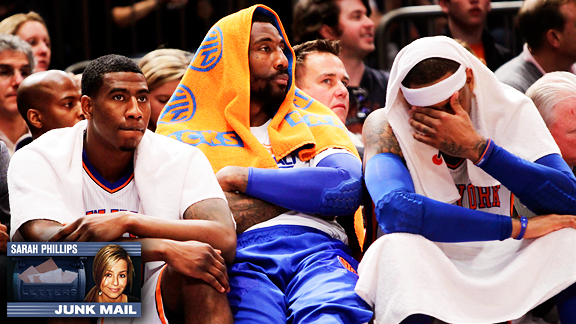 AP ImagesThe Knicks are dealing with an identity crisis and a coaching change. Time for some advice in Junk Mail.
Following last week's column debut, Tucker from Campbell, Minn., wrote, "Junk Mail is so amusing. It is now second, only to the Bible, on my weekly must-read list."
Gimme a break.
If I wind up on a missing person's report, you'll know who did it.
I'm not interested in having a bunch of readers who have gone soft. The larger problem with this type of email is that it only increases the amount of time it takes for me to sort through actual questions.
Not to mention the number of dated emails I receive: "Who do you think is going to win 'The Bachelor' on Monday night?" or, "Will Dwight Howard get traded by the Thursday deadline?" The column posts every Friday, people.
We'll get the process down eventually, but in the meantime, let's sort through the rest of this week's Junk Mail.
---
[Mike D'Antoni] quit on us, man. He couldn't handle the heat, so he got out the kitchen. [Carmelo Anthony] might be a handful, but I don't believe in quitting. [Do you] think someone is [going to] hire this quitter?
--Paul, Brockton, Mass.
I'm not sure where D'Antoni will land his next coaching position, but he definitely has a promising future as the next Pringles mascot.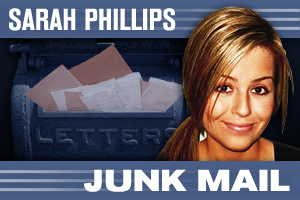 Linsanity seems like a distant memory. Was that the shortest fad ever?
--Jose, Tucson, Ariz.
I think so. Even pet rocks lasted longer than 39 days.
It's tough being a Syracuse alum right now. [Fab] Melo reportedly flunked out of school and Carmelo [Anthony] ruined the Knicks. Where can I find the silver lining with the Melos?
--Ruben, Onondaga County, N.Y.
There's always Mello Yello soda, which now holds the top spot in the Melo power rankings.
[Editor's note: A source told ESPN.com that Fab Melo's ineligibility for the NCAA tournament does stem from academic issues. We cannot, however, confirm that he has completely "flunked out of school." ... Not yet, anyway.]
Portland finally waived oft-injured center Greg Oden. He was completely useless during his time in Portland. Oden averaged 9.4 ppg, 7.3 rpg, 1.4 bpg in 82 career games in five NBA seasons. Was drafting Oden No. 1 overall instead of Kevin Durant the worst decision in the history of the universe?
--Sham, Portland, Ore.
No, it's not nearly as stupid as Matt Christiano driving his friends 965 miles just to eat Taco Bell's special edition Doritos Tacos Locos.
["Mad Men" actor] Jon Hamm recently blasted Paris Hilton and Kim Kardashian in [Elle UK] magazine. "Whether it's Paris Hilton or Kim Kardashian or whoever, stupidity is certainly celebrated. Being a [expletive] idiot is a valuable commodity in this culture because you're rewarded significantly." Do you agree?
--Iris, Marietta, Ga.
Blasphemy. Stupidity didn't elevate Hilton and Kardashian to stardom. Home videos did.
Jermaine Jones was booted off "American Idol" this past week for hiding his criminal background. [Executive producer Nigel Lythgoe] gave [Jones] the news, "We are not allowed to have anyone with an outstanding warrant on the program, and you have four of them against you." What do you make of all this?
--Shannon, Portsmouth, Va.
It's possibly a blessing in disguise. Jones might have too much street cred for "American Idol," but he definitely has a future with the Cash Money Millionaires.
My family and I have started a campaign at our local church in Kansas City called "Praying For Peyton!" He's the biggest free agent of my lifetime. If you could put us in your column so all of Chiefs Nation can unify our prayers together, we would appreciate it. The more prayers, the better.
--Richard, Kansas City, Mo.
It worked. The Chiefs signed Peyton! ... Hillis. God must have a sense of humor.
The Tennessee Titans offered Peyton Manning a contract "for life." That's bogus. What do my Denver Broncos have to do to land this guy?
--Adam, Boulder, Colo.
Offer Manning a contract for life and ... life after death! I'm sure Tim Tebow could make it happen.
Beat that, Titans.
Why did the Jets give [quarterback Mark] Sanchez a [three-year, $40.5M] extension?
--Stephanie, New York
The Jets cheated on Mark Sanchez with Peyton Manning, and it didn't work out, so the team had to pay the price. It was either a contract extension, or a $4 million, eight-carat purple diamond ring.
I recently decided to get back in shape and started playing basketball again. I played a pickup game of 5-on-5 for the first time in over a year. I felt out of breath, knees hurt, not what I remembered. I'm only 21. Do I keep trying -- or accept being past the athletic prime of my life?
--John, Stafford, Va.
Never quit! To all my little Sarahmaniacs, say your prayers, take your vitamins and you will never go wrong.
Athletes are usually blowing up my Twitter feed asking their followers to play video games against them online. If you had a choice, who would you want to play and what game would you choose?
--Ross, Detroit
I'd challenge Derrick Rose to a game of "Dance Dance Revolution."
I still can't process that Nicole Polizzi is pregnant. SNOOKI is PREGNANT! The girl who has peed herself multiple times on "Jersey Shore" is now going to be a mom. What is this world coming to?
--Dinal, Salt Lake City, Utah
Consider this: The Mayans predicted the world will end on Dec. 21, 2012. This also happens to be Snooki's due date.
Why do people send you stupid questions?
--Will, Parts unknown
Kind of like this one?
Submit questions to Sarah Phillips at JunkMailESPN@gmail.com.
You can follow Sarah Phillips on Twitter @SarahPhilli