Commentary
NBA trades that almost happened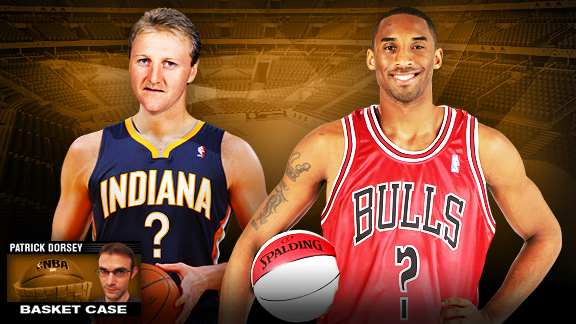 ESPN.com IllustrationLarry Bird a Pacers player? Kobe Bryant a Bull? History says both had the chance to happen.
It almost happened.
Johan Petro almost became a Jazz.
Wait, that's not it. Let's start over.
It almost happened.
In the words of Orlando Magic general manager Otis Smith, Dwight Howard almost got traded.
"It was real," Smith said on deadline day. "We weren't rolling the dice."
But Smith canceled his game of craps or Yahtzee or chuck-a-luck or Perquackey when Howard agreed to sign a waiver, guaranteeing the center will be in Orlando in 2013. That means Howard -- for now, at least -- will go on the list of big-name players who came this close to being traded, only for those moves to fall through for one reason or another.
Here's the rest of that list -- 12 NBA trades that, by reputable reports, nearly happened, until the teams (or players) involved decided otherwise.
1. Kobe Bryant to the Bulls
Kobe calling the shots in L.A.; it seems so long ago. Oh wait. But there was a time -- back in 2007 -- when Bryant was ranting about Andrew Bynum and announcing that he both does and does not want a trade, depending on the time of day. Later that year, talks of Kobe-to-Chicago had reportedly progressed to the point of both teams haggling over pieces and Bryant pre-ordering from Gino's East. But Bryant enacted his no-trade clause because Gino's charges for double toppings Luol Deng was included or something.
2. Larry Bird to the Pacers
As a famous story goes, Bird once wished Chuck Person … how shall we put this … "happy holidays." But in 1988, the two nearly became gifts for the other's teams, as Indiana reportedly offered the No. 2 overall pick and Person to Boston in the hopes of bringing Legend back to his home state. Per current GM Danny Ainge, Red Auerbach said no. But hey, at least Bird wasn't regifted to the Spurs or something.
3. Scottie Pippen to the Sonics
One of the more famous would-bes, this one came in June 1994 -- to be exact, sometime between the crack of a Birmingham fungo bat and Michael Jordan shagging the fly ball that resulted. It would have shipped Pippen to Seattle in exchange for Shawn Kemp, but the deal reportedly was sunk by late Sonics owner Barry Ackerley, which, considering what happened later, is the Seattle basketball owner equivalent of giving fresh salmon to a kitten while texting a donation to the Red Cross.
[+] Enlarge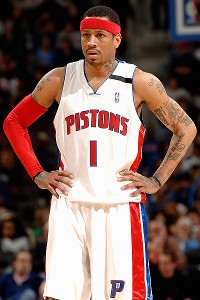 Allen Einstein/NBAE/Getty ImagesBefore he was a Piston, Allen Iverson was almost a Piston.
4. Scottie Pippen to Clippers
This one almost happened too.
5. Scottie Pippen to Celtics
Wow. Was Pippen even good?
6. Scottie Pippen to Basketball Joe's
OK, now we're just listing fantasy trades that were vetoed.
6. Allen Iverson to the Pistons
In 2000, the question for The Answer was "Why not trade him to Detroit in a complicated four-team deal?" In fact, Philly owner/Pirate enthusiast Pat Croce reportedly called Iverson, presumably to tell him, "We ARRRRRR going to miss you." (Get it? P.S. What's a pirate's favorite movie rating? PG-13!)
The trade never happened, laying the foundation for Iverson's MVP win and the Sixers' Eastern Conference title the following season. Years later, Iverson would end up on Detroit but tragically was let go just as his soulmates were taking over -- you know, guys who hate practice just as much as he did.
7. Isiah Thomas to the Knicks
Once upon a time, Isiah Thomas chose not to be with the Knicks. In 1994 -- what would be Thomas' final year in the league -- the reeling Pistons almost worked out a deal with New York, one that would send the champion point guard to a contender in his twilight years. Thomas reportedly vetoed it. Years later, he told the Chicago Tribune's Sam Smith that it could have been big for New York.
"I will say we'd have won it in 1994 [against the Rockets]," Thomas said. "In that seventh game, when [John] Starks was shooting the ball like that [2-for-16], I would have said, 'You're not shooting anymore; get the ball to [Patrick] Ewing.' And if he couldn't throw it down there, I would have."
But hey, he made it up to the Knicks later, right?
8. Jackie Moon to the Kentucky Colonels
Page 2 has it on high authority that, after trading the Flint Tropics' washing machine to Kentucky for Ed Monix, Moon wanted to trade himself to the Colonels to reunite with said appliance. Huge loading capacity.
8. Charles Barkley to the Lakers
Done with the 76ers, the outspoken Barkley was being shopped around the league, eventually landing in Phoenix. In 1992 he almost went a little bit farther west, in a suggested three-team trade that would have sent Showtime stalwart James Worthy to Charlotte and Kendall Gill to Philly. But it fell through, hurting the Lakers' on-court product but likely saving them thousands in catering costs and one big fight involving the No. 34.
9. Dennis Rodman to the Suns
The wound clown of rebound almost went to Phoenix, but an off-court problem negated the trade … and it wasn't Rodman's. This one involved Detroit trade target Richard Dumas, who was undergoing substance abuse treatment, causing the Pistons to back off. The Spurs got the Worm not long after, leaving the Suns to be bridesmaids in getting the bride.
10. Clyde Drexler to the Sonics
In February 1995, Drexler was dealt to his old college town (Houston) to play with his old college buddy (Hakeem Olajuwon) and help win a title (title) over the Orlando (Magic). But just weeks earlier, a deal sending Drexler from Portland to those dirty, Pacific Northwest-polluting Sonics was very close. The Trail Blazers' target? Gill, who was also linked to Barkley, making him the Zelig of phantom NBA trades. What's that? Who's Zelig? Fine, a more modern reference: He's the Forrest Gump of phantom NBA trades. (See, Zelig was nicer.)
[+] Enlarge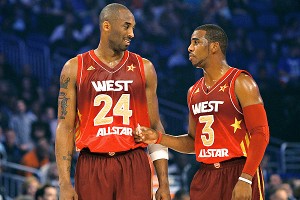 Ronald Martinez/Getty ImagesThese two were almost not almost teammates.
11. Hakeem Olajuwon to the Heat
Kids these days with their trade demands. Back in the glory days of -- hang on. Olajuwon threw one in Houston's direction in 1992? Yep. There were ongoing discussions with the Heat and many players named (DJ Rony Seikaly!) before things calmed down, allowing Olajuwon to win two titles and Seikaly to stay on South Beach before taking his talents to Ibiza.
12. Chris Paul to the Lakers
Heard of this one?
BRACKET OF THE WEEK
Courtesy of the Thunder's Nazr Mohammed.
https://twitter.com/#!/NazrMohammed/statuses/179631898920894465
IN PICTURES. AND WORDS.
The five six seven stages of Mike D'Antoni grief.
Celebration! Wooooooo! No more Carmelo!
[+] Enlarge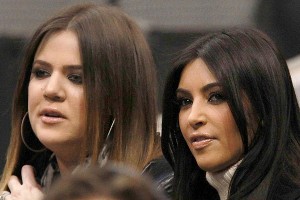 Ronald Martinez/Getty ImagesComing Wednesday: Khloe and Kim take Dallas!
CRYSTAL (BASKET)BALL
Predicting the week ahead.
Nets at Magic, Friday: No prediction, just an over/under: 3.5 times Dwight Howard looks at New Jersey's jerseys and says, Will Arnett/GOB Bluth style, "I've made a huge mistake."
Pacers at Knicks, Friday: With no Reggie Miller on the Pacers and no D'Antoni on the Knicks, Spike Lee gets creative and heckles a D'Antoni cardboard cutout he brings with him.
Knicks at Pacers, Saturday: Lee takes the cardboard cutout to Indy and heckles it there. He gladly pays the $25 baggage fee.
Bulls at Magic, Monday: Still irked that Howard didn't want to be his teammate, Derrick Rose dunks over Howard and then does his trademark dance.
Lakers at Mavericks, Wednesday: "Yes, Khloe, Dallas is a GREAT city," Kim lied to her sister.
Patrick Dorsey is a Page 2 editor. He averaged 12 points per game as a second-grader in YMCA hoops; all other basketball court records have been sealed. He can be reached at bypatrickdorsey(at)gmail(dot)com and is on Twitter (@DorseyPatrick).