Commentary
Keep bracket talk to yourself!
Updated:
March 18, 2012, 10:56 AM ET
By
Jerry Greene
| Page 2
Stop crying. Nobody wants to hear it.
It's a sound that can be heard from coast to coast, a background whiny kind of noise. It's the sound of millions of brackets breaking apart. It's the sound of March Madness turning into March Maudlin. And we want you to move on -- immediately.
Here are some specific whinning that we don't want to hear:
• "I knew Duke was going to lose! But at the last second I played it safe for fear J.J. Redick would somehow show up and save the day!" -- Shut up.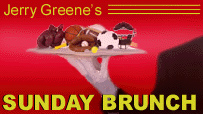 • "I never even heard of that stupid line violation rule!" -- Tough. Apparently UNC-Ashville and Notre Dame never heard of it either.
• "Oh well, my bracket is trash so let's talk about my plans for the 2012 NFL Fantasy Draft!" -- Walk away now or we will kill you.
How am I doing? Great! When I looked I was practically in the ESPN top 10, right behind the leaders at 245,304. OK, laugh, but I'm killing Rajon Rondo and LeBron James, so guess that proves who understands basketball. (Yes, I know what you're thinking: "Shut up!")
Quickly moving on, here are a few more bits of tid to chew from the week that was while our sports writing superchefs finish today's outstanding Brunch:
• So what did we learn from the Arena League strike? What? You missed it? It was in all of the papers, or at least, a few of the papers. Anyway, we learned some teams eat at the Olive Garden. What do you want to bet it's the soup and salad with bread sticks?
• Peyton Manning had hoped to make his decision last week but now it may be sometime this week. Somewhere Brett Favre is saying "That's my guy!" (Stole this from correspondent Janice H. of Palo Alto.)
• Speaking of Peyton, there's this from David Letterman: "'No, I'm not coming to play for the New York Jets.' So apparently, that neck injury did not affect his brain."
• And equal time for Jay Leno: "The Peyton Manning free agency tour continues. Everybody's trying to get this guy. He's got offers from the Denver Broncos, Arizona Cardinals, Kim Kardashian."
• Former NHLer Sean Avery was asked by Nicole Richie about his hockey plans. He replied: "I am officially retired. I threw my skates in the Hudson. It's the river." (Kim Kardashian followed by Nicole Richie. Is this a Brunch or a reality show?)
• And I'll give you 100 Linsanity fake tattoos for one Dwight Howard Nets jersey, proving that neither of us has a life.
Ding ding. Thank goodness there's the Brunch bell, telling us it's time to see what the chefs have for us today. Read on and be entertained and enlightened:
• We start with a story that is definitely for you if you are a sporting male younger than 40. Douglas Quenqua of The New York Times makes the case that mixed martial arts is the chosen form of fighting for all guys who think of Mike Tyson as just an actor that's funny in the "Hangover" movies. Read the case he makes here.
• Seems as if there is always something to say about the pro teams in Miami. Glenn Garvin of The Miami Herald "congratulates" the Marlins from taking the title from the Heat of Most Swinishly Arrogant Sports Franchise in South Florida. It's been awhile since we've heard a team accused of being "swinishly arrogant." We like it. See if you like it here.
• Probably cannot call the Knicks "swinishly arrogant" at the moment. In fact, what can you call the Knicks? Returning to The New York Times, Howard Beck claims that Linsanity has left the building and wonders whether Jeremy Lin will even be a Knick next season. Get ready to react in horror here.
• Turning to baseball, Murray Chase of the coincidentally named Murraychase.com, declares that the Minnesota Twins are a wonderful example of loyalty going in both directions. Yes, it's true they lost 99 games last year but they were hurt, you know. Decide if you think their way is better than the "Moneyball" way here.
• As usual we look for something a little different as a closer. Today Scott Michaux of The Augusta Chronicle gets us thinking about the upcoming Masters. He tells us about an upcoming book that details the (mostly true) story of a man who attempted to play 600 holes of golf in four days across courses in eight cities. We won't spoil the story but get this: The guy hit 2,858 shots and never lost a ball. Find out more here.
There you have it. Another nice Brunch in the bag. Now go forth and embrace the day -- without another tear over your busted brackets. Move on.
Jerry Greene is a regular contributor to ESPN.com and can be reached at osogreene@aol.com.