Commentary
Non-Manning free agency review
Originally Published:
March 19, 2012
By
DJ Gallo
| Page 2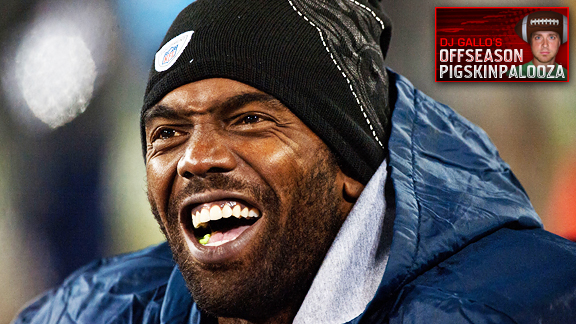 Getty ImagesRandy Moss' enthusiasm could depend on what happens with the 49ers' quarterback situation.
Peyton Manning has reportedly selected his team.
But did you know there have been many other player moves during the three weeks of ManningWatch? It's true! Here's a rundown of all the non-Peyton transactions.

Patriots sign wide receiver Brandon Lloyd
Upside: Lloyd could be the deep threat the Patriots have been missing since Randy Moss stopped playing for them in 2009 (note: Moss was on New England's roster at the start of the 2010 season, but it's hard to make the case he was actually playing for them then). Lloyd led the league in receiving yards in 2010 with 1,448.
Downside: In nine seasons in the NFL, Lloyd has only once had more than 1,000 yards receiving -- and has cracked 600 yards just three times. He is maddeningly inconsistent. It's 50-50 that Gisele has her bodyguards fire on him by Week 4.

49ers sign wide receiver Randy Moss
Upside: Moss is one of the greatest receivers of all time and after a year out of the NFL, he seems motivated to prove he can still perform at age 35.
Downside: With Peyton Manning going to Denver and Alex Smith possibly on the way to Miami, there's a small, tiny, miniscule, ever-so-slight chance that Moss' motivation wanes a smidge due to having passes thrown to him by Colin Kaepernick and Scott Tolzien.

49ers sign wide receiver Mario Manningham
Upside: Manningham is a solid third receiver behind Michael Crabtree and Moss who showed in the Super Bowl that he can make big plays.
Downside: Unless the 49ers go against defensive geniuses like Bill Belichick every week, it's unlikely Manningham will be left open to make big catches.

Seahawks sign quarterback Matt Flynn
Upside: In only the second start of his career last season in Week 17, Flynn set Packers franchise records with 480 passing yards and six touchdowns. Over a full season, that projects to 7,680 passing yards and 96 touchdowns -- which would fairly comfortably break NFL single-season records. ZOMG! FLYNN IZ GR8ST!
Downside: One, or even a few good games, does not guarantee someone is a good quarterback. See: Scott Mitchell, Rob Johnson and Kevin Kolb. And even if Flynn does play well, it will likely take time for him to gel with Seattle's receivers as they adjust to having passes arrive in their general vicinity.

Buccaneers sign guard Carl Nicks
Upside: Nicks is regarded as one of the best interior linemen in the NFL and will make a huge impact on Tampa Bay's offense.
Downside: The Buccaneers committed $47.5 million to someone who won't earn a single fantasy football point. Good luck making all that money back in ticket and jersey sales.

Cowboys sign cornerback Brandon Carr
Upside: Dallas identified cornerback as a position it needed to upgrade, and Carr does that. He will give the Cowboys someone to match up in a division that features star receivers such as Hakeem Nicks, Victor Cruz and DeSean Jackson.
Downside: The Cowboys also play the Redskins twice a season, so maybe $26.5 million guaranteed to a cornerback is a waste of resources.

Rams sign cornerback Cortland Finnegan
Upside: Finnegan played the best football of his career under Jeff Fisher in Tennessee and now gets an opportunity to play for Fisher again.
Downside: Finnegan will try to prove his toughness to his new teammates, so there's a chance he may punch out the Rams' entire receiving corps in training camp, leaving Sam Bradford with even fewer weapons than normal.

Chiefs sign running back Peyton Hillis
Upside: Hillis is only 26 and is just a year removed from an 1,177-yard, 11-touchdown season.
Downside: After Hillis' 2011 season, a case could be made that fellow former Madden cover running backs Eddie George, Marshall Faulk and Shaun Alexander could be just as productive and definitely less of a distraction.

Titans sign guard Steve Hutchinson
Upside: Even after 11 seasons, Hutchinson remains one of the better guards in the NFL.
Downside: If Tennessee wanted to sign an old NFL star that would've really helped to lure Manning, they should've signed Moss. He would be a great fit in Tennessee. Wait. Really? He did already? Well, I don't recall him catching any passes with the Titans. I'm skeptical of your information.

Bills sign defensive end Mario Williams
Upside: With Mario matched up alongside Kyle Williams and Marcell Dareus, Buffalo may now have the best defensive line in the NFL. At the worst, it'll have the second-best defensive line in the NFL and the state of New York.
Downside: Six years, $100 million is a huge investment, especially considering that Williams will be suspended by the league office for multiple games if he dares lay a hand on Tom Brady.

Buccaneers sign wide receiver Vincent Jackson
Upside: Jackson is a talented receiver who gives Josh Freeman a big target.
Downside: The Buccaneers' adding a member of the Chargers makes sense because both teams have similar systems: massively underachieving. But it might just be time for a style change.

Bears acquire wide receiver Brandon Marshall
Upside: Marshall is an elite talent who can help Jay Cutler reach his potential in Chicago.
Downside: Marshall has had off-field issues wherever he's gone. The latest is an accusation that he punched a woman at a New York club. If charges are filed, the Bears have to hope they will be dropped. You can guarantee that Broncos and Dolphins fans expect them to be dropped.

Chiefs sign right tackle Eric Winston
Upside: Winston was the top right tackle on the market, and Kansas City quickly locked him down.
Downside: There is a fair chance that Winston shows up to camp morbidly obese.

Redskins sign wide receiver Pierre Garcon
Upside: Garcon will only be 26 this year, and his catches and receiving yards have gone up in every season of his career.
Downside: By giving $42.5 million to Garcon with $20.5 million guaranteed, as well as $7.5 million guaranteed to receiver Josh Morgan, the Redskins committed significant dollars to one position, limiting their ability to address other need positions: all of them.

Cowboys sign quarterback Kyle Orton
Upside: Orton fills a need with Jon Kitna retiring and is a more than capable backup with a 35-34 career record as a starter.
Downside: This means the Cowboys are content with Tony Romo as their starter.
DJ Gallo is the founder of SportsPickle.com. He has written a book and written for Comedy Central, The Onion and ESPN The Magazine. You can follow him on Twitter at @DJGalloESPN.