Commentary
Party of Five welcomes spring
Updated:
March 20, 2012, 3:14 PM ET
By
Page 2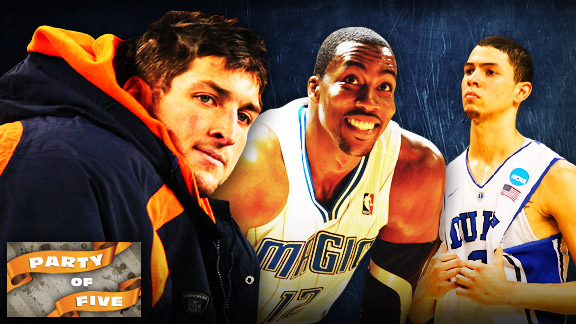 ESPN.com IllustrationIt's a cold spring for the likes of Tim Tebow and Duke. But Dwight Howard? He can feel the warmth.
At last, spring has sprung!
And because global warming (or some diabolical genius' weather machine) has turned this into a non-event temperature-wise, we shift our attention to sports -- and the many storylines that coincide with this late-March equinox.
Some of them (coughTebowcough) are a bit frigid. Some (Dwight Howard!) are warm. Discussing them are this week's esteemed panelists: Art Garfamudis, Greg Hardy, Vincent Thomas, Steve Etheridge and Sarah Phillips -- plus a special guest in Question No. 5.
And next week, you can be that special guest! Just leave your best (read: funniest and/or most entertaining) answer to Question No. 5 in the comments section, and the winner will get to answer a question in next week's Party of Five. The winner will be picked by the end of Wednesday; please check your ESPN Messages Inbox on Thursday morning to see if you're the one.
Now on to the party:
1. What is the best thing going on the spring sports landscape?
Art Garfamudis (@ArtGarfamudis): 1. Thawing. When there's snow and ice on the ground, I slip a lot and misfire. I've hit a lot of things I shouldn't have because of winter weather (sorry again, Uncle Mike).
[+] Enlarge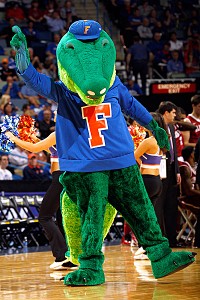 Chris Graythen/Getty ImagesSuppose a glass slipper would fit on Albert Gator's feet?
Greg Hardy (@HardyVision): At the risk of wagging my Gator Tail, I love the concept that No. 7-seed Florida -- which waltzed through its opening two rounds on a 155-95 run -- can be tagged as "Cinderella" if it survives to face 1- and 2-seeds in the Final Four. Boy, there's a plucky underdog for ya: A 7-seed that's had 14 straight 20-win seasons and was in the Elite Eight last year, and that's 2-1 in national title games since 2000. America, meet a raggedy No. 7-seed Cinderella who owns a trust fund before stepping onto the magic pumpkin carriage.
Vincent Thomas (@VinceCAThomas): I'll tell you the worst things, thus far. I'm not digging the endlessly looped stock footage of John Elway's front wedgie. And I hate the fact that I no longer hate Duke and derived next to no pleasure from their early round exit.
Steve Etheridge (@stetheridge): I'll second Art on this one. With spring arriving early all over of the country, big guys like Brett Keisel and Logan Mankins can cut their hibernation short, giving them extra time to forage for salmon and scavenged carcasses. Amassing substantial layers of underbelly fat before entering training camp is critical.
Sarah Phillips (@SarahPhilli): Tim Tebow is on the trading block, which means someone in Denver is going to lose their ticket to heaven.
2. Of all the NBA players moved (or surprisingly not moved) at the trade deadline, whose love will blossom the most with their new/old team?
Garfamudis: My money is on Dwight Howard and the Magic. When you call your own news conference to discuss loyalty, there's going to be a huge upside, right? I've long advocated loyalty pledges not just for athletes, but for all citizens. It's not enough to think you're loyal, people, you should be made to profess it in public. We should all be pledging allegiance just like Mr. Howard did. And wearing uniforms.
[+] Enlarge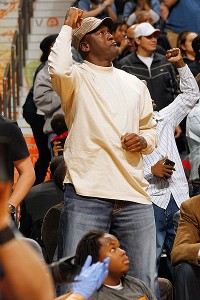 Kent Smith/NBAE/Getty Images"All right! High lottery pick!"
Hardy: Trade deadline love can't blossom in the tail end of a 66-game regular season. Any moves made last week amount to little more than speed dating. The Charlotte Bobcats did nothing, and fans should be batting their eyes at up to $21 million in cap space owner Michael Jordan is guarding in the team's dowry. And that's going to buy long-lasting love from a lottery pick down the road. Hey, it's more romantic to believe that fairy tale than their 7-36 reality. Besides, the only blossoming the words "Bobcats basketball" are doing right now is Ohio in the Sweet 16.
Thomas: I wonder if Gregg Popovich and Tim Duncan were bumping "Want That Old Thing Back" when the Stephen Jackson trade became official. I hope not. Not because of the song's actual sentiment, but because Ja Rule guest versed on the track.
Etheridge: Regardless of who lands Greg Oden, I'm sure he'll be a tremendous asset to that retirement home's spring shuffleboard league.
Phillips: Hasheem Thabeet with the Blazers. Thabeet will fill the role of token Portland draft bust vacated by Oden's departure.
3. Any spring football predictions?
Garfamudis: Chaos will reach a tipping point and schools will begin changing conferences even more than they already are. You're going to have situations in which a game will be a non-conference event at kickoff but become a conference game by the final gun. Some schools will get so obsessed with maximizing revenue that they'll have their offense playing in one conference and their defense in another.
Hardy: South Carolina fans will be so impressed with Steve Spurrier's chances of getting the Gamecocks into the conversation for an SEC title that they'll all chip in to buy him a shirt he can wear at practice:
[+] Enlarge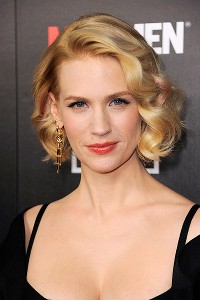 Frazer Harrison/Getty ImagesBetty Draper is too busy parenting to care about spring football.
Thomas: I'm not some weirdo, I don't care about spring freaking football. Let's talk about spring television, though. "Mad Men" is back. Here's a prediction: Sad, dour Betty Draper will, as always, be a wretchedly poor parent.
Etheridge: The editor of Brandon Marshall's Wikipedia page will eventually get too overwhelmed by the upkeep and replace all the text in the "legal" section with "SMH."
Phillips: 100 percent lock prediction: I won't be paying attention to spring football.
4. Spring means brackets. How's your bracket doing? (Note: Please don't answer that question seriously. Or else.)
Garfamudis: It's Groupfail. Nobody in their right mind picks a 15-seed over a 2-seed unless they're an alumnus of the 15 school and since Lehigh and Norfolk State have about only 50 alums in the whole country, I'm guessing the majority of brackets were impacted equally and everybody's sucking the tailpipe in equal gulps.
Hardy: I haven't seen my bracket ever since I traded it Friday night for a bag of magic beans. But don't worry -- I'm planning on trading someone else my bag of magic beans for a pair of Baylor-NC State national championship game tickets.
Thomas: My bracket is drunk. I used it to wipe up some spilled Jameson the other day.
Etheridge: You know that old footage of the Hindenberg exploding into flames? That's pretty sad to watch. Oh, and my bracket is doing kinda well, actually.
Phillips: My bracket is still flawless. What, you don't believe me?
5. READER QUESTION: When it's all said and done, who will be the big winner(s) this spring?
[+] Enlarge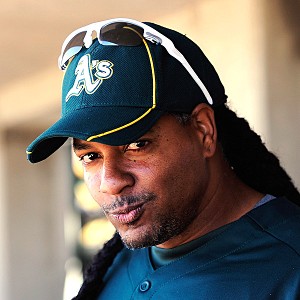 Kevork Djansezian/Getty ImagesThis is just Manny's world being Manny's world.
Garfamudis: For a long time now -- especially when under hypnosis -- I've had the suspicion that reality as we know it is just a construct in the mind of Manny Ramirez. So many signs point to it that there's probably no good counterargument to this assumption. The final indication that this is his universe and we are just its tenants is the fact that he's back in uniform after quitting last year and getting us all to believe he was done for. He has that much control.
Hardy: Woody Harrelson's wig in "The Hunger Games." Of my Woody Harrelson movie memorabilia collection, I'll gladly trade my pair of sneakers from "White Men Can't Jump," cowboy hat from "The Cowboy Way" and banjo from "Zombieland" for one Woody Harrelson "Hunger Games" wig.
Thomas: John Calipari. Tiger. LeBron. And Nas. Nas just dropped "The Don," which no spring song can even possibly think about challenging as the heater for the next few months. We all know about "summer bangers" -- this is that rare "spring banger." After I heard it for the first time, I sent an email to my homeboys that was only slightly less manic than Dan Gilbert's comic sans masterpiece.
Etheridge: Peyton Manning, obviously. The only thing little boys in Indiana dream of more than becoming Peyton Manning is the possibility of someday moving far away from the state. Peyton is the dream come true.
Phillips: The Rock. We'll all momentarily forget about the awful movies he's made when The Rock makes his grand return to the squared circle during WrestleMania 28.
And our special guest …
Adam Zylstra, Chicago: The real winners this spring are the senior basketball players on scholarship. Freed from the distraction of practice and games, these fine student athletes will be able to pursue their true academic passions.
Page 2's Party of Five is a rotating cast of characters answering all of sports' most important questions. Check back next week to see who has joined the Party. No RSVP required.