Commentary
Marcus Allen shares football wisdom
Originally Published:
April 10, 2012
By
Doug Williams
| Special to Page 2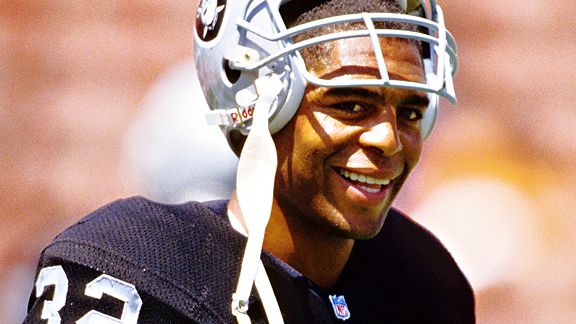 US PresswireMarcus Allen compiled an impressive 17,654 yards from scrimmage during his Hall-of-Fame career.
There are times when Marcus Allen is out in public and people recognize him -- or think they do.
They'll see the guy with the familiar face and the athletic physique and come up to tell him just how much they enjoyed watching him play.
Yet it's not No. 32, the Hall of Fame running back for the Raiders and Chiefs they believe they're talking to.
"This is the weirdest thing," Allen, 51, said after a long laugh. "It's always either Tony Dorsett or -- god, I don't know how many inches I'm taller than Tony -- Ahmad Rashad. Yeah, I'm like, 'Man you're not as big a fan as you say you are because we're like nothing alike.'"
Allen may be long retired, having stepped away from the game in 1997 after 16 NFL seasons, but he's still in the public eye as a college football analyst, and his achievements are many: 12,243 yards rushing (12th all time), 145 touchdowns (sixth all time), league and Super Bowl MVP honors and one scintillating, 74-yard TD run in Super Bowl XVIII that ranks as one of the most memorable plays in the history of the NFL's championship game.
And that was after four years at USC, where he won the Heisman Trophy and became the first college player to rush for more than 2,000 yards in a season (2,342 in 1981).
Allen, who was recently honored by the Pro Football Hall of Fame and Allstate as part of the "Hometown Hall of Famer" program -- with a plaque to be displayed at his San Diego alma mater, Lincoln High -- talked with Page 2 about the award, his career, his hopes for the Raiders and his passion for golf.
What does this honor at Lincoln High mean to you?
Allen: It's always an honor to go back home and be recognized and have the opportunity to be tangible among the student body. To help them realize the same fields they played on -- high school or little league -- I played on. So whatever I accomplished, they can, too, because I'm tangible. I've walked those same halls and streets, so if I can do it anybody can do it.
When you talk to high school kids, do they immediately recognize you as a former player or as a guy they see on TV talking about college football?
(Laughs.) Um, I would assume it's talking college football. Yeah, the youth tend to focus on ... it's a little different than when I grew up. I sort of had the history. I knew the players that were playing but also the guys who played before them because I loved the game so much.
[+] Enlarge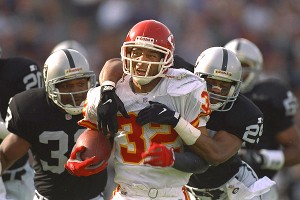 Getty ImagesAllen broke the 10,000-yard plateau as a member
of the Chiefs against the Raiders on this 1995 play.
So many great running backs have come out of San Diego: you, Ricky Williams, Terrell Davis, Rashaan Salaam, Reggie Bush. What is it about San Diego that produces such fine running backs?
And the young man that plays for the Texans, Arian Foster, too. I don't know. It's really interesting to have that many guys, especially that many Heisman Trophy winners, in that small an area. I don't know how many square miles that is, but it's pretty small.
Who's the best of the bunch?
I guess everybody will say that they are. I don't know. I made it to Canton. That should pretty much say everything, right? (Laughs.)
Your high school career was phenomenal. You played defense and quarterback, too. Oklahoma was recruiting you. Did you ever wonder what it would have been like to be an option quarterback running the wishbone at Oklahoma?
Not really, even though I was flattered and I ended up meeting Barry Switzer at the time -- I really loved my trip to Oklahoma. But my sights were always set on USC. I always like to say I was probably the easiest recruit they ever had. I was cardinal and gold. I first started watching games in 1968, if you can believe that. I was a USC fan from that point on.
The ironic thing was that ever since Pop Warner I was a defensive player. I played cornerback my first year and I wanted to be like Lem Barney, because I really admired his style and that was at 10 years old. Then at 11, I played linebacker and running back for the first time, and I think I scored over 30 touchdowns, but that was the only time that I played running back.
For the rest of my Pop Warner years I played defensive back and then some quarterback, but really my high school days I started out on the defensive side of the ball, too. In my junior or senior year, my coach wanted me to play quarterback, and I really didn't want to. But I decided to go over to the offensive side of the ball, got underneath the center and on purpose fumbled about eight snaps in a row. And then the coach kicked me off the team. And -- it's not a new story -- but it's really interesting when you look back. I went home to my father to say, "Can you believe it, this guy kicked me off the team and I'm the best player in San Diego", and my father said, "So what? That's between you two."
So I had to go back and apologize, and then I started playing quarterback. But what was ironic was if I'd never played quarterback, [Trojans coach John Robinson] never would have seen me run the ball, and that's how I got the opportunity to play running back at USC.
Do you think if you'd ever put your mind to it you could have been a quarterback in the NFL or college?
[+] Enlarge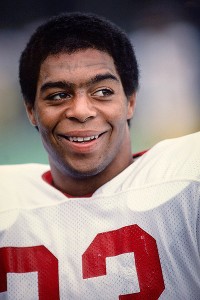 David Madison/Getty ImagesAllen became the first college player to rush for 2,000 yards
in a single season en route to
the Heisman Trophy in 1981.
No. No. I never made a distinction as a great thrower. I was far too aggressive. I had too much defensive mentality at that time. I think the kids that grow up playing quarterback are the ones that end up faring well at that position. I didn't want to grow up playing quarterback. I wanted to grow up hitting people.
We recently went through the NFL combine ...
I was a part of the first combine. In Tampa, Fla. It wasn't nationally televised.
Do you think too much emphasis is placed on 40-yard dash times at the combine?
It's funny, you know? We always have this huge debate about how guys are so much faster now. And I'm going like, "Wait a second. I played with some tremendously fast guys." Cliff Branch, just to give you an example. It's interesting now. It's sort of the evolution of the combine, the training and the times that go down and stuff, but I ran my 40 -- really at the time Tampa's practice field wasn't all that great, sort of a beat-up football field -- in cleats, and now they run in track shoes and wear aerodynamic outfits and it's like, "Come on."
Yes, they put a lot of emphasis on 40 times. They've always done that, but I've always thought that was one small measure. It takes a guy with a discerning eye to tell whether a guy can play. You know, they've got to pass the eye test.
Talking about speed, one play people remember you for is the great run you had in Super Bowl XVIII. Nobody was going to catch you. What goes through your mind when you see that clip?
What goes through my mind is that obviously it's a part of football history, and it will always be. ... I'm reminded about it every year. I don't think about it, but every year it comes up and there's always some debate -- which is the greatest Super Bowl play, and I know that's one of them. When I look at it, I personally just think of time travel. What I was experiencing on that play.
You played 16 years in the NFL. Was there one teammate who made you laugh more than any other?
[+] Enlarge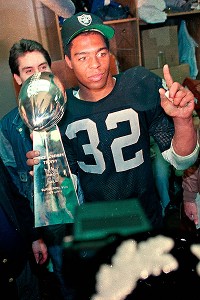 AP PhotoAllen wields the coveted Lombardi Trophy after he was named MVP of Super Bowl XVIII for the Raiders.
Boy, I had a lot of teammates that made me laugh. Some that were genuinely funny and some just had a funny way about them. Some were joke tellers and some just had a, you know, it was the way they walked or the way they talked or a combination. Whether it's the physical comedy they had. To name one would be to do an injustice to a lot of guys.
Do you think your bust at the Pro Football Hall of Fame in Canton looks like you?
(Laughs.) Um, yeah, a little bit. I think it does. (Laughs.)
You always looked good wearing No. 32. Did you look better in Raiders silver and black or Chiefs red and gold?
(Laughs.) I just think I had to look good in any uniform I donned. Any uniform I put on. And that was such a great number. I was No. 33 in college, and then I got to the Raiders and somebody already had 33 and they gave me 32 and I was like, "That's even better."
When you get up in the morning now, do you feel those 16 seasons or are you as fresh as a daisy?
No, I'm an aberration. I feel pretty good. Yeah, I didn't get beat up when I played. Guys didn't get an opportunity to get a big hit on me all the time. I was pretty slippery.
You had a long career, but your brother, Damon, played much longer, 24 years as a quarterback in the Canadian Football League. How did he do that?
Listen, quarterbacks can play that long, come on. They wear those yellow vests in practice where you can't touch and stuff like that. Come on. (Laughs.) They baby quarterbacks. They even baby them in the game today.
Do you see good things ahead for the Raiders after a long down spell?
Well, I hope so. I have great faith in [new general manager] Reggie McKenzie. I think he'll do a great job. I think the league, also, has just exponentially, just exploded over the last few years. And it's great already, but it's always even greater when the Raiders are part of the competition. ... They've always had such great players. I just think they need some consistency. They need some discipline and consistency. Changing coaches every other year is not a good thing. They need stability. They need to be stable and consistent at the head coach position and quarterback and they need discipline, and I think they'll be fine.
Did you play with McKenzie?
Yes, I did. No, I didn't see the general manager in him. (Laughs.) When he was done playing, obviously he had an idea of what he wanted to do. I always was impressed by that guy. I thought he was a student of the game. It wasn't just X's and O's for him. It was much more than that.
What do you love doing these days that's totally away from football?
Well, I love football. It's really now sort of year-round. What I like to do that takes me away from the game is playing golf a lot. Eric Dickerson and I play a couple of times a week. That's very cathartic. I love being outdoors. We call it our locker room. We don't go shopping like the women, we don't go coffee klatching, we don't go to the spa. This is what we do for four hours. We run the gamut of life. We talk about serious stuff. We goof around. We bet a little bit. It provides a great opportunity for guys to get to know each other.
And who wins?
Um, we go back and forth. He's been beating me lately. I'm in the middle of swing changes right now. (Laughs.)
Marcus Allen is the first honoree this year of the Hometown Hall of Famers program, a joint venture of the Pro Football Hall of Fame and Allstate, which honors the roots of pro football's greatest players in their hometowns. The program will recognize up to 50 players in 2012.
Doug Williams is a freelance writer based in San Diego.
Special to ESPN.com
Former sports editor, San Diego Union-Tribune
Freelance writer based in San Diego
ESPN.com contributor since 2010