Commentary
Fun facts about retired NBA jerseys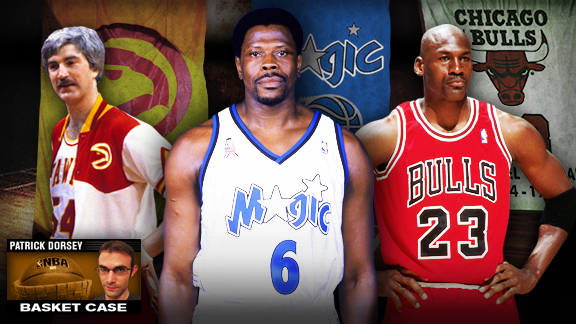 ESPN.com IllustrationTed Turner, Patrick Ewing and M.J. all have strange connections to the world of retired NBA jerseys.
The Warriors on Monday retired Chris Mullin's jersey. This made some news.
The Spurs on Wednesday retired Bruce Bowen's jersey. This spurred (heh) some debate.
Those are just the latest entries into the wide world of NBA jersey honorings -- an area with enough retirements to make Brett Favre and Evander Holyfield wonder if they're doing it wrong.
Here are 15 fun facts about retired jerseys in the NBA:
1. Michael Jordan's No. 23 has been retired three times in NBA circles: Once by the Bulls (before he surprisingly wore it while it still hung from the rafters), once again by the Bulls and once by the … Heat? Yep. It was the first number Miami ever retired, in 2003. Yet former Heat Bimbo Coles' No. 12 remains in play.
2. Onetime Hawks owner Ted Turner -- you might have watched a network of his or two -- has a banner hanging from the Atlanta rafters plus a number retired in his name: 17, as in Channel 17, home of a once-local station called WTBS. (Bonus question: What would happen if Jeremy Lin went to the Hawks? Bonus answer: Lin changes his number.)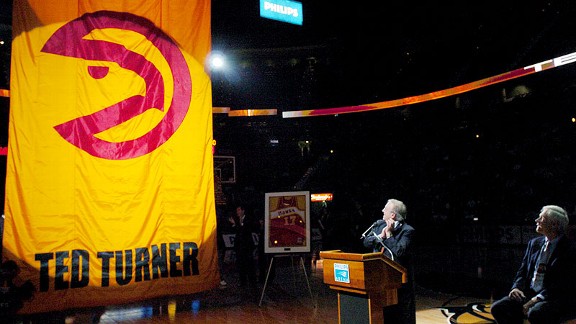 AP Photo/Gregory SmithWhy was the Hawks game delayed? Because they couldn't make the net work. Get it? Hahaha!
3. Jordan isn't the only non-Heat player with a number retired by Miami. Also in the rafters is basketball luminary … Dan Marino? Fear not, 13ers; as Mike Miller proves, that number is still available for wear. And as Miller proves, that number still hasn't won a championship in Miami (unless you count Bob Natal).
4. Coaches get their "numbers" retired too, such as the Nuggets' Doug Moe (432, for 432 wins). Upon learning this, Metta World Peace said, "Aw man! What am I gonna wear if I sign with Denver!?"
5. More Heat fun: At the 2009 ceremony honoring Alonzo Mourning, 1) the banner lifted to the rafters was so big even LeBron James could hit it with a ball in the fourth quarter (obligatory LeBron joke!), and 2) the ceremony took so long (reportedly 43 minutes) that opposing coach Stan Van Gundy -- who has some history with the Heat -- jokingly pointed out that, the previous week, the Knicks took "less time to honor seven people," including Patrick Ewing and Walt Frazier. But hey, it's Miami. The party runs long on across the causeway from South Beach.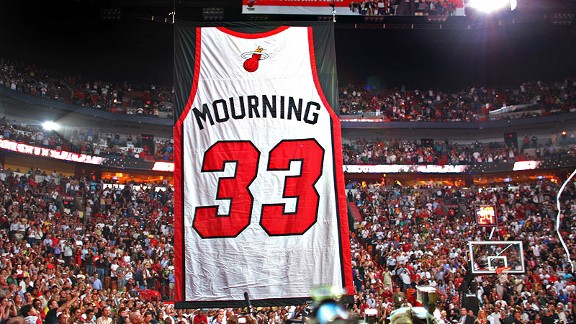 Joe Rimkus Jr./Miami Herald/Getty ImagesRex Ryan was quite grateful that several New York Jets fans pitched in to buy him this replica jersey.
6. Among the many numbers retired by the long-standing (and oft-moving) Kings franchise is 6 -- as in sixth man, for the fans. It's moot now, but we wonder if the moving van to Las Vegas/Anaheim/San Jose/Seattle would have had room for the banner?
7. By being 7-foot-4, Mark Eaton is the tallest NBA player ever to have his number retired (by the Jazz). By being a guy who looks like Mark Eaton, he is the scariest player ever to have his number retired as well.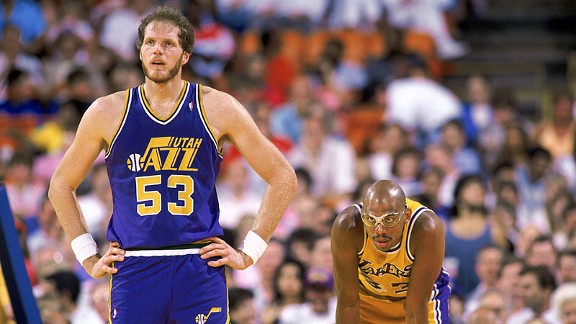 Mike Powell/Getty ImagesBoth of these guys have their jerseys retired, but only one could probably use it as a weapon.
8. One other team has retired No. 6 for its fans: Orlando, which 1) temporarily suspended the retirement for Patrick Ewing's memorable one-season run, and 2) according to Page 2's dubious sources, offered the banner to the Nets in a proposed Dwight Howard trade.
9. The Baltimore/Washington Bullets/Wizards retired Gus Johnson's number. No, not that Gus Johnson.
10. Shaquille O'Neal? Zero retired numbers. He'll get his Lakers due soon, but his exit from Orlando hasn't gotten the Big Banner an express ticket to the upper regions of the O-rena, new or old. And it's a good thing; otherwise Jeremy Richardson (previously) and Justin Harper (currently) wouldn't have gotten to don his No. 32.
11. James in 2009 said he wanted the entire league to retire Jordan's No. 23. The real number that should be universally shelved? The No. 24 of Spencer Haywood, whose Supreme Court case allowed non-seniors to enter the league. You're welcome LeBron, Kobe, M.J., Melo, Blake Show, Kwame Brown and basically everyone except Tim Duncan and Sam Young. (Side note: The Seattle SuperSonics did retire Haywood's jersey.)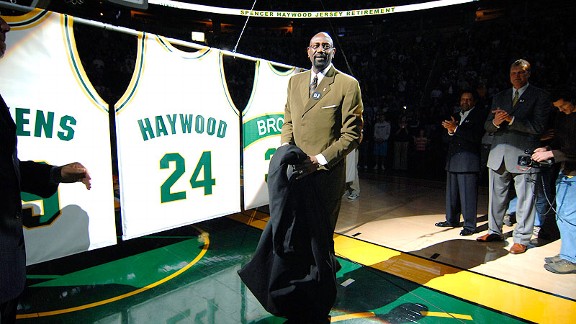 Terrence Vaccaro/Getty ImagesWitnesses say these retired Seattle SuperSonics jerseys now hang in the Pike Place Starbucks.
12. The Phoenix Suns are often lauded for having a miracle training staff. They're also the only team to officially honor their athletic trainer (Joe Proski) with a "retired" "number." Could be a coincidence. Or perhaps athletic training headquarters gets them the really good gauze.
12a. Wait, scratch that. The Heat also honored its trainer, the retired Ron Culp. Is there anyone the Heat hasn't given a banner to? (Besides Coles. Poor Bimbo.)
13. Charles Barkley's No. 34 went up in Philadelphia and Phoenix. But one year in Philly, Barkley wore 32 -- and needed permission from Billy Cunningham, for whom that jersey was retired, to do it. Why? Not because "2" is a more slimming digit. He did it for a quite serious reason: to honor Magic Johnson, who had recently retired after his shocking HIV revelation.
14. Wilt Chamberlain was the king of scoring (oh, grow up), and he's the king of jersey retirements too. Three NBA teams have honored him: the Golden State Warriors, Los Angeles Lakers and Philadelphia 76ers. Also retiring his No. 13? The Harlem Globetrotters, making him the only player to have his number retired in the NBA and the … whatever league the Globies play in.
15. A number of number retirees went on to do interesting things: Lloyd Neal (Blazers) worked in IRS collections. (Weird, since he never averaged many steals. Boom!) … Lou Hudson (Hawks) was named 1992 citizen of the year in Park City, Utah. … Ed Macauley (Celtics, naturally) became a deacon … Dick Barnett (Knicks) became a professor at St. John's. … Junior Bridgeman (Bucks) eventually ran more than 160 Wendy's and 120 Chili's franchises. … Tom Meschery (Warriors) made the Hall of Fame -- the Nevada Writers Hall of Fame, after earning an MFA at the University of Iowa and becoming a published poet. … And Isiah Thomas (Pistons) -- nah, too easy.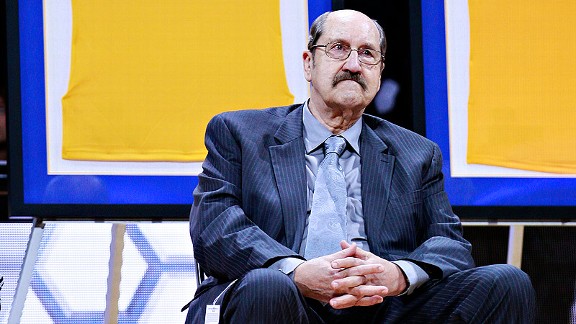 AP Photo/Jeff Chiu
Roses are red / Violets are blue / Warriors fans / Why do you boo?
--suggested Tom Meschery poem
LAUGH OF THE WEEK
From Ekpe Udoh, who was traded from Golden State to Milwaukee in the Andrew Bogut/Monta Ellis deal not long before Mullin's ceremony -- in which, in case you missed it, owner Joe Lacob was resoundingly booed.
Twitter said yes.
MEANWHILE, BACK IN OAKLAND …
IN PICTURES. AND WORDS.
Jersey retirement suggestions for …
• Lakers.
• Knicks.
• Grizzlies. (And by retired, we mean never again. Ever.)
• Magic.
• Lakers again.
• Cavaliers.
CRYSTAL (BASKET)BALL
Predicting the week ahead.
Bucks at Bobcats, Friday: Bucks, Bobcats, whatever. The real party starts at 9:45, when the court becomes a projector screen for Indiana-Kentucky. This allows Charlotte fans to scout Anthony Davis and Michael Kidd-Gilchrist, giving them a look at two future NBA studs … whom they won't get to draft after getting stuck with the No. 4 lottery ball.
[+] Enlarge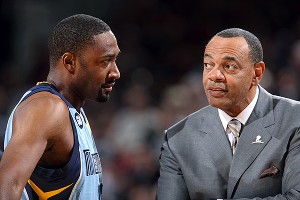 Sam Forencich/NBAE/Getty Images"Good thing you're not Vinny D!" "I know, right?"
Cavaliers at Magic, Friday: 2011-12 Magic, welcome in the 2013-14 Magic!
Grizzlies at Clippers, Saturday: Newly signed Grizzlies guard Gilbert Arenas will look at L.A. like, "Glad I didn't end up in that toxic locker room."
Warriors at Blazers, Sunday: Portland fans will taunt Golden State players with chants like "U-G-L-Y, you ain't got no alibi!" and "Our owner is more incomprehensible than your owner!"
Jazz at Celtics, Wednesday: The Jazz wins. After the game, Kevin Garnett is asked about Utah's play. "I don't even know who you are talking about," he says. "That team's a nobody."
Patrick Dorsey is a Page 2 editor. He averaged 12 points per game as a second-grader in YMCA hoops; all other basketball court records have been sealed. He can be reached at bypatrickdorsey(at)gmail(dot)com and is on Twitter (@DorseyPatrick).