Commentary
Junk Mail: Saints, Tebow, Jaguars
Originally Published:
March 23, 2012
By
Sarah Phillips
| Page 2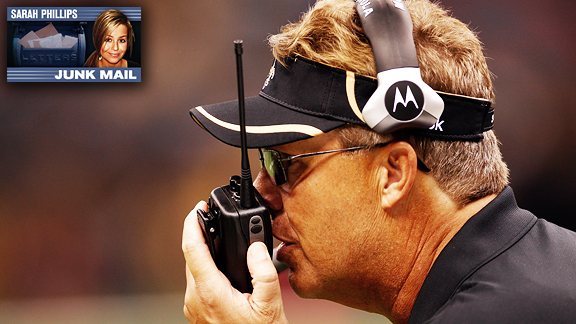 Getty ImagesThe New Orleans Saints bounty punishment has everyone wired into Junk Mail for some feedback.
Steve from Boise, Idaho, writes, "All you do is hate on people in your column. Where is the love?"
This couldn't be further from the truth. I really don't hate anyone -- except Warriors owner Joe Lacob. But that's probably just my mob mentality speaking out.
But this week, I decided to tone down the sarcasm with a little love.
Then I doubled up on the sarcasm to offset the love.
Now let's get to the rest of this week's Junk Mail.
---
[NFL commissioner Roger] Goodell told [ESPN's Adam Schefter], "I hold coaches accountable" regarding the one-year ban implemented on [Saints coach] Sean Payton. So what's the big takeaway from Bountygate?
-- Brandon, Phoenix
Instead of implementing an illegal bounty program, New Orleans should have videotaped its opponents' hand signals! The penalties aren't nearly as harsh for ruining the integrity of the game in a safety-first league.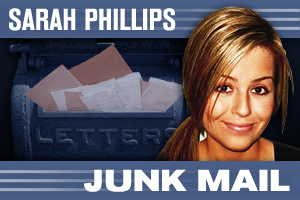 It seems like everyone has an opinion on the Bountygate penalties, but most people are unwilling to actually voice it. Is there anyone who you'd like to specifically hear from?
-- Jesse, Toledo, Ohio
UFC President Dana White. Although I'm pretty sure his opinion would go something like this: "HAHA! [Lady parts]!!!"
It seems like the whole story isn't being told in New Orleans. Are we missing something?
-- Craig, Henderson, Nev.
Aside from having a bounty program in New Orleans, Falcons wide receiver Roddy White accused Saints' fans of having potty mouths. The plot thickens.
Lots of gossip going around about who snitched on the Saints. What do you think is going through the head of the rat right now?
-- Matt, Fremont, Calif.
Snitches get stitches.
Let me get this math straight. Jacksonville sells very few tickets and Tebow sells out stadiums. Why didn't the [Jaguars] do everything in their power to get Tebow?
-- Jaime, Aurora, Ill.
We learned during the 2000 presidential election that Floridians aren't exactly mathematicians.
Mark Sanchez received a huge ("good faith") extension after the Jets lost out on Peyton Manning. What does he have to be thinking regarding New York now bringing in the Tim Tebow circus?
-- Ryan, Mesquite, Texas
Sanchez is probably hoping this is the first prank of the new season of "Punk'd."
My girlfriend talks so much when I'm trying to watch a big game. I love her, but there are times when I need some peace and quiet. What do I do?
-- Tyvon, Erie, Pa.
Explain to her that this is the Twitter generation. If it can't be said in 140 characters or fewer, it probably doesn't need to be said. This is guaranteed to fix your problem. She'll either oblige, or she'll dump you. In either scenario, you'll have peace and quiet.
During the Los Angeles/Dallas game on Wednesday, Mavericks forward Lamar Odom was booed during the 2nd quarter. Following the game, Kobe Bryant came the defense of his former teammate and called the fans' booing "stupidity." Do you agree?
-- Tina, Cedar Rapids, Iowa
Yes, it was stupid. If you're going to show displeasure against someone, be more clear. Start a profanity-laden anti-Odom chant. Or throw popcorn at Khloe Kardashian-Odom in the stands. Don't beat around the bush.
What's the biggest storyline of the NCAA Tournament so far?
-- Brooks, Savannah, Ga.
The referees are averaging 1.3 assists per game.
I was saddened earlier this week when I found out that "Jersey Shore" has been renewed for another season. My 14-year-old daughter has been watching this show since its inception in [2009]. I don't know what type of [lingering effects] it'll have on her. I just want it to be over. Should I be concerned?
-- Mike, Pocatello, Idaho
"Jersey Shore" being renewed is the best thing that could have happened for concerned parents. Snooki is pregnant, The Situation is in rehab for a prescription-pill addiction, Vinny is suffering from an anxiety disorder, and Deena is certifiable. The sixth season is the antidote to any negative influence derived from viewing the first five seasons. Your daughter will be scared straight seeing the consequences of excessive partying.
The Charlotte Bobcats releasing [forward Boris] Diaw is the most the Bobcats have been in the news this season. It sounds like there are a few teams interested in him. Where do you want to see Diaw next?
-- Ryan, Chattanooga, Tenn.
I'd love to see Diaw wind up on Food Network's "Man v. Food." I'm almost positive he could eat an eight-pound burrito in 30 minutes or fewer.
I've been trying to irritate people on Twitter, but [name calling] doesn't seem to be working. Do you have any better recommendations?
-- Chelsea, Lafayette, La.
There's such a lack of creativity in the trolling game these days. Instead of cliché swearing and name calling, be creative: Watch movies on opening day then ruin the film for these people by tweeting the storyline.
I think you're overrated.
-- Matt, Parts unknown
Aww. It's nice to know you're thinking of me.
Submit questions to Sarah Phillips at JunkMailESPN@gmail.com. You can follow her on Twitter @SarahPhilli.