Commentary
Tabloid writers, get set for Tim Tebow!
Updated:
March 25, 2012, 8:42 AM ET
By
Jerry Greene
| Page 2
But the big adjustment is for New York City. Tim Tebow is coming to the Big Apple, so make your "Garden of Eden" jokes now, although it's doubtful anyone has ever put New York City and Eden in the same sentence before. The real adjustment, however, is in back-page headlines for the city's tabloid newspapers.
Last week The Daily News had the somewhat bland "Tebow Time" and the punchier "Amen!" while The Post got clever with "God him!" But the headline writers will get no relief now as they have to come up with back-page headlines day after day, week after week and month after month. Those guys need a raise and some help. We have no money for them but do have a few suggestions for back-page headlines of the near future:
• "Jeter, Tebow and Lin, oh my!"
• "Tebow or A-Rod? Kim can't decide!"
• "Can Giants defend title? Yawn!"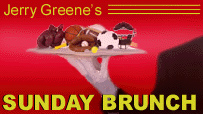 Tried and tried to think of one involving the Mets and failed because if the Giants can't buy a headline, what chance do the Mets have? Meanwhile as our superstar writers dot the "i's" and cross the "t's" on the main courses of the Brunch, here are a few bon mots to whet the appetite. Bon appetit.
• So we went to see a Rangers-Devils brawl and a hockey game broke out.
• If "David Garrard" is the answer, the question must be "How can the Dolphins stay out of the playoffs?"
• Anybody know what Tiger Woods is doing?
• Ghouls of the Year Award to Oklahoma State athletics for taking out life insurance policies on 27 over-65 boosters. Good news is the school lost millions after two years because none of the boosters died. Nice to see "school spirit" only goes so far.
• Raise your hand if you had the Redskins' Brian Orakpo in your Madden '13 cover bracket pool.
• Confusing Tweet of the Week from actor Denis Leary: "Tebow traded to Jets for fourth round pick. The deal worked out by his new agent, Judas." What?
• Twitter celebrated its sixth birthday Thursday. Remember when your conversations used to be more than 140 characters long? It seems like only …
Ding ding. Got cut off there which is appropriate because it's time to unveil our special Brunch delights. We got a great story about Tebow, March hare madness, a feel-good baseball story and, yes, a fascinating obit. Check it out:
• We know there is more interest in Tim Tebow than you might expect for your average backup quarterback, but give credit to John Branch and Jack Begg of The New York Times for giving us a Tebow scoop unlike any other. He's actually from Jersey! -- if you go back six generations. You got to find out about it here.
• Attention lovers of American literature. You'll never guess who thought he conceived of a "better bracket" than the one we use for March Madness now. That would be the author of "Alice Through the Looking Glass," Lewis Carroll. Rachel Bachman has the details for The Wall Street Journal here.
• And as a postscript, Bachman created this year's bracket using the Carroll Method and you'll never guess who won. Actually, you might guess but check it out here.
• Despite the NFL's efforts to make us forget all else, baseball is celebrating spring. And Mark Bradley of the Atlanta Journal-Constitution is celebrating the decision by Chipper Jones to call it quits after one more season. Chipper goes out on his own terms while the rest of us still hate to see him go. Read Bradley's thank-you note here.
• We saved the strangest for last. It's brief because it's about a newspaper obituary. Glenn Davis of sportsgrid.com has discovered an obit that seems to indicate a Denver Broncos fan was glad he died before he had to see Peyton Manning in a Bronco uniform. Actually, it just says "Manning" but we doubt he meant Archie. Decide for yourself here.
That's it for Brunch and we assure Mr. Manning that we wish him well with the Broncos just as we wish Mr. Tebow well with the Jets. As for the Dolphins and the Jags, best of luck. For all of you, have a great day.
Jerry Greene is a regular contributor to ESPN.com and can be reached at osogreene@aol.com.