Commentary
The Miz on golf, football and more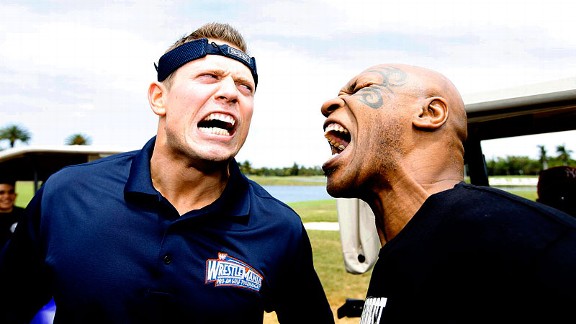 WWE Inc.Mike Tyson dropped by Doral briefly on Friday, hanging out with WWE stars like The Miz.
DORAL, Fla. -- Don't tell The Miz to keep quiet on the golf course.
Heck, the WWE champion will even talk in his own backswing.
That was on full display Friday, when Miz and more than a dozen other wrestlers took to the Blue Monster Course at Doral Golf Resort & Spa -- yes, the same one Tiger Woods walked off weeks ago with an injury -- for a closed-to-the-public pro-am tournament as part of this year's WrestleMania festivities in South Florida.
The group headlined by Rey Mysterio -- who played without his signature mask, at least when cameras weren't pointed his direction -- won the scramble-format competition at 17-under. Miz's fivesome, meanwhile, came in fourth at -13; Sgt. Slaughter's and Zack Ryder's bunches finished at -14.
But the score wasn't so much the point for The Miz; it was a best-ball tournament, anyway, so there was room for a few shanks. Instead, the Cleveland native was more interested in bonding with his group (club pro Courtney Burdick, plus Hilda Sultan and her teenage daughters Alexis and Kristi), playing up to whatever cameras zoomed by, saying hi to Mike Tyson (in town for his Saturday WWE Hall of Fame induction and briefly on the golf course Friday), and even spending a couple of holes with a certain ESPN.com reporter.
Oh, and the super-personable Miz had a lot to say. Very little of it about wrestling. Very little of it prompted by said reporter. Some of it while swinging one of his left-handed clubs. Here's a look:
On the NFL: "The Browns have the fourth pick in the draft. Here's what they should do: They either need to get [Alabama running back Trent] Richardson or [Oklahoma State receiver Justin] Blackmon. The problem is people are talking about [Texas A&M quarterback Ryan] Tannehill -- no. He's the same thing as Colt McCoy. He just has a tiny bit better arm."
On other quarterbacks: "The Seahawks stole Matt Flynn from everybody, Dolphins aren't doing anything because they're just losing all the sweepstakes."
On Peyton Manning: "The Broncos are going to the Super Bowl, in my opinion. … I don't know if Willis McGahee is the running [back] that they really are looking for, but Peyton Manning is the man."
On this other guy people might have heard of: "Tebow! Holy cow. To the Jets? The only reason why the Jets wanted him is they're the media capital of the world, and literally -- it's like, 'Hey, let's just get the biggest media tycoon,' and so everybody wants him to play. And they'll make him look terrific because they'll do a red zone type of play to get him to look good."
On golf: "I am an absolute pro. If you watch me play, they have actually said my swing is so good … that I could be on the PGA Tour if I could practice a little."
Note: He followed this with a rather unfortunate tee shot. But his mulligan? Solid.
On Tiger Woods (admittedly, this question was asked by us): "Let's face it. Tiger has not been doing so well in the past couple years. I went to the [tournament] in Abu Dhabi. I saw him there and I was cheering him on, and I think he saw me cheering him on and that gave him the confidence that he needed to literally win [last week] and be successful. … So yes, I take full credit for Tiger's success."
On a recent division in WWE's Monday Night Raw, when wrestlers were forced to pick either Team Johnny (John Laurinaitis) or Team Teddy (Teddy Long): "I was literally the Peyton Manning in the WWE. There was a whole sweepstakes for me, whether I would go with Team Johnny, Team Teddy. Team Johnny was better; I went with them. Team Johnny was like Elway. And [Team Teddy was like] the Miami Dolphins. Nobody even knows who they are. Who cares?"
Speaking of which, members of both teams participated in the golf Friday. Here are some visual highlights, courtesy of WWE: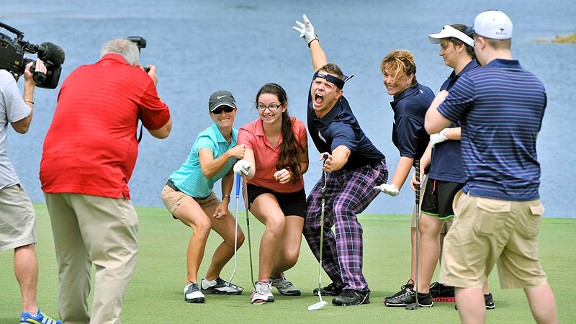 WWE Inc.The Miz made Friday memorable for his playing partners at the WrestleMania pro-am tourney.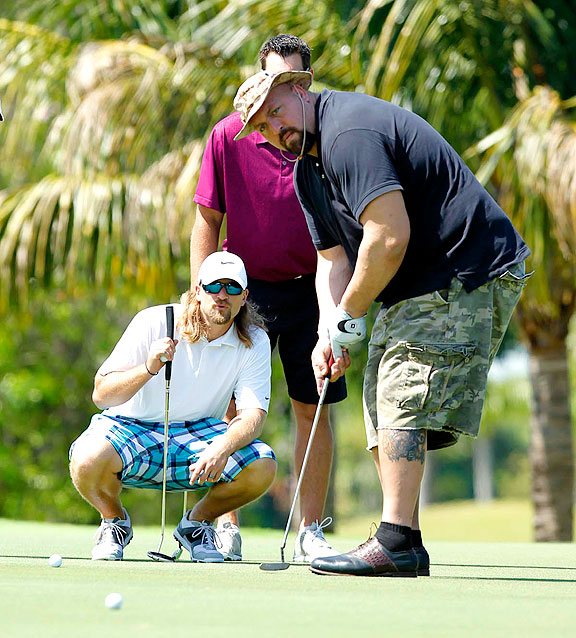 WWE Inc.The Big Show played with Dolphins Dan Carpenter, left, Brandon Fields, rear, and Tyrone Culver.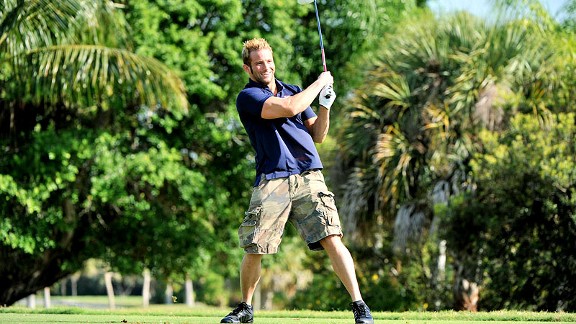 WWE Inc.Zack Ryder's group tied for second at the pro-am, losing only to Rey Mysterio's bunch.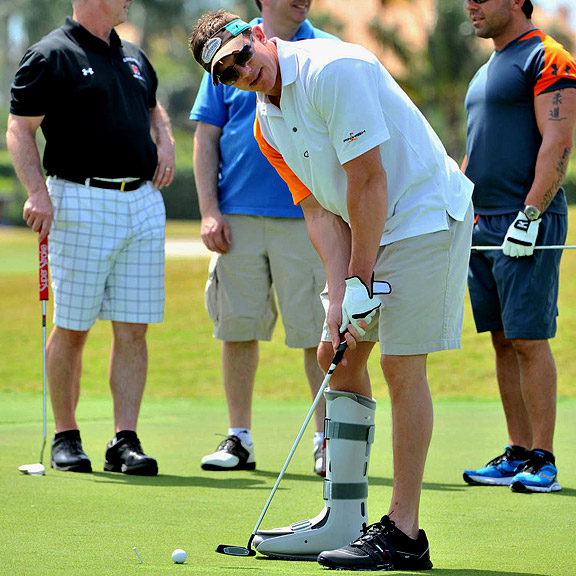 WWE Inc.Ted DiBiase Jr. did his best to play in the WrestleMania tournament on a bum right foot.
Patrick Dorsey is a Page 2 editor. You can follow him on Twitter at @dorseypatrick.