Commentary
My DNP thoughts for Kobe, LeBron
Updated:
April 1, 2012, 9:09 AM ET
By
Jerry Greene
| Page 2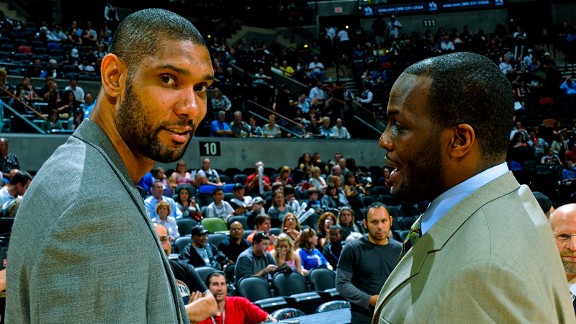 D. Clarke Evans/NBAE/Getty ImagesTim Duncan, speaking with Malik Rose while sitting out a game, sparks thoughts about DNP.
During the week that was, the San Antonio Spurs displayed a sense of honesty (and humor) rarely seen in sports. Allow us to explain:
In the NBA, when a player does not compete, his name is listed in the official lineup with "DNP" next to it, which stands for "Did Not Play." Then a brief explanation follows that can be as vague as "inactive" to as specific as "left mid-foot sprain."
Last Sunday, before beating the fading Philadelphia 76ers, Duncan's name was followed by this: "DNP -- old."
You got to love Spurs Coach Gregg Popovich. Wouldn't it be great if the NBA demanded such truthful listings? Here are a few that would be interesting:
• Kobe Bryant: DNP -- sulking.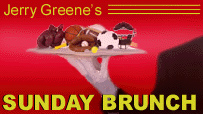 • Glenn "Big Baby" Davis: DNP -- still eating.
• LeBron James: DNP -- indecisive.
• Jeremy Lin: DNP -- praying with Tim Tebow.
• Dwight Howard: DNP -- reading his contract.
• Metta World Peace -- DNP -- not on this planet.
You get the idea. Feel free to add some of your own. Meanwhile, here are a few more notes from the week that was while our literary chefs add a few spices to the sumptuous entries in Sunday's April Fool Brunch:
• Don't be so hard on the U.S. Under-23 soccer team for blowing a victory against El Salvador and losing a berth in the Olympics. After all, they had to compete in a tough location: Nashville.
• The only thing Tim Tebow can do for Madonna in New York City is help her cross the street.
• Sign of the times: "Dialysis in progress -- No fighting allowed."
• If three women ever made a film about their time with me, it would win an Oscar -- for best short cartoon.
• New Jacksonville Jags owner Shahid Khan says the Jags are better off without Tebow because he didn't want to be there. Does that mean the team will be better off this season without the fans that won't want to be there either?
Ding ding. There's the dinner bell. Getting a "thumps up" from the chefs, so let's check the main dishes in the Brunch. It may be April First but there are no pranks here:
• Wrestlemania is Sunday night and Douglas Hanks and the staff of the Miami Herald have just about anything you might want to know about the WWE. And even though the wrestlers may already know the outcome of their matches, the future is not so clear. Find out a lot more here.
• For baseball fans in this country, the MLB season really begins this week. Bruce Weber of The New York Times looks back on decades of love and hate for the Yankees. He recognizes their annual strength but wonders if both loving and hating them is getting, well, old. Find out what he means here.
• Speaking of New York City, we all know its newest celebrity is Tim Tebow. Let's cross the country to listen to Bill Dwyre of The Los Angeles Times declare that sending Tebow to the Jets is like sending Mother Teresa to Alcatraz. See if you agree here.
• We're still traveling to bring you the best. Now it's north of the border for a provocative column by Cathal Kelly of The Toronto Star on why professional athletes should leave the punditry to the politicians. You may want to argue here.
• Time for desert. You the know the music and you'll hear it Monday, but find out from Jeff Eisenberg of yahoo.com exactly how "One Shining Moment" came to be. And there is a waitress involved that someone should really track down to see if she knows the role she played in creating one of basketball's iconic themes. Read all about it here.
That's it other than one last reminder to be careful today. If someone says you won the lottery, chances are you didn't. It's that kind of day.
Jerry Greene is a regular contributor to ESPN.com and can be reached at osogreene@aol.com.