Commentary
Excerpt: Guidry, Yogi relationship
Updated:
April 6, 2012, 12:32 PM ET
By
Harvey Araton
| Special to Page 2
In "DRIVING MR. YOGI," set for release Tuesday, Harvey Araton takes a look at the unique friendship between Yankees pitching great Ron Guidry and Hall of Fame catcher Yogi Berra, which resumes each spring when Guidry picks up Berra at Tampa's airport and drives him to nearby George Steinbrenner Field. Here's an excerpt detailing a batting lesson Nick Swisher received from the Yankees' legendary catcher:
It ate at Guidry that anyone, and most of all the younger Yankees, might not show Berra the proper respect. They needed to know everything the man represented, all that he still had stored in that steel trap of a baseball mind. As he sat on the bench after Swisher's groundout, Guidry asked himself, "Why shouldn't Berra share his opinion? What the hell did age have to do with it?"
"Yogi was a guy who had already been through the same damn thing, and a lot longer than any of the coaches," he said.
[+] Enlarge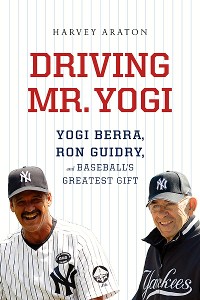 Houghton Mifflin Harcourt "Driving Mr. Yogi" tells the tale of Ron Guidry's time with Yogi Berra.
When Nick Swisher returned to the dugout, ambled down the steps and past the bat rack, and, almost on cue, proceeded to march down the row in the direction of the water cooler, Guidry stood up suddenly and blocked his path. He pointed an index finger at Berra.
"He wants to talk to you," he said.
Swisher was momentarily startled but obediently sat down in the space Guidry had vacated. No stranger to Berra, or anyone else around the clubhouse, Swisher, for one, didn't think Berra needed much defending, though he understood and marveled at how Guidry looked out for him.
"There's that difference of making sure that man's respected and not put in a spot where he gets embarrassed," said Swisher, who nonetheless refused to sell Berra short in a friendly war of wits. "I'm telling you, it's crazy, but Yogi's a good counterpuncher. You can come with a quick jab, but he'll come right back over the top with something."
Swisher believed this was the blessing of ongoing engagement, the fierce determination of Berra to remain connected to his favorite pastimes -- baseball and the Yankees -- long after people his age or even younger tend to stop fine-tuning their bodies and minds.
"I think some of that comes from just being in this locker room, man, because when you come in here, you had better be quick-witted with all the trash-talking going on," Swisher said. "Yogi's not scared to bust people now and then. It shocks me sometimes how sharp his mind is."
The clubhouse in the new Yankee Stadium -- in which every player's personal space came fully computer loaded -- was more full-service hotel than fraternal jock hostel. Berra, for one, missed the intimacy of the old no-frills clubhouse in the way aging newspapermen romanticized the cluttered, frenzied newsrooms that had inexorably given way to cleaner, brighter spaces devoid of atmosphere.
That may have been why Berra liked Swisher so much. If there was one area where he could count on some kind of ruckus, it was Swisher's. The switch-hitting outfielder was often entertaining someone with his high-octane personality, making everyone feel at home, even though 2009 had been Swisher's first season with the Yankees after being acquired from the White Sox.
"The thing is that baseball is a lot different nowadays," Swisher said. "These days, twenty minutes after the game, everybody's out of the clubhouse. I remember my dad telling me stories, man, guys sitting around for two hours afterward, talking about the game, this and that, and that's what I like about guys like Yogi and Gator. They want to be around, talking about the game, all the little things. So when Gator told me that Yogi wanted to talk to me, it was, like, hell, yes. I automatically figured he had something he must have seen."
Swisher sat down and put his arm on Berra's shoulder. "Yogi, these guys are wearing me out, man," he said.
The grand elder who had heard it all before, Berra leaned forward and into Swisher so that their shoulders were touching. He was aware that his voice no longer projected, and in the clatter of the dugout, he wanted to make sure that Swisher could hear him. Swisher moved his face close to Berra's and put his arm around Yogi's shoulders.
"Listen," Berra said, "all you need to do is take a step toward the plate and a step toward the pitcher. You're letting the pitch break down on you too much. That's why these guys are getting you out. Don't worry about the fastball. He can't get it by you. His best pitch is going down and away."
Swisher listened carefully, nodding again and again.
"That's it?" he said.
"That's it," Berra said.
"Yogi, man, I appreciate that," Swisher said. "I really do."
He promised to take the advice and to move up in the box in his next at bat. When his turn in the order came around again, with the same pitcher still on the mound, Swisher got into his swing early and powered the ball into the opposite-field gap, up against the wall for a standup double. Standing on second base with a grin, he looked into the dugout, trying to make eye contact with Berra, who was already watching the next hitter dig in, oblivious to Swisher. Guidry had to grab his arm and say, "Hey, he's trying to tell you something."
When Berra turned his attention back to second, Swisher was pointing both fingers at him. Scoring a couple of minutes later, Swisher rolled back into the dugout and squeezed onto the bench alongside Berra, who was beaming, feeling like a coach all over again.
(Excerpted from "DRIVING MR. YOGI: Yogi Berra, Ron Guidry, and Baseball's Greatest Gift" by Harvey Araton. The book is available for purchase at hmhtrade.com. Copyright © 2012 by Harvey Araton. Used by permission of Houghton Mifflin Harcourt Publishing Company. All rights reserved. Check out Jeremy Schaap's interview with Ron Guidry and Yogi Berra from ESPN's Baseball Tonight.)